Reel Wraps: Inside Unstrung
NEW YORK -- The sweet spot of "Unstrung", the documentary about junior tennis that premiered at the inaugural Tribeca/ESPN Sports Film Festival, is family dynamics. Tennis simply provides a vehicle to explore the question of how best to nurture talent, and how difficult it can be to sort out whose dreams are at stake when parents try to help steer children to the top.
Slow-motion heroics and soft-focus triumph, those staples of sports fairy tales, are absent from this movie. Match action races by in compressed time, with quick cuts and little analysis. Instead, the cameras linger on the painful, comic, loving, edgy, fatiguing, disturbing and uplifting exchanges between parents, coaches and young players.
Producer Mike Tollin said he wants the film to provoke conversation about the paths taken by parents of gifted children, whether those gifts are athletic or otherwise, "not so much to offer a cautionary tale or offer advice, but just to start a dialogue."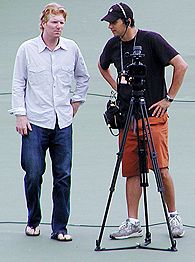 Colette Lewis
Four-time Grand Slam champion Jim Courier, left, said he was able to relate to all the players who had a role in the film.
The filmmakers followed 11 teenagers during the months leading up to the 2005 U.S. Junior Championships in Kalamazoo, Mich., recording 650 hours of their lives under the direction of Rob Klug. The boys were chosen through consultation with U.S. Tennis Association developmental coaches and other teaching pros steeped in that world.
"We wanted to get a good shot at the winner," said Jim Courier, one of the film's executive producers. Interestingly, three of the featured kids are black, including Donald Young Jr., who faces Sam Querrey in the tournament final in a clash of two current professionals.
Seven players' stories made the final cut. They're all American archetypes. Two of them attend Nick Bollettieri's heralded Bradenton, Fla., academy: Holden Seguso, the privileged son of two former pros who is trying to come back from injury, and Marcus Fugate, who has an adolescent's roiling ambivalence packaged in a man's body. Clancy Shields absorbs Bollettieri's insights on VCR tapes and barnstorms the U.S. Pro Circuit with his father at the wheel, sleeping in their van and sneaking showers in public buildings. Bahamas native Timothy Neilly, raised by a single mom in Miami with deep religious faith and limited financial resources, makes his own phone calls to potential sponsors. Multi-talented multi-tasker Greg Hirshman, a math whiz, violinist and published poet, lectures himself compulsively and hilariously on the court.
The eventual tournament finalists, who duke it out for 'Zoo bragging rights and a prized wild card into the U.S. Open draw, offer the most striking contrast. A newly-minted Nike pro at 15 going on 16, Young comes across as determined but essentially shy, a bundle of repressed vitality. His parents, who run a tennis academy in the Atlanta area, have devoted their lives to his career. His trophies are the first things they unpack and put on the shelves when they move.
In one scene, Donald's mother Illona coaches him by cell phone, regarding him from a glassed-in room above the court at what seems like a vast distance. When she tells an invisible interviewer "there's only one one, and everyone else is less than one," you have to hand it to her for frankness, even if you wish it weren't so in elite youth sports.
Querrey appears much the way he does now -- loose and comfortable in his own skin, if a bit skinnier. His mother Chris recalls the way Sam used to refill a ball machine and hit by himself for hours on end. She speculates that he took to tennis because it wasn't a contact sport; he liked clearing out his own space, using his considerable backswing. It sounds like the antithesis of the claustrophobia and angst junior players often express about their environment.
Nearly two years later, tennis aficionados in the audience will know that Querrey has been a more successful pro than Young, so far. But while "Unstrung" underscores the blurring of ego boundaries between some up-and-coming junior players and their parent-coaches, the film doesn't necessarily encourage the easy conclusion that low-intensity coaching or child-rearing produces better players or people.
Several precocious talents who made it -- Courier, Andre Agassi, Pete Sampras, Andy Roddick and John McEnroe -- share bits of rueful wisdom at intervals during the film. Courier, a Bollettieri academy product himself, understands full well the rewards of surviving a Darwinian process he might not have loved at the time. Reliving his own adolescence through the film's subjects was "an eye-opener," he said after the screening.
"I related to every single one of them," Courier said. "As much as your parents love you, this shows that everyone in this world is just making it up as they go along."
Seguso betrays with slouching body language how much he resists discipline. He calls the academy a "jail" mere seconds after Bollettieri pronounces it a destination. Yet even Seguso admits at one point that his aptitude would have remained untapped if his parents hadn't pushed him.
"They believe I can do it and so do I," he says, not entirely convincingly. Who knows how many kids need and feed off their parents' fierce drive rather than resenting it?
"Unstrung" manages to be both unflinching and sympathetic toward its subjects. It trains an unsentimental lens on what parents and kids give up in pursuit of athletic goals and quietly raises the issue of who is sacrificing what for whom.
"Putting all your eggs in one basket is tricky," said U.S. Davis Cup captain Patrick McEnroe, who attended the first screening. "You have to wonder what's going to become of the ones who don't make it."
The boys are equal parts frustrating and endearing -- i.e., typical for their age, except that they happen to be blessed or cursed with tennis ability, depending on your viewpoint. There are as many genuine laughs as cringe-worthy moments.
Chris Querrey describes her affable son as a "pleaser" who achieves partly because he wants to make people happy. In fact, all the parents in "Unstrung" are doing what they think is right for their children, and every one of their sons is trying very hard to please. Occasionally, these young athletes manage to please themselves as well, and that is probably what filmgoers will find themselves rooting for in the end.
"Unstrung" will be released in theaters this fall.
Bonnie DeSimone is a freelancer who contributes frequently to ESPN.com.