So, what does Gisele's dad think of Tom?
HORIZONTINA, Brazil -- "Tom who?" asks the blonde woman behind the front desk at Radio Vera Cruz. They call her "Princess," and with an incredible pair of blue eyes, she could easily be the next supermodel from this small South Brazilian backland town near the Argentine border. A second Gisele BŁndchen, perhaps. But unlike the Victoria's Secret model, she has never heard of the guy who plays quarterback for the New England Patriots.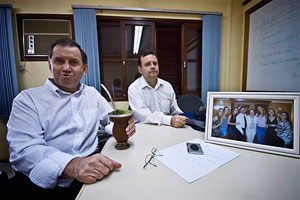 Thomas Milz for ESPN.com
Valdir BŁndchen, left, Gisele's father, and his brother, Jorge Frederico, are trying to learn Tom Brady's game.
She's not alone in this town of 20,000.
"Gisele put Horizontina on the world map," says Lilico, a DJ at Radio Vera Cruz. "Everybody here knows Leonardo DiCaprio, but nobody (has) ever heard of this American footballer." A passionate soccer fan, Lillico doesn't understand football. "Everybody knocks down everybody, but nobody knows why."
BŁndchen's hometown is not what you'd expect from Brazil. It is much too quiet. Even on a Saturday night nothing happens, and you won't find a taxi. But there's nowhere to go anyway. And no stereotypical Brazilian girls around -- just long-legged blondes, thanks to the German and Italian immigrants who founded the place.
Gisele's father, Valdir BŁndchen, has a small office here, where he works with his brother Jorge Frederico. In March 2007, I asked him about rumors Gisele was pregnant with Tom Brady's baby. "I know that the media needs some sensationalistic news. But I don't talk about her personal life," he said then.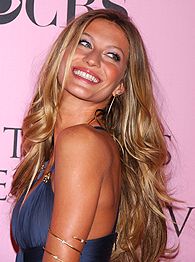 AP Photo/Tammie Arroyo
Gisele dated actor Leonardo DiCaprio before she and Brady became an item.
Back then, he said he'd never met Brady, and he had doubts about how serious his daughter's relationship with the NFL star really was. He then elaborated on how much he liked DiCaprio, the actor whom BŁndchen dated before Brady. He said his family got along well with DiCaprio's kin and even traveled together by bus through the Argentine Andes.
Today, Valdir knows Brady. Or at least he met him once in the United States. "You cannot say that you know someone just by having seen him once, but he seems to be a nice person," Valdir says.
Brady has not visited Brazil, and Gisele hasn't been to Horizontina in years. She meets her family regularly in the state capital of Porto Alegre, where some of her sisters live.
"Because of Tom, we started watching football, without understanding a lot," Valdir says. "I watched it with my father. But in the end, we desperately tried to find out what the final score was." Valdir says he understands what Brady's quarterback function is -- but that's all.
"I imagine that the team has various coaches and different teams, one for defense, one for attack. And when they attack, Tom is on, and when they are in the defense, he goes out. They must have more than 20 players."
The only one in the family who understands football is Gisele's youngest sister, Rafaela. "She watches it with her boyfriend and already knows about the various tactics," Valdir says.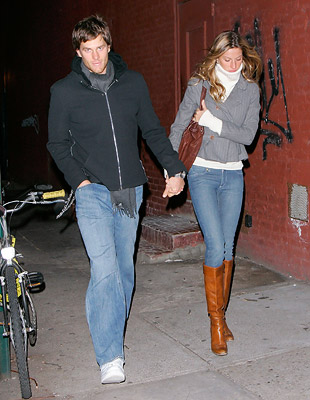 Jackson Lee/Splash News Online
The paparazzi in New York have had a field day chasing Tom and Gisele.
Like most Brazilians, Gisele's relatives are soccer fans. Would Valdir prefer to have a Brazilian soccer player as his son-in-law? "I respect my children's decisions -- they have to be happy, no matter with a soccer payer or an astronaut."
Gisele's 81-year-old grandfather, Walter BŁndchen, lives just around the corner. He hasn't seen Gisele for years, "but the folks sent her some of my suggestions by e-mail, like investing in Europe and in Euros instead of putting all the money in the U.S. I don't know if she followed my advice."
"She always was the clever one," he adds. "When she played volleyball as a kid, she made some really unexpected strikes. And when we played Canasta, she cheated, robbing the jokers." His eyes become a bit watery. "She always called me 'The Godfather.'"
He believes Gisele would never come back to live here. "She really likes kids and family life, so I think she wants to be a housewife in the future."
He doesn't know much about Brady or football. "I wish I had a book explaining football in Portuguese. Maybe more Brazilians would watch it if they'd understand it."
I ask the man at the hotel front desk, the taxi drivers and the girls at the local supermarket -- nobody has ever heard Tom Brady's name, but some know Gisele's boyfriend is a famous U.S. sportsman. That's all.
"Last week, one local guy joined the Americans who were watching football in my restaurant," says Hassan "Hamdi" Juma, who owns a small diner called "Chopp Stiefel," located next to the town hall. "I asked him, 'Why are you watching it? You don't understand anything about it. … He said, 'Right, but I like the players (in white uniforms).'"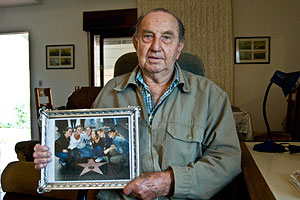 Thomas Milz for ESPN.com
Grandfather Walter BŁndchen poses with a photo of Gisele and her five sisters.
Juma's restaurant is the only place to watch football for the few Americans who work at a nearby John Deere factory. "The Americans asked me to expand my pay-TV package, and for an extra 12 Reais ($6.75 in American dollars) per month, I acquired the sports channel," says Juma, a 57-year-old Palestine refugee.
"I tipped Hamdi very good for that favor," recalls Jeff Nelson, a 30-year-old from Illinois who has worked here for six months. "Sometimes some Brazilians join us, but they only drink one or two beers and leave. I try to explain to them the rules in my poor Portuguese, but they never get it."
Nelson will watch Super Bowl XLII at the diner. Who knows, some locals might join him for a beer or two. But surely not Valdir BŁndchen -- he plans to travel to Phoenix to watch his daughter's boyfriend in person for the first time.
Thomas Milz, a Brazilian-based writer, recently worked with Wright Thompson on the E-ticket story, "The Last Days of Tony Harris."
PAGE 2 ON THE SUPER BOWL
Don't miss any of Page 2's hard-hitting Super Bowl coverage as we gird for an epic clash between the Giants and Patriots.
Bill Simmons
•
Postgame: Free fallin' out into nothing
•
Super Bowl XLII preview and pick
•
Awards from the conference championships
Tuesday Morning Quarterback
•
TMQ: Super ending to a tumultuous season
•
Easterbrook: Spygate returns to headlines
•
TMQ: Conditional immortality
•
TMQ: All-Unwanted All-Pros
Notes, jokes and potpourri
•
Super Bowl commercials bingo cards
•
Flem File at the Super Bowl
•
Friday, Feb. 1: News you can't live without
•
Thursday, Jan. 31: News you can't live without
•
Wednesday, Jan. 30: News you can't live without
•
Tuesday, Jan. 29: News you can't live without
•
Monday, Jan. 28: News you can't live without
•
Celebrities make their picks
•
Poll: Tom Brady celebrity photo ops
Insight and wisdom
•
Hill: Super Bowl party report
•
Page 2: Pop culture roundtable
•
Gallo: Boston's five stages of grief
•
Neel: Bittersweet game for Hoover's people
•
Hruby: Page 2 Week in review quiz
•
Uni Watch: Where's all the blue in Big Blue?
•
Milz: What does Gisele's dad think of Tom?
•
Hruby: Super Bowl is hazardous to your health
•
Hill: Moss was right to quit on Raiders
•
Hill: Teflon Tom Brady
•
Page 2: Suggested questions for media day
•
Jackson: Perks for perfect Patriots
•
Hruby: Analyzing the Brady tape
•
Best teams not to win a championship
•
Fleming: Footnoting greatness
•
Gallo: The first 24 hours of hype
•
Page 2 obtains Boston's contract with the devil
•
Snibbe: Championship Sunday by the numbers
•
Garfamudis: Patriots aren't perfect
•
The curse of Mo Lewis
Inside the brain
•
Inside Jared Lorenzen's brain
•
Inside Matt Cassel's brain
•
Inside Tiki Barber's brain
All things Super Bowl
•
Complete ESPN.com coverage
•
From 2007: The Ultimate Super Rankings
E-Ticket
•
Klosterman: All too perfect
•
Neel: Almost immortal
ESPN Top Headlines