At 1 o'clock on a bright October afternoon, I'm standing in a convenience store parking lot five miles east of Martinsville, Va. In the 24 hours before the green flag drops on the Subway 500, I need to find a ride to the speedway and a $75 ticket to the sold-out race. Problem is, all I have on me is $20, a cell phone and a camcorder. And I'm not allowed to use any media connections to get into the race—or so much as mention the letters ESPN (at least not in that order).

I've got no food, water, tent or sleeping bag, and overnight temperatures are supposed to hit the low 40s. It would be nice not to get sick, lost, arrested, beat-up or mauled by a bear. But first I've got to get to the track. Salt-of-the-earth NASCAR fans stream in and out of the parking lot. I ask a sweet-looking older couple, Dick and Betty from nearby Danville, if they're heading for the speedway. They look me over—freshly shaved, combed hair, clean Kansas Speedway T-shirt—before waving me into the bed of their shiny red pickup. "Hop in!"
We ride west down U.S. Highway 58, past churches and minimalls, through the misty foothills of the Blue Ridge Mountains. Dick and Betty stay "a long way from the rowdies" and stop at the first campsite on speedway grounds, more than a mile from the track. I thank them, then mention I need a ticket. Dick takes my cell number before I walk uphill on Clover Road toward the track. One side is speedway-owned campgrounds. The other has well-kept ranch homes, many with handmade signs in front advertising parking spots and campsites.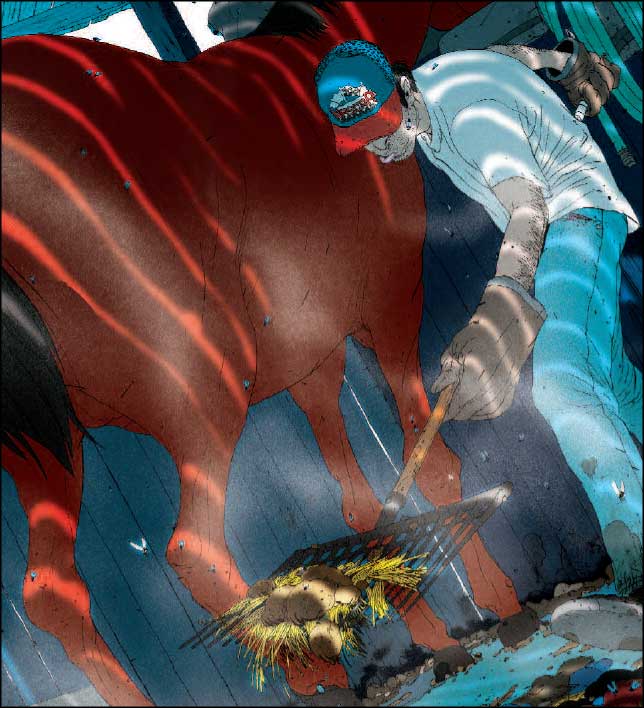 Frank Stockton
The things a guy has to do to get a seat in the grandstand.
When the road crests, Martinsville Speedway spreads before me, a gleaming silver bowl set in a lush valley. Railroad tracks run parallel to the backstretch. The hills are covered with cars, trucks and RVs. Nicknamed the Paper Clip for its elongated oval, Martinsville is NASCAR's oldest track, the only one left from the original Cup circuit. It's also famous for its wild, throwback racing. Before superspeedways made drafting all-important, NASCAR was defined by the rough, muscular driving style at The Clip and her sister track in Bristol, Tenn. When 43 drivers bump and bang for 500 laps around this short, flatter-than-West Texas oval, it's as close as the sport gets to a demolition derby.
Today the speedway whines with the sound of engines in twos and threes, as drivers fine-tune for tomorrow's race. My stomach growls as I approach a white farmhouse with campers and RVs parked on the grass. Fans on lawn chairs eat and drink in the sun, watching race traffic roll by. Country and classic rock mix with the play-by-play of SEC and ACC football. In front of the house, three people sit at a wooden picnic table: a dark-haired couple in their early 40s and an older man in a blue golf hat. Two signs lean against a parked car. One says, "Check in please!" The other, weirdly, reads, "Caution: Walnuts on ground and falling."
Mary and Mike own the house. The older man is Mary's father, Jack, a sly codger who points at my camera, winks and says, "You taking pictures of pretty girls?" Then he does a little dance, part jig, part Heisman pose.
Mary looks at my T-shirt and asks, "Are you from Kansas?"
Before I can answer yes, Jack interrupts: "Did you bring Dorothy and Toto?"
"Wow … a Wizard of Oz joke," I say.
They laugh. Mary offers a beer and starts a friendly but full-scale interrogation. Did I come to the race alone? Was I meeting anyone? Why was I taking video?
My story is almost true. I'm a freelance writer. The camera is for a documentary about the race that might end up online. I had booked my flight a while ago and planned to buy a race ticket, but money problems popped up, so I arrived with $20, hoping for the best.
"Twenty bucks won't get you far!" Jack says with a laugh.
Mary asks if she can help. "Well," I say slowly, "I could use a piece of cardboard and a Magic Marker."
As she heads inside the house, Jack tells me about the first NASCAR race at Martinsville, in 1949, and about later meeting Fireball Roberts and his all-time favorite driver, Junior Johnson. "Junior was bootlegging and everyone knew it," Jack says. "But that was just how folks fed their families back then."
After a little more banter, Mike decides he wants to help me get a ticket. A lot of campers have been returning to this spot for 20 years or more, and he knows them well enough to ask about relatives who couldn't make the trip. While he's off doing that, Mary returns with a marker and some cardboard. She and Jack watch me make a sign that reads, "Need a Miracle!" The phrase, taken from a Grateful Dead song, has evolved into roadside slang for "I need a ticket and can't pay for it."
Around 2 o'clock, Mike returns and says he has a seat, but the guy wants the full $75. I shrug. Twenty bucks is all I got. So I walk a few hundred yards downhill, then stop where the road crosses the railroad tracks, hold up my sign and smile. That is, until I spot a dead black snake in the grass. Not a good omen—but hey, at least it's dead.
Most people who pass by smile, honk or wave. A few stop with tickets but cringe when I offer my measly $20. At 2:30, driver intros for the Truck Series race blast from the track. I can tell the green flag has dropped when the rumble turns to a furious whine. Giving up on the miracle for a while, I walk toward the speedway. I get barely 50 feet before meeting a cool dude named Dave, from Ohio. We talk about the weather and various drivers. Dave offers me a beer, then another and another. His hospitality is awesome, but halfway through the race, I'm more than halfway hammered. And what I really want is a sandwich.
I walk under the Turn 3 and 4 grandstands to emerge on a sun-drenched hillside filled with vendors. Fans in race gear stroll, eat, drink and shop. Hawkers sell scanners and earplugs, snack foods and antacids, chewing tobacco and nicotine gum. When the race ends, the fans pour out—and the strain of the past four hours gets to me. I walk back to the farmhouse, where Mike waits at the table with good news. The extra-ticket guy has lowered his price to $50. If I throw in my $20, Mike and Mary will get the difference, as long as I agree to do a few chores.
"Are you kidding?" I ask. But I quickly learn that the "dangerous walnuts" are no joke. The green nuts, which are the size of golf balls and just as hard, cover the property, and a dozen more fall each time the wind blows. Mary's brother Charles was supposed to have raked this morning but didn't show, so now the job is mine.
Mike throws a rake in his golf cart and drops me at the far edge of the yard. A half-acre later, I'm pouring sweat and there's a clean lawn behind me. When Mike putters up, he has a wicked grin on his face. "We've got your ticket," he says. "It's a great seat, too. But Mary's got one more chore for you."
Soon Mary is leading me to a small wooden shack where she keeps two horses. She asks if I'll muck the stalls. I hadn't been near a horse since I was 7, when one kicked me in the leg at camp. Not wanting to seem like a wuss, I say yes. And with Mary watching, I use a large plastic scoop to carry big piles of manure and urine-soaked hay to a wheelbarrow. My stomach burns from hunger, my hands shake, foul dust sticks to my sweaty skin and clothes. I'm a mess.
Back at the house, my hosts make a big ceremony of giving me my prize. Mary takes pictures while Mike and Jack and I stand in a row, each with one hand on the ticket, like I'm receiving one of those big fake checks. Everyone grins and shakes hands as I'm officially presented with one ticket entitling me to sit in Seat 23, Row 54, Section N.
Phew.
Elated but hungry, hot and dirty, I thank them and excuse myself for a walk in the woods. A path winds a half-mile to a clear stream, where I wash up. Kind of. Then I rest on the mossy bank and close my eyes. When I open them, the air is much colder and the sky is purple. Uh-oh. If I don't get back to camp soon, I'll be lost in the dark woods with nothing but a video camera. I hated The Blair Witch Project.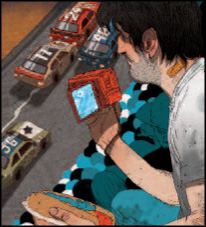 Frank Stockton
A Martinsville dog really is man's best friend.
When I finally hike through the tree line, campfires glitter on far hills. Mary calls me to the picnic table. After my token protests, she convinces me to eat with her, Mike, Jack, her mom, the chore-shirking Charles and a few campers. We plow into an orgy of comfort foods: smoked turkey, burgers and dogs, potato salad, slaw, red beans and rice. One camper brings a jug of apple juice he pressed that morning. For dessert, we have home-baked brownies and peach cobbler. Then, the same man who brought the apple juice breaks out three bottles of homemade hard cider, which tastes like dry wine and kicks like a mule. At this point, noticing I don't have a tent or anything other than my black-and-yellow Nextel Cup fleece to keep me warm, Mary asks where I plan to sleep.
"Oh, maybe in that old barn," I say, pointing to a metal shack on her neighbor's land.
"You'll do no such thing!" Mary insists that I sleep in their pickup, under the camper shell. There is an air mattress and old sleeping bag. After more halfhearted protests, I thank the heck out of them and we sit around talking until they go to bed.
At 10:30, a man carrying a musket walks from the shadows, wearing Confederate regalia. This freaks me out, but the other campers assure me that William, a Civil War reenactor, is harmless. He talks about a big Gettysburg reenactment next summer and helps me load his gun (powder, no lead). I lift the barrel, cock the hammer and rest my finger on the trigger. For a second, I wonder how often antique firearms blow up in the shooter's face. I pull the trigger, letting loose a bright flash and wicked snap.
Charles and I grab the last bottle of hard cider and head downhill to a campsite. Someone has set up a DJ booth between two bonfires and is blasting '80s hits. We share the cider and watch women dance around the fire as their tramp stamps peek from the backs of their low-rise jeans. By 1 a.m., Charles wanders off with a curvy brunette. I stumble back to the house, falling into Mike and Mary's pickup. Around 3 a.m., I wake up in a cold sweat and curl deeper into the sleeping bag. At 4, nature calls. Walking in the dark to answer it, I trip over a missed walnut and bang my knee. Irony. Around 5:30, I wake up in a cold sweat again. All in all, a swell night.
At 9 a.m., Jack's cackle pierces my skull: "Where's ol' Hamp?!" The day is on. Mary has coffee and breakfast ready. A group of Marines camped nearby crack their first beers. Just watching them hurts my liver. Most of the morning I gingerly sip coffee, wishing for a shower.
By noon, it's time to head for the track. I leave with the Marines, but lose them in the bright swirl of people at the gates. Standing in line, I'm almost giddy. When my turn comes, I proudly hand my ticket to the attendant, beaming. She hands me back the stub without the least bit of ceremony. I'm kind of bummed. Getting into the race was not easy; the scent of horse manure still clings to my skin. A little more fuss would have been nice.
From inside, the track looks almost tiny. There's not even room for camping on the infield, with dozens of haulers packed in like multicolored Russian cigarettes. I wander for a while and look at fans, wishing I had money for one of Martinsville's famous hot dogs. Neon pink, smothered in chili and onions, they're a bargain at two bucks—but that's two bucks more than I have. Hoping to at least get a picture of the dogs, I walk up to a twentysomething Tony Stewart fan carrying a box of four. "Sir, this will sound weird," I say. "But could I take a picture of your hot dogs?"
"Sure … dude," he says. "You want one?" Before I can answer, he practically tosses a dog at me and walks off.
Driver introductions start as I climb 54 rows up the Blue Ridge Grandstand to my sweet seat. The national anthem plays, and the drivers, led by polesitter Jeff Gordon, slide into their cars. I high-five fans around me. Right now, at 1:30 p.m., I don't notice that I'm hungry, tired and smelly. I don't think about that long walk uphill to say goodbye to my new friends at the farmhouse, or that I'll have to hitch a ride back to the convenience store. Nothing else matters as a voice over the PA system booms those four words that make the crowd erupt with cheers and the track explode with metal thunder.
"Gentlemen … Start … Your … Engines."
THE FANS STRIKE BACK
It's ESPN The Magazine's issue for the fans, about the fans and even written by the fans.

FAN VS. WILD
We dropped a NASCAR fan five miles from Martinsville with $20 in his pocket and 24 hours until the Subway 500. His mission? Score a ticket to the race -- and survive!

HOW I LEARNED TO LOVE DIKEMBE
What happened when we sent a fan to cover an NBA game?

WHAT I LEARNED AT THE BEARS GAME
Life in the NFL can be a zoo.

DUPED
Its sounds like a fairy tale. Steve Yzerman, the legendary hockey hero, reaches out to Braxton Davis, a sick little boy. Think you've read this story before? Bet you haven't.

WOULD THE REAL O.J. MAYO PLEASE STAND UP?
Lots of people have been saying lots of things about O.J. Mayo for a long time. Care to know if any of it's true?

A LOVE-HATE RELATIONSHIP
For 352 days a year, Ron and Laura Ezell have the perfect marriage. Those other 13 days -- when Auburn or Alabama takes the field -- are a whole other story.

OUTTAKES
Kenny Mayne is kinda scared of Superfans like John "Big Dawg" Thompson, Steve "Raider Mort" Mortara and Joe "The Birdman" Ripley.

CAN'T BEAT 'EM? CURSE 'EM
Cardinals backers are once again bemoaning their team's bad luck. But the football-mad folks in one Pennsylvania town will tell you there's a darker force at work.

NO TICKET? NO PROBLEM
Wanna go to the game without going into debt? We asked some street wise scalpers to let you in on the tricks of their trade.

READ BETWEEN THE LINES
If the Giants-Patriots Super Bowl matchup doesn't have you on the edge of your seat, just follow our prop-bet guide ... and bet your lungs on "Free Fallin'."

FORMULA FOR FAILURE
It's early, but the formula for success in Minnesota isn't adding up. In fact, most fans say the Timberwolves are playing like it's 1989.


ESPN Top Headlines