BASEBALL TODAY PODCAST
Eric Karabell previews Opening Day and the 2008 season with Jonah Keri. Plus, Peter Pascarelli talks to Braves third baseman Chipper Jones.
• Baseball Today

Welcome to Page 2's preview of the 2008 baseball season. To celebrate Opening Day, we're rolling out 100 story lines worth watching for the next seven months. Why 100? You'll have to wait 'til No. 100 to find out.
Within this century club, you'll find a number of predictions. In the interest of accountability, let's take a look at a few of the hits and misses from last season's preview:
The Good
• Diamondbacks will win NL West
• Bad year and a fourth-place finish for the White Sox
• Indians over Tigers in the AL Central
• Breakouts for Prince Fielder, Erik Bedard, Dan Haren, Heath Bell and Kelly Johnson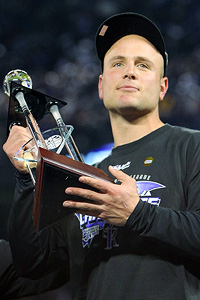 Doug Pensinger/Getty Images
Last season's Rockies prediction was, well, a little off.
The Bad
•
Kei Igawa
will help the Yankees
• Rockies could make the playoffs ... in 2009, or possibly 2008 (but not 2007)
•
Scott Thorman
and
Craig Wilson
will form a solid platoon for the Braves
• Breakouts for
Anthony Reyes
,
Jeremy Bonderman
,
Ryan Shealy
,
Chris Iannetta
and
Terrmel Sledge
(uh ... yeah, he's a Nippon Ham Fighter now)
Here's what we'll be watching this season, starting with the defending champs:
1. Can the Red Sox repeat? Not if Josh Beckett's back problems linger. The rotation has multiple question marks, with Curt Schilling staring down possible retirement and Clay Buchholz a great talent who's probably not ready to dominate just yet. The offense is loaded as usual, the bullpen's set, and Dice-K should do well in his second year. But there are too many good teams in the AL for Boston to win it all again, let alone inspire thoughts of a possible dynasty, without its ace.
2. Barry Bonds: No one will touch him with a 40-foot foul pole -- for now. But what happens when the Mets, Mariners or another go-for-it-now club realizes it's missing a bat for its title run? The team that sets politics and fear aside and makes a decision solely on baseball terms could immediately add three or more wins to its record.
3. Roger Clemens: "Oh my goodness gracious! Roger Clemens is in the owner's box and … he's just announced he's going to tend to his garden gnomes! What a moment!"
4. Mike Piazza: He has probably played his last game. Just don't forget his legacy: The best offensive catcher in baseball history.
5. Jeff Weaver: Some desperate team will give him a shot at a third straight ERA over 6. Probably a team that wants the first pick in the 2009 draft.
6. Ludicrous predictions by MLB managers: See if you can spot the real one.
(a) Kyle Farnsworth will complete his Ph.D. in nuclear physics.
(b) Juan Pierre will hit 40 homers.
(c) Dan Uggla could have a Hall of Fame career.
(d) A swarm of angry blue jays will invade Rogers Centre May 2, pecking Scott Rolen back onto the DL.
While (d) actually seems most likely, the correct answer is (c). Fredi Gonzalez, we applaud your optimism.
7. Marlins infield defense: Mike Jacobs learned how to play first base just three years ago. Jorge Cantu used to be one of the worst defensive second basemen in the game -- now he's playing a new position at third. Uggla is in there for his bat, let's put it that way. As for rising star Hanley Ramirez, the best thing you can say about his play at shortstop is that he might one day make a competent outfielder. We'd say the Marlins' starting rotation is going to hate having the worst infield defense in the game behind it, but ...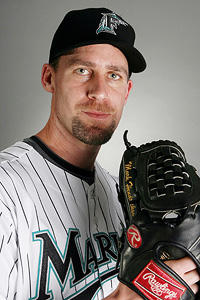 Doug Benc/Getty Images
The good news for Mark Hendrickson is he's finally a staff ace. The bad news ... he's on the Marlins.
8. The Marlins have a starting rotation?
Rick VandenHurk
,
Andrew Miller
,
Scott Olsen
,
Ricky Nolasco
and YOUR Opening Day starter, Marlins fans,
Mark Hendrickson
. So
that's
where Weaver will end up.
9. Nationals starting rotation: Jim Bowden has made some good deals, Ryan Zimmerman leads an intriguing group of young hitters and the new ballpark looks great. But when you release last season's Opening Day starter a week and a half before the first pitch and make a guy you signed to a minor league contract (coming off a 5.57 ERA) your new No. 1, that's not good.
10. Cardinals' starting rotation:
The Cardinals placed pitchers Chris Carpenter, Mark Mulder, Matt Clement and Joel Pineiro on the 15-day DL, all retroactive to March 21.
An entire rotation on the disabled list. Five years ago, this would've really mattered.
11. Joba Chamberlain: Mess around with him in the 'pen for a few innings if you must. But make him a starter soon, or you'll be making a huge mistake.
12. Hank Steinbrenner: Who needs a quiet, respected Yankees team when you can have George II starting holy wars with Larry Lucchino and looking like his old man did two decades ago? It's great to have the old Bombers back.
13. A new Joe: There's a laptop in the Yankees manager's office instead of a racing form, as the hard-nosed Joe Girardi replaces players' manager Joe Torre. None of which will matter much, because the impact of a manager is vastly overrated.
14. Torre in L.A.: Overrated impact or not, let's give credit where credit's due. After weeks of speculation that he'd opt for the well-paid veteran over the more talented young guy, Torre chose Andre Ethier over Pierre to be his starting left fielder. Sure, it took a monster performance by Ethier and Rey Ordonez levels of incompetence by Pierre this spring to make it happen, but by making the right decision, Torre probably just added two wins to the Dodgers' 2008 total. In what figures to be a very tight NL West race, that's a big deal.
15. Dusty in Cincy: The Reds' new manager picked Corey Patterson and Scott Hatteberg over Jay Bruce and Joey Votto, showing his own preference for veterans. But get this: The first move is actually the right one, and the second one's not all that bad. Bruce should be a star one day, but that day may not come for a couple of years; meanwhile, Patterson's superior defense probably makes it a wash between the two. At first, Votto has more upside, to be sure. But Hatteberg still gets on base a lot, making him a viable option. Blame GM Wayne Krivsky for not getting back a decent prospect for Hatteberg. Then credit Baker for making three out of four good moves, going with Patterson in center and up-and-coming young pitchers Johnny Cueto and Edinson Volquez in the rotation. Of course, if Dusty gives Cueto and Volquez the Mark Prior treatment, all bets are off.
16. Mitchell report fallout: Other than Bonds and Clemens, the witch hunt looks like it has calmed down for now. But if an enlarged head is a symptom of PED use, why didn't anyone test this guy?
17. Speaking of scandalous behavior: If you enjoy nonmonetary baseball wagers of delicious Gummi Bears, take the under every time. Baseball is, at its core, a game of failures. That's what makes the successes so exciting.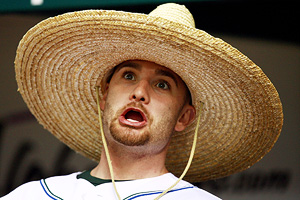 Doug Benc/Getty Images
There's scary ... and there's Gomes Scary. Be afraid.
18. Yankees-Rays feud:
With both teams vowing retaliation, will tempers flare during the regular season? Isn't there something in the rulebook about a backup DH with 74 lifetime at-bats trying to spike a 150-pound second baseman in a spring training game? Is there anything scarier than
an enraged Jonny Gomes
charging in from the outfield to knock you over?
19. Just the Rays: I miss the Devil already. Why not embrace your Satanic roots? If Mephistopheles can get me fired up for Jamie Langenbrunner, why can't he do the same for Jamie Shields?
20. Team on the rise: The Rays. B.J. Upton, Carl Crawford, Carlos Pena and Evan Longoria provide a solid core of impact hitters, while Shields should join with Scott Kazmir, Matt Garza and an army of top pitching prospects to make some noise in the AL East very soon. Probably not this season, though, not with Kazmir out until at least early May. Schadenfreude-stricken Mets fans may be conjuring images of Dr. James Andrews in their heads.
21. Team that wisely decided to start rebuilding: The Orioles. Adam Jones was the centerpiece of a well-timed trade for Erik Bedard that restocked the farm system. New man in charge Andy MacPhail even showed a willingness to accept sunk costs, tossing Jay Gibbons overboard. Still, the specter of Peter Angelos looms as the O's try to rebuild. Also, Baltimore fans won't have much to cheer about this season other than Jones and Nick Markakis. Now starting at shortstop … Luis Hernandez.
22. Team with most players you've never heard of: The Giants. Daniel Ortmeier! Rajai Davis! Eugenio Velez! Brian Bocock! In San Francisco, it's Lincecum and Cain and pray for … the next five years to pass as quickly as possible.
23. Biggest disappointment: The Tigers. They could score 950 runs and still miss the playoffs. Miggy Cabrera's great, but Dontrelle Willis isn't, and neither are the other three bodies behind Justin Verlander in the starting rotation. The bigger problem is in the bullpen. When a 40-year-old junk-baller is your shining light, you've got problems. The better-balanced Indians are the pick in the AL Central.
24. C.C. Sabathia Award (pitcher who takes the next step and wins the Cy Young): Verlander. Make it 950 runs scored and a possible 20-game winner, and still no playoffs.
25. Ryan Braun Award (gigantic performance by an in-season call-up): In a big upset, we're bypassing Bruce and Longoria and giving the award to … Nick Adenhart. The Angels' top pitching prospect should crack the injury-riddled rotation by June and be a big reason the Halos prevail in a weak AL West.
26. A-Rod award (player who should've won MVP already, but didn't fit the story line for voters and thus didn't win, much like A-Rod versus Juan Gonzalez in 1996): David Wright. He was the best player in the National League last season. This season, his teammates don't choke and he takes home the hardware.
27. Three True Outcomes All-Stars: "Three true outcomes" refers to walks, strikeouts and homers. The players who do these three things often are usually skewered by critics, but still provide ample value for their ballclubs. Here are our three favorites:
28. Adam Dunn: 2007 line -- 632 PA, 101 BB, 165 K's, 40 HR. In Cincinnati, 40-plus homers and 100-plus walks a season isn't enough for the Brennamans, who think nothing's sexier than a sacrifice fly.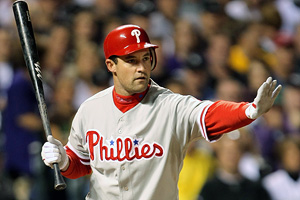 Doug Pensinger/Getty Images
If Pat can play well in Philly, fans will probably only throw watch batteries at him.
29. Pat Burrell:
2007 line -- 598 PA, 114 BB, 120 K's, 30 HR. Nearly got booed out of Philly after a slow start, only to catch fire and finish with big numbers. The
wedding proposal as a promotional photo is a little weird
, though.
30. Jack Cust: 2007 line -- 507 PA, 105 BB, 164 K's, 26 HR. The stat head favorite and minor league wonder finally made good, producing huge TTO numbers in 124 games. I'm no math whiz, but I think he projects to 481 strikeouts over a full season. Which is awesome.
31. Lowering the steaks: Over the offseason, Prince Fielder and Pat Neshek announced they'd gone vegetarian and vegan, respectively. Kudos to Neshek, already one of our all-time favorites for his avid card collecting and generally genial personality, for standing up for his principles. Bravo to Fielder too, though with a caveat: Fielder was inspired by the book "Skinny Bitch," which needed slick marketing, a diet hook and an inflammatory title to get attention. Prince, try this one instead.
32. Pitcher stat heads are rooting for: Brian Bannister.
33. Pitcher scouts are rooting for: Sidd Finch.
34. Best 1-2 combos: You could start a holy war arguing over the top pair of starters in a major league rotation. Last season Beckett and Schilling might've made this list, but injury concerns for both knocked them out of contention in '08. Love Shields and Kazmir, but too many elbow worries for the latter have the Rays' duo just missing the cut. The top contenders are …
35. Brandon Webb-Dan Haren, Diamondbacks: 450 innings of weak grounders to second.
36. Jake Peavy-Chris Young, Padres: Combined with lights-out bullpen and killer ballpark, it's a wonder anyone ever scores against the Padres.
37. Sabathia-Fausto Carmona, Indians: The 2007 Cy Young winner and 2007's most improved pitcher.
Doug Benc/Getty Images
Come for the devastating change-up, stay for the jheri curl.
38. Johan Santana-John Maine, Mets:
Pedro's the popular choice as the No. 2 starter, but Maine's quietly become one of the best young starters in the game. And Ollie Perez is a pretty great No. 4.
39. Roy Halladay-Dustin McGowan, Blue Jays: A.J. Burnett's the presumptive No. 2, but McGowan's a rising star.
40. Bedard-Felix Hernandez: My personal favorite, though the numbers might point elsewhere. Any time you combine a strikeout-firing Canadian with a guy who was dubbed "King Felix" as a teenager, you've got my vote.
41. Can Bedard and Felix take the Mariners to the playoffs? Not unless they can both hit .300 with power. The Mariners lack offense at multiple positions, and only three defenses produced fewer outs on balls in play last season. They were lucky to win 88 in 2007, and it won't happen again.
42. On the other hand … the Angels might win only 85 themselves: Kelvim Escobar might be done for the season, and you get the feeling John Lackey's injury is more serious than they're letting on. A great farm system affords plenty of depth, but this isn't the powerhouse team of years past. It may not matter in baseball's weakest division.
44. Eric Byrnes Award (player most likely to have a big year, become a fan favorite and get a too-large contract): Josh Hamilton.
45. Carlos Pena Award (guy who comes out of nowhere to hit 40 homers): Hamilton.
46. Ready for the leap: Hamilton. What, too much Hamilton hype for you? OK, here are a few breakouts to watch …
47. Markakis: From sixth in Rookie of the Year voting to a .300-23-112 season. There's more to come.
48. Dustin McGowan: Forget what we said earlier about McGowan's becoming the Jays' No. 2 starter. With Halladay increasingly getting by on guile, McGowan, who held righties to a .198 average last season, will be the team's best pitcher by season's end.
49. Robinson Cano: Wins the 2008 AL batting title. Howie Kendrick finishes second.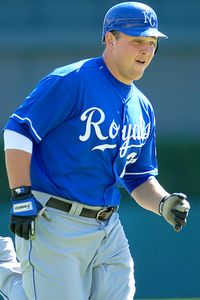 Mark Cunningham/MLB Photos/Getty Images
Meet Billy Butler -- the future of the Yankees, Red Sox or Mets.
50. Billy Butler:
He's 21 and he plays for the Royals. You'll know who he is very soon.
51. Kevin Kouzmanoff: Yes, even at Petco.
52. Edwin Encarnacion: I like them third basemen, mmm-hmmm.
53. Most likely to bounce back (in a good way): Hank Blalock.
54. Most likely to bounce back (in a bad way): Magglio Ordonez.
55. What will Micah Owings' batting line look like for a full season? The Arizona pitcher hit .333/.349/.683 last season, with four homers, seven doubles, a triple and 15 RBIs in 60 at-bats. If Justin Upton's not ready for prime time in right, why not give Owings a shot? What, you'd rather play Trot Nixon?
56. Can Matt Cain win the Cy Young with a 4-20 record and a 2.36 ERA? He went 7-16 with a 3.65 ERA, and that was with Bonds in the lineup. Nolan Ryan led the NL in strikeouts and ERA in 1987, but still went 8-16. With another year of experience under his belt and plenty of Brian Bocock goodness behind him, Cain could give that season a run for its money.
57. Manager on the hot seat: Tony La Russa. The Cardinals are going to be bad this season, and La Russa's going to take the fall for it.
58. General manager on the hot seat: For the second year in a row, it's Bill Bavasi. He made his blockbuster trade and the Angels are riddled with injuries, cracking the Mariners' window of opportunity wide open. Another .205 season from Richie Sexson and more adventures in fly-ball catching from Raul Ibanez, though, and things could get hairy.
59. Player most needing a big season for a Hall of Fame push: Chipper Jones. Actually, Larry's already done more than enough to deserve induction. But round-number-obsessed voters and a high-offense era might mean he'll probably need to pad his résumé (currently at 387 home runs and a .307 average). He'll miss his share of games (an average of 44 the past three seasons) but still crush the ball when he's in the lineup.
60. The Braves bandwagon: All aboard! From ESPN.com's Jayson Stark to the hard-working and blogger-chiding Ken Rosenthal, the Braves have become a chic pick to win it all. With 16 of their first 31 games against the mighty Marlins, Nats and Pirates, an early run to first place is a good bet. Where they go from there will decide their fate: The Braves started 24-12 last season -- then went 60-66 the rest of the way.
61. Great in fantasy, overrated in real life: Willy Taveras.
62. Great in real life, overrated in fantasy: Dustin Pedroia.
63. Battle of the waistlines in the AL Central: Miggy Cabrera slimmed down and got his monster contract. Prediction: A hot fudge sundae a day and $20 million a year for impending free agent Sabathia.
64. Seven giants and a Lilliputian award: To the Brewers, for trotting out Fielder, Braun, Corey Hart, Mike Cameron, J.J. Hardy, Rickie Weeks, Bill Hall … and Jason Kendall. If only Ned Yost could bat his catcher 10th.
65. Will the Mets' stars be enough to overcome the ill health of Moises Alou and Carlos Delgado? Alou and Delgado are near the end of the road. But an off-the-charts core of Wright, Santana, Maine, Jose Reyes, Carlos Beltran and Billy Wagner gives them as much frontline talent as any team in baseball. A lot might rest on the question …
66. Can Pedro be Pedro? Even the man himself would admit that 2000 Pedro, or even 1997 Pedro, isn't coming back. But Martinez looked good in the spring and should help give the Mets the best top four of any rotation in the league. Expect 150 well-above-average innings.
67. Mental toughness, character and team chemistry: When you win, you supposedly have it. When you lose, you supposedly don't. The Mets will hear about it every day for six months until they wipe away the memory of last season's collapse.
68. Could the Phillies get a third straight MVP? All things considered, Chase Utley may be the best player on the team. If he plays 160 games, he'll be an excellent pick. Utley's candidacy may come down to one simple factor: How well Kyle Kendrick pitches.
69. How will Phillies fans react when Brad Lidge blows a save? Let's face it, the reputation of Philly fans is a bit overblown. Sure, they boo, but only because they're knowledgeable fans who badly want a winner. If something like this happens, though … the fans' reaction might make the poor guy spontaneously combust.
70. Is this the year the D-backs' offense breaks out? With Stephen Drew due for a bounce-back season after an unlucky 2007 and Justin Upton an Opening Day starter for the first time, I say yes. Add an improved starting rotation and Arizona repeats in the NL West.
71. I'm a Pittsburgh Pirates fan, tell me why I should be excited. For the first time in a long time, you have a GM who seems to know his stuff. It'll take some time for Neal Huntington and his scouting and player development team to rebuild the farm system, but after 15 losing seasons and lots of Cam Bonifay and Dave Littlefield, things can't get any worse, right?
72. I'm an Oakland A's fan, tell me why I should be excited. Sure, it was tough to watch Billy Beane ship off young stars Nick Swisher and Dan Haren in the offseason, with whispers that Huston Street, Joe Blanton and Rich Harden may not be far behind. But your organization now has a truckload of exciting pitching prospects. Get thee to Kane County, Stockton, Midland and Sacramento and watch Gio Gonzalez, Trevor Cahill, Fautino de los Santos, Brett Anderson, Henry Rodriguez and Brigmer Leon in action. In fact, all of us should hit our nearest minor league park at least once this summer. Go Fisher Cats.
73. Injury-prone players scoreboard (courtesy of Baseball Think Factory):
Eric Chavez
Orlando Hernandez
Mark Prior
Moises Alou
Nomar Garciaparra
Scott Rolen
Josh Beckett
Rich Harden
Mike Hampton
A.J. Burnett
Kerry Wood
Nick Johnson
Ken Griffey Jr.
Bobby Crosby
Milton Bradley
74. Can the Rockies repeat? They might win close to 90 games again and still miss the playoffs. The downgrade at second base to Jayson Nix, Jason Hirsh's injury and a normal pull-back after Matt Holliday's career year will cost a few games. But fierce competition from the Phillies, Braves, Brewers and Dodgers will likely be the bigger reason Colorado doesn't play on into October.
75. 2009 Cy Young candidates: Tim Lincecum, Felix Hernandez. Two of the most exciting pitchers to watch may still be a year away from putting it all together.
76. 2012 Cy Young candidates: Rick Porcello (Tigers), Jarrod Parker (Diamondbacks). Last year's top-rated high school pitchers make their minor league debuts.
77. Milestones: 2007 was a big year for round numbers. Craig Biggio got his 3,000th hit. Frank Thomas hit his 500th home run. Tom Glavine won his 300th game. Then there was He Who Shall Remain Nameless, who hit some home run that, like every piece of memorabilia bearing his name and likeness at Telecommunications Conglomerate Park, we're urged to wipe out of our memory. Some of the big milestones within reach this year include:
78. John Smoltz's 3,000th strikeout: It's tough to be underrated when you pitch for 14 division winners and split your career between a decent Tom Seaver impression as a starter and shades of Dennis Eckersley as a reliever. But Smoltz's hybrid résumé and his place in line behind Greg Maddux and Tom Glavine have blurred the impact of his soon-to-be 20-year career. He's a deserving first-ballot Hall of Famer and he'll punch out his 3,000 soon after he comes off the DL.
79. Randy Johnson's 300th win: He's 16 away and starts the season on the DL after back surgery, meaning he may need one more year to enter the 300 club. He's come a long way from the lanky, mulleted prospect who was an afterthought behind Gene Harris in the Mark Langston trade 19 years ago.
80. Barry Bonds' 3,000th hit and 2,000th RBI: Sports books are giving very favorable odds that Bonds won't play a single game this season, since negative headlines apparently trump a 1.000 OPS. His Hall of Fame candidacy will have nothing to do with whether or not he reaches these plateaus, but he is just 65 hits and four RBIs away.
81. Ken Griffey Jr.'s 600th home run: Choosing between Bonds and Junior for best player of the '90s is one of the great debates of our generation. Rooting for Junior to hit seven more homers and join Bonds, Aaron, Ruth, Mays and Sosa in the 600 club won't be nearly as tough.
82. Jorge Julio's 100th save: Now with the Indians (his sixth team in the past three years), Julio's greatness will shine like a beacon over the baseball world the next time he slams the door in the ninth. (Hat tip to Baseball Prospectus' Kevin Goldstein for pointing out this one.)
83. Keith Foulke: Four years ago, he was the dominant closer who helped end 86 years of misery for Red Sox fans. He nearly washed out of the game with injuries (retiring last spring training), only to return this spring with the A's, boasting a 22 mph fastball. But hey, his changeup still works and he leads the majors in ERA. We're pulling for him.
84. Things I never thought I'd hear myself say, but I believe to be true: The Royals will be really interesting. Mike Mussina's not done yet.
85. Next wave of Japanese talent: Kosuke Fukudome will give the Cubs' lineup a jolt of lefty-hitting OBP goodness. Hiroki Kuroda makes a strong Dodgers' rotation even better. Masa Kobayashi will get more than a cup of coffee in the Indians' bullpen. (I could watch that clip all day.)
86. There is no lying in baseball: Are the Rays lying when they say they sent Longoria to the minors for reasons other than service time? Of course they are. Willy Aybar is nobody's answer for an everyday third baseman and Longoria's on the verge of stardom. But this team isn't winning anything just yet (check back in '09) and a few million bucks and an extra year of team control matters a lot. In this case, it's a necessary lie.
87. Playing a game of chicken … and losing: The Chicago White Sox, who gambled they could find a taker for Joe Crede's $5.15 million salary, started him in spring training and watched him hit below the Mendoza Line with no power and diminished range at third. Now top prospect Josh Fields is in the minors, and the Sox are starting an injured player instead, in a year when they're hoping to contend.
88. Bad Idea Jeans: Hey, I know, let's dump the best pitcher in baseball for 52 cents on the dollar, then throw a four-year, $47 million contract at a 33-year-old closer, even though we have a half-dozen really good, cheap relievers who can do the job and we have a limited payroll because we're run by the cheapest billionaire in the world.
89. Will Kerry Wood last as Cubs closer? He just might. The Cubs are relishing the reclamation-project-made-good angle, and as Keith Law has noted, Carlos Marmol's more valuable as a multi-inning set-up man anyway. If you haven't drafted your fantasy team yet, buy cheap Wood.
90. Roy Oswalt and Lance Berkman: MLB's biggest waste -- a top-10 pitcher and a top-20 hitter on a very bad team.
91. Swan songs for Maddux and Glavine? Well, Glavine anyway. His return to the Braves feels like a curtain call before he hangs 'em up and waits for the Cooperstown call. Maddux still has the best control of any pitcher in baseball and Petco's the most forgiving park in the bigs. He could pitch until he's 50.
92. Streaks: The Houston Rockets' 22-game winning streak was so amazing and so unlikely that it captivated the NBA for weeks, culminating in huge interest for the Rockets-Celtics game that ended it. Baseball's got a longer season, a lot more players and a daily schedule that can make a big streak even more captivating. Predicting an individual team's winning streak, a player's hitting streak or a pitcher's scoreless innings streak is a crapshoot. But here are a few we're watching …
93. Will Crawford keep his batting average rise streak alive?


2002: .259
2003: .281
2004: .296
2005: .301
2006: .305
2007: .315
2008: ???
94. Will the Pirates score their first winning season since 1992? No, but they won't finish last in their division.
95. Will the Orioles capture their first winning season since 1997? No, but no one will get fired for it, for a change.
96. Will the Reds enjoy their first winning season since 2000? Yes, and Dusty Baker and Wayne Krivsky will get the credit for the foundation built by the previous regime.
97. Will the Brewers make the playoffs for the first time since 1982? Yes, via the wild card. We can't wait for sightings of Rollie Fingers and Robin Yount in October.
98. Will the Yankees miss the playoffs for the first time since 1993? No, though a lot of people are predicting the Tigers to claim their postseason spot. I'm going with unproven upside (Philip Hughes, Ian Kennedy, Joba Chamberlain) over proven mediocrities (Kenny Rogers, Dontrelle Willis, Todd Jones).
99. We're overdue for a good World Series: The last compelling one was 2002, when the Angels came back to knock off Bonds and the Giants in seven games. Six years later, the Mets and Indians will give us another good one.
100. Will the Cubs' 100-year World Series drought end? No, but they'll come close. Good team, just the wrong year.