There is a moment in "Uneven Fairways" (Golf Channel, Feb. 11, 9 p.m. ET) that freezes you.
It's when Bill Spiller Jr., son of legendary black "outcast" Bill Spiller Sr., says, "The PGA broke my father's heart." When the comment leaves the junior Spiller's lips, it isn't necessarily the words that stiffen you. It's the disdain and pain in his eyes.
For years, his father was denied the right to play on the PGA Tour because of its exclusionary "Caucasians-only" clause. Even when he was allowed to play -- such as when he shot a 68 in the first round of the 1948 Los Angeles Open (tied for second with Ben Hogan) and eventually finished 20 strokes behind Hogan -- he suffered. His score there qualified him for the next tournament, along with two other black golfers. All three of them were turned away.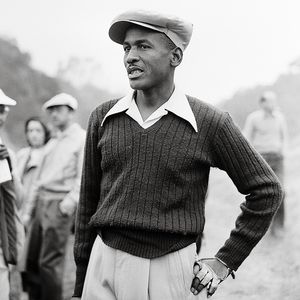 AP Photo/Ed Widdis
In 1948, Bill Spiller led the Los Angeles Open in the first round, but he soon learned the hard truth about the pro tour.
The years of his father's fight -- Bill Spiller Sr. did not accept racism quietly -- came out in his son's eyes. For a lifetime, he has heard his father referred to as golf's "tragic hero." The words are not just figurative. Bill Spiller Jr. knows that his father's not being allowed to play golf at the professional level plainly and simply broke … his … heart.
That moment chills you to the bone.
As does the one when Tiger Woods (who wrote the forward to one of the books that was the foundation for the documentary) sends another not-felt-before feeling through you.
For thousands of African-Americans who have held Tiger in high regard and claimed him as one of "our" heroes, it's the moment when he acknowledges his place in the game from a "black perspective" and seems to almost officially step forward and say that if it weren't for the struggles and sacrifices of people such as Teddy Rhodes and Charlie Sifford, he never would have been able to even play.
"If it wasn't for their focus and dedication [and] great love of the game of golf, as I have said, my father probably would not have played the game because he would not have had access to the game," Woods says toward the end of the documentary. "And hence, I never would have played the game. I would have never been introduced to the game of golf."
Now, Tiger has made similar comments in the past. But none has resonated the way his comments in "Uneven Fairways" do. Maybe it's the context. Maybe it's the company he's keeping in the film. He's surrounded by other golfers of color, other legends, for almost an hour, and that shapes what Tiger is saying differently. Tiger might have said the same things before, but he never has been close to coming off with the authenticity he has in this film.
"I think [Tiger] is finally getting it," "Uneven Fairways" associate producer Craig Bowen said. "Through this whole interview process for the film, for him to say, 'I wouldn't be here without these guys,' is the ultimate testimonial that he finally does get it. It's more acknowledgement of his blackness. To me, Tiger's stance in this documentary was the first time that he really stood up and acknowledged that part of his heritage."
The last words of the film: "In essence, I owe my entire career to them and their pioneering efforts." Courtesy of Tiger Woods.
---
What's funny is how it all comes back to film. At least for us. The stories of how we were treated for centuries always seem to go unnoticed and are considered unrelated to the issues we have in society today, until a film (or television show) about our past rears its beautiful head.
The separation of family and its effect on generations of blacks weren't taken seriously until "Roots" aired on ABC, a year after Alex Haley's book was a best-seller. Same with "Amistad" and the psychological and generational impact of the slave trade. Denzel had to play Malcolm X before Americans came to grips with the true difference between violence and self-defense for us. The civil rights movement being more than just the bookends of Rosa Parks' arrest and Dr. Martin Luther King's "I Have A Dream" speech found empathy, sympathy, full disclosure and understanding from the masses only after PBS aired "Eyes On The Prize." "Remember The Titans." "Glory Road." "Black Magic."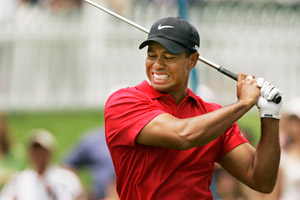 AP Photo/Charlie Riedel
Tiger speaks from the heart in "Uneven Fairways" about his debt to African-American golfers who came before him.
It took "The Wire" to humanize urban America and the youth who have to survive it.
"Uneven Fairways" is necessary to see to reinforce the notion that nothing in this country has come easy to those born of color. Because of the success blacks have found in sports, we tend to allow ourselves an "It's always been this way" pseudo-fantasy. We're leaning to a universal belief that achievements in sports just happen. That Willie Mays just happened. That Jordan just happened. That Serena and Venus just happened. That Tiger just happened.
As Joe Louis Barrow Jr., son of golf pioneer Joe Louis (people forget that the great heavyweight champion also broke the color barrier in golf, becoming the first African-American to play -- as an amateur under a sponsor's exemption -- on the PGA Tour), said in the film, "People today don't understand segregation in sports because there are so many people with diverse backgrounds dominating certain sports."
It often takes film or TV to reel this fantasy back to some form of reality. Actual events don't do it. Newspaper clippings don't have the impact. And in "Uneven Fairways," it's the impact of Dan Levinson's direction (not to mention his shooting style, in which all interviews are conducted in front of a white backdrop) that makes this documentary, to the game of golf, what "4 Little Girls" was to racial terrorism and what "When The Levees Broke" was to American bureaucracy: Reality.
And in that reality is the distance we had to go to get to where we are today. That distance is too often forgotten, lost, hidden or destroyed. It's no different in golf.
There's a saying that life is not a sprint, it's a marathon. Well, in the case of the history of black athletes in most sports -- this time, golf -- in America, life never has been a sprint or a marathon. It's always been a damn decathlon.
---
Article III, Section I. The PGA Constitution, 1960: "Male professional golfers of Caucasian race, over the age of eighteen (18) years, residing in North or South America, who can qualify under the terms and conditions, hereinafter specified, shall be eligible for membership."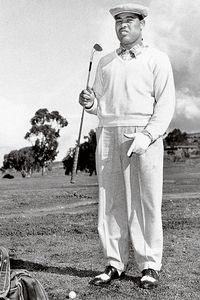 AP Photo
Former heavyweight boxing champ Joe Louis knew his way around the golf course, too, and fought against the PGA's ban on African-Americans.
Running through the narrative in "Uneven Fairways" -- through the stories of how legendary James Black made (maybe) as much as $4 million "hustling" golf in the '60s because he wasn't able to play on the tour, of how the United Golfers Association (UGA) was golf's equivalent to baseball's Negro Leagues, of how Jim Thorpe and Charles Owens caddied barefoot and never knew what golf shoes felt like on their feet until they were allowed on tour, of how they won golf tournaments and tried to cash their winning checks only to find out the organizers who sponsored the tournaments hadn't put the money in the bank -- is this phrase: "just didn't get the opportunity."
It is repeated, like a refrain in church.
Over and over you hear it, even when it's not being said. There's no true hatred, no overt anger, no disturbing hostility toward the past and the way the game of golf has treated African-Americans. There's just the fatigue of the fight and a conclusion drawn: that no one would have to tell this story if Sifford, Rhodes, Ray Botts, Albert Green, Renee Powell, John Merchant and John Brooks Dendy had just been given the opportunity.
It's the great Pete Brown, the first African-American to win on the PGA Tour, telling his story with his eyes closed. It freezes you.
Thomas Smith, a former UGA/NAGA (North American Golfers Association) player, sums up golf's history with us best when, in the middle of the film, he's asked about the importance of Joe Louis.
"Yeah, he was an American hero from way back, but it didn't make no difference," he says. "He had the wrong color of skin."
The pause is long.
"He was just born black, that's all."
Scoop Jackson is a columnist for ESPN.com. He is a longtime acquaintance of Craig Bowen, the associate producer of "Uneven Fairways."

Also See
ESPN Top Headlines