Commentary
Chad Ochocinco: Here's deal on Owens
Originally Published:
February 4, 2010
By
Chad Ochocinco
| Special to Page 2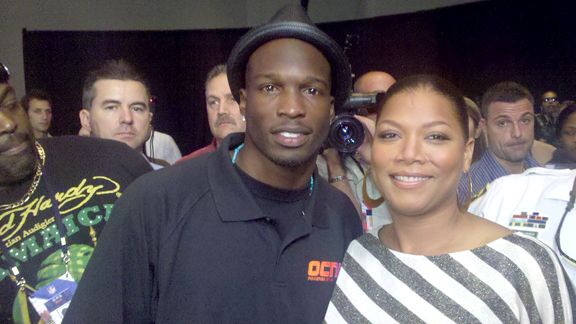 Brendan Moynihan/MotorolaHow many other reporters out there get a chance to get a photo with Queen Latifah?
It's been a long day, but it's been a good day.
You see how I got everyone talking about the news about Terrell Owens?
Here's what happened: Terrell and I were hanging out at our pool party on Wednesday. He and I were talking about playing together. He thought it was a good idea.
I went to bed early last night, around 9:30 p.m. But I did talk with Coach Marvin Lewis, who is coming to Miami.
I told Coach about our conversation, and he said, "Let's talk about it when I get there."
He arrived today, and we're going to talk.
See, that's what the Ochocinco News Network is all about. We break news.
So I did the radio row again this morning. Everyone was trying to get with me. I break the news to some of my friends on radio and then television.
And everyone is talking about it. It was awesome.
After that, I got to see my girl Queen Latifah at the Super Bowl halftime news conference.
I've known her for a long time, so I got a chance -- out of about 1,000 media members -- to ask one of the handful of questions. I asked her about one of her first albums and did she think she'd be singing "America the Beautiful" at halftime of a Super Bowl.
Here's what she said in the official transcript of the press conference:
OCHOCINCO REACHES OUT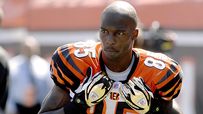 Chad Ochocinco's connection with a fan through social media holds significant meaning for surviving family, friends.
• Amy K. Nelson: Connecting with Chad
"Did I ever imagine this? You know, kids have dreams. You have dreams, but do you ever imagine that you're going to stand in front of the world singing a song? You don't. You joke about it, even. I feel so proud to be American and to be at the Super Bowl. It's just a beautiful time, and I think we should all be proud of ourselves. So, 'no' was the answer to your question. But I'm happy. 'No,' but I'm happy."
And NFL PR guy Brian McCarthy gave me a shoutout at the end when he said, "Chad always likes to get the last word and he is here today too."
That was really nice.
I then watched a little of Who's performance. I don't know much of their music except that it's played on CSI. And I do know "My Generation".
You know that I play guitar, saxophone and piano? That might ruin my reputation, but it's true.
Well, I was starving and I wanted to get myself prepared for the Madden tournament. I love playing X-box.
I ate at one of my favorite restaurants, Dave Cafe, and then I made it to the Clevelander for the Madden tournament. That's where I was in my element.
I got a chance to hang out with Jared Allen, Chris Johnson and a bunch of my friends. I got to play video games and ask them a lot of questions. A lot of the fans were there too but it was all business for me when I was in the tournament.
I lost in the semifinals. I could say I was robbed, but I'm not.
Congratulations to Maurice-Jones Drew for winning.
See, OCNN is making news, covering news and still having fun.