Commentary
Daltrey, Who unhappy with performance
Originally Published:
February 7, 2010
By
Lynn Hoppes
| Page 2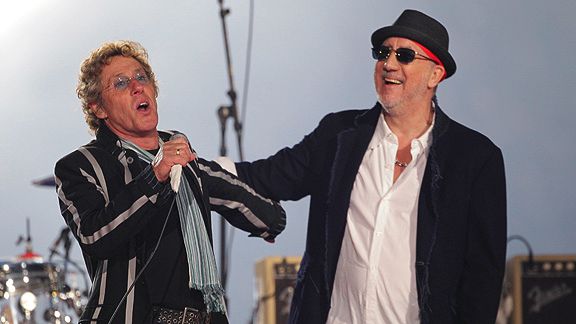 AP Photo/Mark HumphreyRoger Daltrey and Pete Townshend performed a medley of five songs at the Super Bowl.
MIAMI -- The Who's front man, Roger Daltrey, didn't really care for his experience singing at halftime of Sunday's Super Bowl.
Daltrey, who doesn't hide the fact that he isn't a fan of American football, thought the whole idea of singing a medley of classic rock songs in 12 minutes at halftime of a sporting event was "a little strange."
"It didn't even feel like a concert," Daltrey said. "It's a television show. And what can you do in 12 minutes?"
The Who's medley of five songs -- shortened versions of the classics -- were "Pinball Wizard" out of the gate, sliding into "Baba O'Riley," "Who Are You," a few bars of "See Me" (from the "Tommy" album) and then "Won't Get Fooled Again."
Looking at the 65-year-old Daltrey and 64-year-old guitarist Pete Townshend, the two surviving members of the original quartet, you could tell they weren't necessarily enjoying their moment in the Sun Life Stadium. And that's with family members in skyboxes, all the herbal tea you can drink and a stadium packed with 70,000 fans.
With only 12 minutes to perform, they had no time to talk to the audience. No time to mention the Super Bowl. No time to mention Miami. And no time to thank the audience.
The Who on iTunes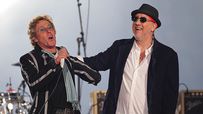 Since their formation in London in 1964, The Who has produced some of rock's iconic songs, including "Who Are You," "Behind Blue Eyes," "Baba O'Riley," "Pinball Wizard" and "Squeeze Box."

The annual halftime concert has become one of music's highest-profile gigs, with Bruce Springsteen, U2, Prince, the Rolling Stones and Paul McCartney each performing in the past few years. But it doesn't always connect with the audience.
Sunday's performance by The Who was solid, with pedestrian fireworks and a lot of simplistic lasers, but there was nothing special. It was quite safe.
Daltrey initially didn't want to talk about the band's performance -- "I just want to get to my booth to watch the game" -- as he was walking with his entourage. But he returned to face the music in an exclusive interview.
"I thought it went OK. I understand. It's a TV show. Cameras were everywhere," he said. "I was so blinded that I couldn't see.
"And I really wished the crowd would have gotten into singing the songs with us more. That's how it is in Europe for our soccer matches. I wanted more banter."
Townshend disagreed with Daltrey's assessment of the performance.
"We were trying to put on a great show," he said. "We had as much fun as we could have."
Maybe it has something to do with Miami?
Maybe it has something to do with Daltrey hitting 65?
Or maybe it's just that their voices aren't as strong as they once were.
"Miami is so different these days. It's not just a retirement community," Daltrey said nostalgically. "Now Miami is fun and hip, and I'm too old to enjoy it."
Maybe the opposite can be said of a crowd at the Super Bowl: Maybe fans are too young to enjoy classic rock.
Lynn Hoppes is senior director for Page 2 and Commentary for ESPN.com.