Commentary
Party patrol at NBA All-Star Weekend
Originally Published:
February 13, 2010
By
Chris Palmer
| ESPN the Magazine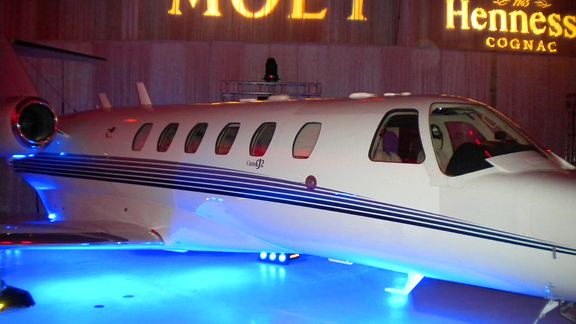 Courtesy of Chris PalmerCheck out this plane at Dirk Nowitzki and Jason Terry's party in an airplane hangar.
Here's a look at the NBA All-Star Weekend in Dallas, party-style:
Zo & Magic's 8-Ball Challenge
So here's the thing about sideways snowfall and biting winds on the opening night of an All-Star Weekend. It can severely hamper the party. That was the scene Thursday night in Dallas as people struggled to get in the mood to order free drinks, pick up gift bags and mingle with their favorite players.
The much-anticipated annual kickoff to the All-Star party schedule, Zo & Magic's 8-Ball Challenge, saw its attendance cut in half compared to past years and featured just a trickle of players who decided to brave the frigid temps and squishy slush puddles.
Not exactly the way you want to kick things off, but the parties must go on.
This year's tourney was held at the Centennial Building at Fair Park just outside of downtown Dallas, a cavernous venue boasting 28-foot high ceilings and 94,000 square feet of boogie-down real estate. Much of which went unused.
There were empty pool tables and bored-looking bartenders. A Wii station sat dormant, as did a neighboring "Guitar Hero" display.
Rain, sleet or driving Texas snow, the party scene is all about high-wattage star watching. Because if there aren't any stars, it's just people standing in a room.
Shortly after a quick walk-through, the fashionable Dwyane Wade strolled in wearing designer jeans, a fitted V-neck sweater and an elegant silk scarf. And sunglasses. Because nothing says "What snowstorm?" like ultra-dark shades at night.
Next up was Mark Cuban. And of course he was smiling.
"You look like you're having a good time," I said.
"Have you ever seen me not having a good time?" he replied.
Actually, I have not.
Sadly, the action on the tables was taken about as seriously as morning shootaround before a Timberwolves game, with many players scarcely finishing a rack. Thanks to the weather there weren't enough players for the tournament. There would be no rousing shining moments like back in '05, when Paul Pierce beat Damon Jones in a sudden-death playoff game and stood on the table and declared his dominance to the entire club at the top of his lungs, to which Jones replied, "Go win a playoff game."
Pierce shot back at his former teammate: "I made you. I'm the reason you're in this league."
There would be nothing like the time in '08 when teammates Chris Paul and Michael Jordan lost to TNT executive because Paul scratched on the eight ball, and several hours later at the Brand Jordan party MJ still fumed.
Tonight there was little more than Michael Beasley clumsily knocking around balls and deflecting questions about those trade rumors.
"Man, I can't get into all that," Beasley said. "I'm just happy to be in the league."
And we're happy to see the Beez doing well.
After a couple of beef sliders it was clear that this joint would not jump tonight. Many of the players hadn't even gotten into town. After having two flights canceled, the NBA sent a charter for Chris Kaman that couldn't get off the ground at LAX, either.
And it just ain't a party without Captain Caveman.
Better luck tomorrow.
Big D: Where Hard-hitting Safeties Give You a Lift
Since the action at Zo & Magic's 8-Ball challenge was a wash I headed for the door around 11. Out front it seemed everybody was leaving at the same time, causing massive gridlock. In one corner Russell Westbrook and James Harden were sharing one of their weird inside jokes.
I ran into Cowboys safety Ken Hamlin dressed in a smart tan corduroy blazer.
Somebody did a little shopping before hitting the town, huh?
"Actually, I dug way to the back of my closet and found this," he said. "I've had it for about two years, but I completely forgot about it."
He was off to host a party at Plush, a swank downtown lounge.
"You want a ride?" he asked. Seeing as how there were no cabs in sight I jumped at the offer. Kind man, this Hamlin. Before he left, Magic Johnson saw Hamlin and embraced him. "You be safe out there, young fella," said Earvin. "And I'm gonna be watching you on that field come next year."
Hamlin seemed genuinely pleased by Magic's love. I was even more pleased with Hamlin's ride: a diesel-powered party bus that seated 25. Hamlin and his crew of seven (including two brothers and two assistants) jumped on. Sweet ride, but with just a handful of people it felt like the Izod Center if it were sitting on 24s.
Hamlin has been hitting All-Star Games since Philly in 2001, and was excited about not having to travel to mix it up on the party circuit this year.
"People sleep on Dallas, but it's an underrated town," said the former Pro Bowler. "It's got a great vibe and a good mix of people."
Once inside we made our way to Hamlin's VIP table where there were three waitresses dressed in little referee outfits that could make any man leave his wife. Or at least stare for a while. Plush is the polar opposite of Zo's: cozy, intimate, cash bar. Despite the snow, the party came to life. There was vodka being poured down eager women's throats, ill mashups by the celebrity DJ and even a TO sighting.
After a couple of hours, Hamlin retreated to his downtown high-rise, which is a touch pass from American Airlines Center.
"I gotta pace myself," he said. "It's going to be a long week."
The Big Freeze
When you stop to think about it, the snow in Dallas couldn't be more appropriate, considering this is the 25th anniversary of the infamous "freeze-out" game, in which the East All-Stars got all sensitive and wouldn't let Michael Jordan touch the ball.
You know the story: The veterans, upset with the attention this brash rook was getting, organized a plan to freeze a 22-year-old MJ out of the action. (Seriously, it was the least they could do to protest MJ's donning of gold chains at the previous day's dunk contest. Gold chains? Really? Really.)
So Mitchell & Ness -- the Philadelphia apparel company that single-handedly sparked the throwback movement in the early 2000s, through its agreement with Jordan -- is releasing an authentic replica of MJ's first-ever All-Star jersey. You can commemorate the 25th anniversary of Isiah's cold-hearted, jealous scheme by shelling out $250 to secure one of the 300 jerseys the company whipped up. (Actually, they sold out via pre-order in less than 24 hours. Sorry.)
But what better way to find out what truly happened that night then to ask someone who was there. Why yes, Magic Johnson would work perfectly.
So Magic, what really happened that night?
"Why you gonna come with some bull like that?" Magic said, actually very annoyed. "You ought to know better than that. Don't do that. That's just silly stuff."
Overheard
From Zo & Magic's 8-Ball Challenge
Partygoer 1: Who's that little boy playing pool with Terrell Owens?
Partygoer 2: That's Stephen Curry. He's a rookie with Golden State. Pretty good. But who's that little boy playing pool with Stephen Curry?
Quote
Here's a quick exchange from TNT's broadcast booth during the first half of the Rookie Challenge about Heat forward Michael Beasley.
Dwight Howard: I love his game. They call him B Easy.
Kevin McHale: I like to call him B Consistent.
Q&A with Stephen Curry
Here for the rookie-sophomore game, the rookie Warriors guard has been walking around Dallas with that innocent wide-eyed thing he's got going on. No better time to get a few random minutes with Dell Curry's son.
When it comes to your ride, is it better to lease or to own?
I think it's better to own so you can just pay it off and be done with it. You want to feel like you own something. If you want to eventually sell it and upgrade it shouldn't be a problem if you're on this level getting big checks and spending your money wisely.
When was the last time you went grocery shopping?
My last day at Davidson was the last time I went to the grocery store by myself. I bought some frozen pizzas and all the ingredients to make some mango smoothies. I also got a lot of breakfast foods since I didn't want to go to the cafeteria in the morning.
Who does your shopping now?
My roommate who is a high school friend takes care of it for me now. That's his job. I pay the rent, and he buys the groceries. It's a pretty good arrangement.
Who's your celebrity crush?
Definitely Keri Hilson. She's just it right now. A couple years ago it was 100 percent Beyonce, but now Hilson is upstaging her. She's kind of known, but she's still a little quiet at the same time. A lot of guys are into her because she's just hot right now.
When was the last time you pumped your own gas?
Three days ago. That's just a regular thing. I'm not that big-time where I don't do something that simple. It's funny, because sometimes at the pump people in the next car over recognize you and they start going crazy. I'm like, "All I'm doing is pumping gas."
Are you used to getting recognized?
It's still weird, but I'm pretty used to it from being around my dad and having him recognized everywhere we went in my hometown of Charlotte. To me it's an honor and a privilege to be a figure that most people know and want to talk to. It's still fun for me.
Who's more recognizable, you or your dad (former Hornets guard Dell Curry)?
West Coast, I am, but East Coast, he still has it. I'm not sure for how long, though.
Magic Talk
The Lakers legend talks greatness, Michael vs. Kobe-style.
"It isn't possible for Kobe to eclipse or even equal Michael's greatness. N-O. No way, because Michael did what he did against some of the greatest who ever played. That hasn't happened with Kobe. Michael had to prove himself against the Bad Boys Pistons, Dr. J, Larry Bird, and I could go on and on. We didn't have bad teams like we have now that Kobe is taking advantage of. Some of them are terrible. Who can't score against New Jersey? Who can't score against the Knicks? Michael's proving ground was so much better than Kobe's. Back in my day nobody would have ever let him score 82 points. Players today may be more athletic, but we were way smarter. Michael's greatness is better because he helped his teammates excel. Kobe is only now starting to do that now. But I will say that Kobe had a better game younger. Michael acquired his deep game as he got older, and Kobe had his when he was very young. Three or four years from now, we'll see. But now, it's Michael."
Custom Sneak of The Day
The Knicks' Danilo Gallinari is participating in two events this weekend -- the Rookie Challenge and the 3-Point Contest -- and there's literally no way he's rockin' the same pair of kicks for both events. He decided to flip the color scheme on his Reebok Talkin Krazy hoop shoes for the two events. Check the DOB on the heel. Always gotta let the comp know when you came into this world, son.
Buy You a 'Drank'
The days of Allen Iverson clutching a bottle of Jack were some golden ones for sure. And remember the Moet phase players went through? Memories. But these days if you really want to drink like an All-Star you would do well to get yourself a bottle of Ace of Spades, the bubbly the pros drink. For just $300 a pop you can clutch one of the pretty pink bottles, hold it high and nod your head real slow-like. No one will ever know you got cut from your JV hoops team. You're a baller now, my friend.
We Fly High
After the rookie-sophomore game I jumped in a cab and headed for Kenny Smith's annual bash. Once a beacon of chic ghetto fabulousness, it's fallen off to become some sort of bastion for mediocre well-dressed riff-raff. OK, that's harsh, but any party they advertise on the radio is a party you don't want to be at. (If a sign that says cash bar offends you, look away.)
The game plan was to meet Chamillionaire there and then hopscotch to actual A-list events. I got there at 11 then this happened: frantic calls from Cham's publicist saying they're stuck on the side of a road somewhere with a flat tire. The Grammy-winning rapper just can't catch a break. First the video for his new song, "Main Event," that he was going to shoot guerrilla-style all over Dallas essentially got snowed out, and now this.
Rappers run notoriously behind schedule. Throw in some minor car repairs and that's a wrap.
Off to Dirk Nowitzki and Jason Terry's joint affair in a hangar at Dallas Love Field Airport, which is being billed as "pure elegance."
If you throw a party in an airport hangar, they will come. There were literally thousands of people here. I snaked my way through several small rooms until I came to what I'm told is the biggest room of the complex. Mary J Blige's VIP area contained several white couches, cute little monogrammed napkins and a G4 airplane. Yes, there was an airplane in the VIP area. Take that, T-Pain.
An off-duty Dallas cop so heavy the words Dallas Police are stretched out on the back of his official department-issued windbreaker pointed me to Dirk and Jason's private enclave. Dirk was the first bold-face to arrive and gladly took pictures with adoring fans who were lucky enough to know somebody who got them temporary access to Dirk's world.
Soon after, a sharply dressed Terry arrived via the back door with his lady. He was sporting wraparound sunglasses (again with the glasses). Dirk hugged him, took the shades and put them on his own head where they would stay the rest of the night. Much like his baseline jumper, Dirk's ease in a crowd is a thing of beauty. The former MVP is friendly, accommodating and so not worried about it. And he never stops smiling, which is literally the opposite of his on-court demeanor.
At about 12:30 I had my requisite Mark Cuban moment. After he listened to some pointless drivel from a wannabe mogul, I stepped to Cuban.
"Hey, thanks for the snow, pal."
"My pleasure," Cuban said. I'd be lying if I said his facial expression didn't indicate that he was partially ticked at me for sarcastically letting him know that this All-Star weekend had gotten off to a less-than-perfect note thanks to the unexpected sogginess.
Before I could think of another snarky comment to follow my failed icebreaker he offered this: "Listen, I'm gonna go to the bar and grab a beer."
Point taken. I let him chill with his Miller Lite for the rest of the evening and made my way out of the room when I got the call: Mary was in the building. Blige has become the unofficial songbird of All-Star Weekend, seemingly showing up to literally every event. Mary rides deep, too. Her entourage was so thick when she rolled past Dirk's VIP it was hard to tell where her posse ended and the results of the 2010 census began. Her security was mugging harder than Chamillionaire, who by the way is probably still wrestling with lug nuts, because rappers just don't roll with AAA.
Anyway, here's the beauty of outsized entourages: It's plenty easy to attach yourself to one and breeze into any club/VIP/Waffle House. The things are often so hastily thrown together that many times most of the members don't know each other. Someone looks at you funny, just say you're "with the label," which I did to gain entry to Mary's exclusive VIP area next to the G4. Gotta say it's the coziest hangar in which I've ever paid $11 for a watered-down drink. (Oh, the other entourage rule is that security has no idea whether or not you belong and often won't risk annoying somebody important. So just act like you belong and it will be so.)
At 1:30 the party was still raging, but I was fresh out of intrepidness. I ducked out a back door (the only way to leave a party) reserved for the staff. Dirk was leaning against the nose of the G4 holding court and pretty much acting like he owned the world. Tonight he certainly did.
Chris Palmer is a contributing writer for ESPN The Magazine.
ESPN the Magazine
Chris Palmer has been a frequent contributor to ESPN The Magazine and ESPN.com's NBA coverage since 1999.