Commentary
Brian McKeever to make Olympic history
Originally Published:
February 15, 2010
By
Nate Jones
| Special to Page 2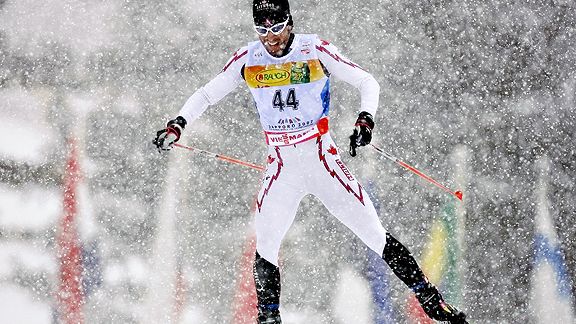 AP Photo/Lee Jin-manCanada's Brian McKeever has a chance to make history at the Winter Olympics.
This week, Canadian cross-country skier Brian McKeever will make history by becoming the first athlete to compete in a Winter Olympics after previously having competed in a Paralympics.
McKeever who suffers from Stargardt Disease and is legally blind, competed in the Paralympic Games in 2002 at Salt Lake City and 2006 in Turin. He also plans to take part in this year's Paralympics in Vancouver March 12-21.
Before McKeever, five athletes competed in both the Summer Paralympics and Olympics. They are Neroli Fairhall of New Zealand, Paola Fantato of Italy, American Marla Runyan, Poland's Natalia Partyka and Natalie du Toit of South Africa.
The first Summer Paralympic Games started in 1960 in Rome. The first Winter Paralympics started in 1976 in Ornskoldsvik, Sweden. This is the first time a Canadian city is hosting the Winter Olympics and Paralympics in the same year as the 1988 Paralympics were held in Innsbruck, Austria, instead of Calgary.
Although those six athletes are the only ones to compete in both the Paralympics and Olympics, there have been other athletes with disabilities who have competed in the Olympics.
They include:
George Eyser (USA): Earned six medals including three gold at the 1904 Summer Games in St. Louis. This despite having a wooden leg after losing his leg in a train accident.
Oliv'er Halassy (HUN): Competed in swimming and water polo winning silver at the 1928 Summer Games in Amsterdam. Also won gold in 1932 at Los Angeles and 1936 at Berlin. Competed without a left foot after a childhood streetcar accident forced the foot to be amputated.
K'aroly Tak'acs (HUN): Won gold in the rapid fire pistol event at the 1948 London Games and 1952 in Helsinki becoming first repeat winner of this event. Competed without his right hand, which was lost during a miltary exercise.
Lis Hartel (DEN): Won silver medals in equestrian at the 1952 Helsinki Games and 1956 Melbourne/Stockholm Games. Paralyzed below the waist due to polio.
Wilma Rudolph (USA): Won bronze at the 1956 Games and three gold medals at the 1960 Rome Games in track and field. Suffered from polio, scarlet fever and pneumonia as a child.
Murray Halberg (NZL): Competed in track and field in 1960 at Rome and 1964 at Tokyo. Won gold in the 5000m event in Rome despite a paralyzed left arm suffered playing rugby.
Neroli Fairhall (NZL): Paralyzed from the waist down due to a motorbike accident, but still managed to compete in archery using a wheelchair at the 1984 Los Angeles Games. First paraplegic to compete in an Olympics and the first athlete to compete in both the Paralympics and Olympics.
Jim Abbott (USA): Helped the U.S. baseball team win gold at the 1988 Seoul Games. Later pitched 10 seasons in MLB, even throwing a no-hitter, all this despite being born without a right hand.
Tam'as Darnyi (HUN): Swimmer who lost vision in his left eye at age 15 after being hit by a an icy snowball. Won gold in both the 200m and 400m medleys at the Seoul Games and the 1992 Barcelona Games.
Pyambuu Tuul (MGL): Runner who competed in the 1992 Barcelona Games. Blinded by an explosion in 1978, but later underwent surgery to restore partial vision in one eye.
Paola Fantato (ITA): Paralyzed by polio, but competed in archery from a wheelchair at the 1996 Atlanta Games. Also competed in five Paralympics.
Marla Runyan (USA): Legally blind due to Stargardt Disease, but ran in the 1,500m and 5,000m events at Sydney in 2000. Also qualified for the Olympic team at Athens in 2004, but was injured. Won gold medals at the 1992 and 1996 Paralympic Games.
Natalie du Toit (RSA): Competed in swimming at the 2008 Beijing Olympics. Won gold medals at the 2004 and 2008 Paralympic Games. Lost her left leg at the knee after a scooter accident.
Natalia Partyka (POL): Competed in table tennis at the 2008 Beijing Olympics. Won gold medals at the 2004 and 2008 Paralympic Games. Born without a right hand and forearm.
Brian McKeever (CAN): Scheduled to compete in cross-country skiing events in Vancouver. Won seven medals in two previous Paralympics in cross country and biathlon.