Commentary
Bull riding trading cards -- seriously?
Originally Published:
March 9, 2010
By
Tracy Hackler
| Beckett Media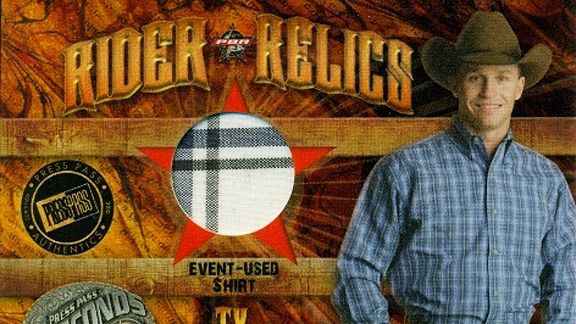 Press Pass
There are those purportedly in the know who'll swear up and down that professional bull riding is swiftly stampeding its way deeper into the mainstream sports conscience.
Some folks, understandably skeptical of such a claim, will seek validation in the PBR's television ratings on Versus or in its burgeoning live attendance figures (a recent event at Jerry Jones' Cowboys Stadium attracted more than 40,000 fans).
But all the proof you really need to support the notion of an upwardly mobile PBR is likely as close as the nearest Walmart or Target, in a sports card aisle suddenly full of bulls … and the men who ride them.
In late February, longtime NASCAR trading card manufacturer Press Pass released 8 Seconds, the company's first licensed set of cards devoted to the rugged PBR's biggest stars -- from top riders such as defending world champion Kody Lostroh and all-time great Ty Murray to legendary leaping livestock like Code Blue and Booger Butt.
To be sure, it's an eccentric set with some quirky twists. But it works.
Both aesthetically and conceptually, 8 Seconds delivers an authentic western feel that should be out of place sharing shelf space with contemporary baseball and football cards, yet somehow it feels as comfortable as 3-year-old Wranglers.
Perhaps because there are actual pieces of Wranglers -- worn by top riders during PBR competition -- embedded into some of the set's more unique cards. Other memorabilia that made the cut, quite literally, includes rider-worn shirts, cowboy hats and resin-stained riding gloves. Popular PBR entertainer Flint Rasmussen even lent some of his star-spangled shorts to the cause.
And most of the sport's top personalities also provided varying quantities of autographs to the set's most expensive cards.
But spend any time at all with this set and you come to understand that it's the 1,600-pound, snot-snorting, bad-intentioned bulls themselves -- everyone from Chicken on a Chain to Mossy Oak Mudslinger -- that separate these trading cards from anything else on the market.
I mean, it's not every day that you get to read this on the back of a trading card:
"With his trademark one-foot landing, White Magic is one of the world's rankest bulls to ever buck in a PBR arena."
I can't make this stuff up.
Nor can I make up the fact that the 29 bull cards are valued at 40 cents apiece, the same as 14 of the 45 riders in the set. Clearly, PBR fans love their two-horned heroes.
Eventually, though, as is the case with every PBR ride, the humans come out on top (whether or not they stay there is an entirely different matter). Murray's best autograph card is valued at $80; Lostroh and popular young rider J.B. Mauney have autographed cards valued at $50 apiece.
Those key cards present high-value upside to a fun and refreshingly unconventional addition to the modern sports card landscape. The real question, of course, is whether the allure will last past eight seconds.
Tracy Hackler is the editorial director for Beckett Media. What are your sports cards worth? Check out Beckett.com -- and be sure to get the latest news on sports cards and memorabilia at The Beckett Blog.