Commentary
FSU women prepare by playing men
Originally Published:
March 18, 2010
By
Derek Redd
| Special to Page 2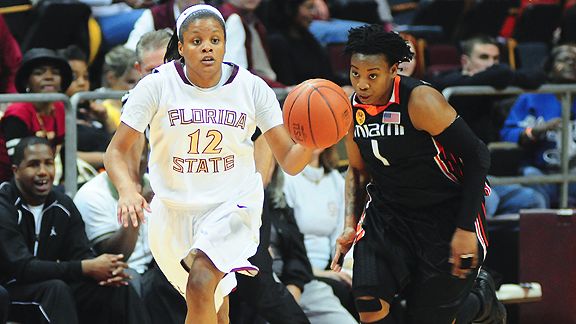 Reid Compton/Icon SMIFSU's Courtney Ward and her team prepare for the NCAA tourney by playing men.
TALLAHASSEE, Fla. -- Jason Alter didn't think playing against a women's college basketball team would be too tough.
He was a pretty good high school guard, an honorable mention on his all-county team. He just assumed a guy's natural physical advantages would give him a serious edge over a women's basketball player.
One hard pick changed Alter's opinion.
"I went straight to the floor," he said. "They're playing Division I basketball for a reason."
Alter has spent the last three years with the rest of the guys on the scout team of the Florida State women's basketball program. The Seminoles are a No. 3 seed entering the NCAA tournament, which begins Saturday.
It's a win-win situation. The guys keep their post-high school playing days alive in a way that beats the heck out of pickup games. The FSU women face a physical, athletic playing style they don't see on game nights.
There are seven full-time players on the scout team and another six or seven who show up periodically. Some of them were scouted by FSU women's coach Sue Semrau and invited to participate after she either saw them in the gym shooting around or saw them trying out for the men's team, while others came on their own to try out.
Semrau doesn't deny the scout players have a size advantage over her team. That's why she brought them in. The Seminoles have won a share of the ACC regular-season crown each of the past two years, so her players don't get pushed around too often. But they do in practice, and Semrau said that only makes her team better.
"We've been able to push ourselves physically because these guys have great athleticism," she said. "Guys like to compete, so to put ourselves in a position where we compete at a high level in practice, it gets us ready for the season."
The scout team may run faster and jump higher, but scrimmages still aren't a breeze. Just ask Adam Conrad, a two-year scout team member who got a palm in the forehead when center Cierra Bravard boxed him out. Because of the experience, Conrad has developed a new respect for the women's game.
"I told my other friends, when I was watching women's basketball and they were like 'Why are you watching that?'" he said. "I said, 'They're really good. They'd beat any of you guys.'"
Yet when the women get the best of the men, there's no trash-talking, no Helen Reddy "I am woman, hear me roar" sing-alongs. The women just keep playing, something the guys truly appreciate.
"We're just focused on getting the drill done and not having to run because we lose drills," All-ACC forward Jacinta Monroe said. "We're modest, I guess. We just want to win."
Florida State is winning, and the scout players know what they mean to the women's success. There's little glamour to the job, just hard work and the hope they don't get faked out of their gym shorts defending the point guard.
But the thank-yous they get after every practice mean a lot. So does watching the FSU women in the NCAA tournament.
"It'd be really cool if they won the national championship," Conrad said. "I could say I helped them do that."
Derek Redd is a writer for Sports Media Exchange, a national freelance writing network.