Commentary
Popovich loves his wine
Originally Published:
March 26, 2010
By
Chris Perkins
| Special to Page 2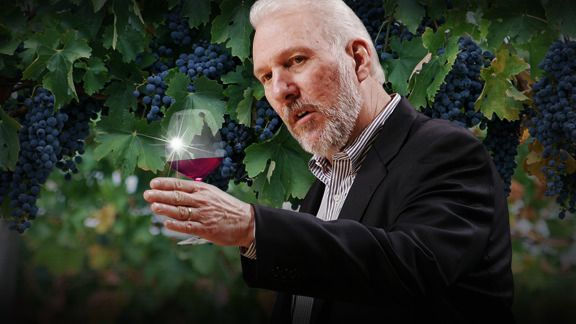 ESPN.com Illustration
MIAMI -- San Antonio Spurs coach Gregg Popovich, possibly the most dry-witted coach in the NBA, seemed a bit taken aback when he was first approached about his decades-long love affair with wine.
"Do people really care about this?" Popovich asked.
Yes, Gregg, they do. Because it seems oddly out of character that Popovich, one of only four coaches to win at least four NBA titles, would be so serious about wine that he is part owner of the Oregon-based A to Z Wineworks and has a 12-foot-by-20-foot, 3,000-bottle above-ground wine cellar at his home.
"I spend a lot of time out there when we lose," he quipped.
Then, beating his questioner to the punch and acknowledging his Spurs (42-27 as of March 23) are uncharacteristically among the lowest playoff seeds in the Western Conference, he added, "I know, I know. I spend a lot more time out there this year than last year, and a lot more bottles have been opened."
The 61-year-old Popovich, now in his 14th season as coach of the Spurs, is one of the all-time greats in ways that go beyond his titles (1999, 2003, 2005, 2007). He majored in Soviet studies at the Air Force Academy. While working as an assistant coach at Pomona-Pitzer College, a Division III school in Claremont, Calif., he moved his family into the dorm for one year. He later converted a closet into his office so he could be closer to the court.
Popovich's Rock & Hammer limited release 2004 pinot noir was so-called because Jacob Riis, a 19th century writer and social reformer, once said, "When nothing seems to help, I go look at a stonecutter hammering away at his rock perhaps a hundred times without as much as a crack showing in it. Yet at the hundred-and-first blow it will split in two and I know it was not that blow that did it but all that had gone before."
Popovich's love for wine started many years ago in northern California's Napa Valley.
"It was a great place to take a date," he cracked. "Remember when you were 21? Girls and all that stuff?"
But Popovich went to Napa Valley mostly for the wine.
"When I first got out of the [Air Force] Academy, I was first stationed out in California, and that was early 1970s," he said. "That's when Napa Valley was just starting to explode and become what it is today. That was a time you could go up to the vineyards and you didn't pay for anything, and you walked in and it was you and two other people.
"The winemakers would take you out and have you taste out of the barrel and sit down with you, and you'd bring a lunch and be there all afternoon. It was just a great environment. I fell in love with it in the early '70s."
In 2007, A to Z Wineworks bought Rex Hill Vineyards in the Willamette Valley of northwest Oregon. It specializes in pinot noir. Popovich remains keenly involved.
"I'm not stomping grapes or anything," he said. "I get up there when I can. I've got some great guys that are the winemakers and the general managers are wonderful people. I've known them for a long time. They put together a real good situation, so it's fun to be part of it. It's something different than basketball.
"My goal is to drink as much of it as I can before I die so my kids don't use 7-Up and make sangria out of the wine. That's my goal."
Chris Perkins, formerly of The Palm Beach Post, is a freelance writer for Sports Media Exchange, a national freelance writing network.