Commentary
Donkey Kong king plays Ms. Pac-Man
Originally Published:
March 30, 2010
By
Katie Barry
| Special to Page 2
It was on like Donkey Kong when New York's Hank Chien recently set the world record in the video game in two and a half hours with a whopping score of 1,061,700.
[+] Enlarge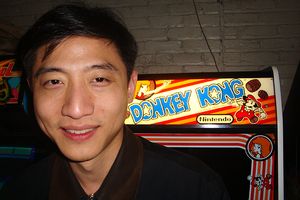 Katie BarryHank Chien set the world record in Donkey Kong with a score of 1,061,700.
"People said I came out of nowhere," the 35-year-old Harvard-educated plastic surgeon said. "But it's not true! I was No. 3. They were only looking at one and two."
He's referring to Billy Mitchell and Steve Wiebe, famous rivals in the 2007 documentary "King of Kong," which chronicled the fight for the world record.
And the idea that there were world rankings is blowing my mind.
"I think it was such a big deal because I'm the first to beat Billy Mitchell's score," Chien said. "If someone breaks my record, people will say, 'Who's Hank Chien?'"
Chien's addiction to the game started with an arcade machine emulator version. He then progressed to arcades. And then he bought a cabinet for his apartment where he learned point-scoring strategies.
Donkey Kong to him is what Ms. Pac-Man is to me.
I used to have heated battles with an ex-boyfriend. We bought a Pac-Man console and did spreadsheets and line graphs for our scores, mapping out where we died. We tallied which ghosts were the deadliest. We were totally addicted.
I ran into Chien at Barcade in Brooklyn, N.Y. We challenged each other, and talked about his new interest in Donkey Kong. After the New York Daily News wrote a story about him, I contacted him for a Ms. Pac-Man rematch.
On a Friday at Barcade, I find Hank still wearing his green scrubs and grinning. "That guy is trying to tell my girlfriend how to play Donkey Kong. Does he not know who I am?" he says, mocking his newfound celebrity.
Our Ms. Pac-Man showdown has heavy stakes: loser had to send the other a fruit basket, symbolic of Ms. Pac-Man's diet. It is fun calling "rookie mistake" when he squanders points, and refreshing having someone to speak nerd with: He knows about durations of energizers, reversals, grouping and timing.
Game over, and I can't believe I lost to him by 40 points. Four little dots.
We retire to a diner to talk about the ladies in his life.
"People think you're either a 40-year-old virgin or a ladies' man," said Chien, who has a steady girl friend. "Some people said, 'Plastic surgeon and Donkey Kong world champion? Marry me!' It's funny."
Chien said his mother has never been supportive, and after news hit, she said, "Isn't it time to stop now?"
Chien responded, "Do you tell Michael Jordan to stop playing at the peak of his career?"