Commentary
Mud plays part in game of baseball
Originally Published:
April 7, 2010
By
Andrew Astleford
| Special to Page 2
On Opening Day, Jim Bintliff allowed himself a moment to relax.
His work as the sole supplier of the rubbing mud that is applied to 15-18 dozen major league baseballs before each game was complete. Later that afternoon, from his home, he planned to watch his favorite team, the Philadelphia Phillies, rout the Washington Nationals -- an experience that makes a grueling winter of packaging and shipping "worthwhile." Finally, a new season was about to begin.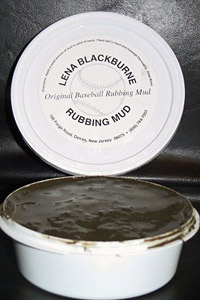 Lena Blackburne Baseball Rubbing Mud Did you know they rub this mud all over the baseballs?
At the same time, thousands of pearl-white baseballs around the country were being prepared for use. Assistant managers and clubhouse attendants at 13 stadiums Monday lathered a fine coat of Lena Blackburne Baseball Rubbing Mud on balls that were stitched at a Rawlings factory in central Costa Rica. Each baseball carries a life expectancy of about six pitches before it is cracked into foul territory or rocketed beyond the outfield walls. There must be an ample supply.
Bintliff's Lena Blackburne Baseball Rubbing Mud has played a central role in preparing those game-ready major league baseballs since 1938. The mud remains a vital -- if somewhat mysterious -- thread of major league history.
"There are times when I think, 'Why the hell am I doing this?'" Bintliff said the morning of Opening Day. "Then all I have to do is think back to Babe Ruth or Hank Aaron or Sandy Koufax … and I remember what the big picture is. It's a pretty good feeling."
A curiosity for rubbing mud started in 1938 when an umpire approached Blackburne, then a third-base coach for the Philadelphia Athletics. The umpire shared harsh words about the condition of American League baseballs, which he considered vulnerable to cheating. The baseballs were too raw, the umpire said, and he wanted a substance that would eliminate their shine. To that point, outfield dirt had been mixed to soften baseball covers.
Blackburne kept the conversation in mind.
Later, he investigated the mud along the banks of the Delaware River near his Burlington County, N.J., home. He found a hole -- its location remains a secret -- and scooped a sampling to bring to the Athletics' clubhouse. When he arrived, he rubbed baseballs with the soupy substance and presented them to umpires.
Umpires observed Blackburne's offering and found that the baseballs did not smell or blacken when the mud was applied. They considered the new substance a worthy replacement for the outfield dirt. Blackburne's venture began.
"It's one of those great romantic mysteries of baseball because it sort of defies logic that only the mud from this particular secret spot could possibly do the job," said Tim Wiles, director of research at the Baseball Hall of Fame. "As far as I know, other mud has been tried, and it doesn't have the right finish and it doesn't make the ball feel the right way.
"It's one of the wonderful idiosyncrasies of the game that there is only one place where you can get this mud, and it's a total secret."
Bintliff continues the tradition. In the late 1960s, he began harvesting mud from Blackburne's spot -- which Bintliff describes as a beach on the side of a river. At low tide, it is about 20 feet wide and less than 100 yards long, Bintliff said.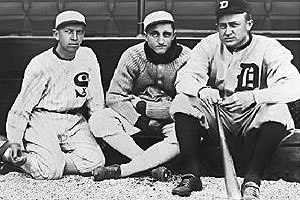 Lena Blackburne/Baseball Rubbing Mud Lena Blackburne (center) sits with Eddie Collins and Ty Cobb.
Before his death in 1968, Blackburne had passed his secret to close friend John Haas. Later, Haas turned over the pursuit to his son-in-law, Burns Bintliff -- Jim's father. Since 2000, Jim Bintliff has served as president of Lena Blackburne Baseball Rubbing Mud.
Bintliff's harvest techniques are time-tested. He collects mud multiple times throughout the summer and fall. All mud is hand-shoveled -- "I'm pretty high-tech now," he said -- into a bucket that holds about 30 pounds. Usually, he ventures to the Delaware River alone and works within a two-hour window of prime gathering time, dependent each day upon the river's tides.
In one harvest, Bintliff collects about 300 pounds of raw mud, which translates to about 150 pounds of prime substance by the time it is ready to ship, he said. Once gathered from the river, mud sits in barrels for about five to six weeks to age before packaging. Each major league team rubs through at least two 32-ounce containers of mud a season.
"Our product does what it says it does," Bintliff said. "It has been part of Major League Baseball for close to 75 years now. It always has done what it is supposed to do."
For many years, rules stated that umpires were responsible for rubbing down baseballs. However, recently, teams have passed on the responsibility to assistant managers or clubhouse attendants. Now, rules say an umpire is responsible for making sure baseballs are properly rubbed. A neutral shade -- not too light or too dark -- is preferred.
"You wouldn't think mud would make much difference," said Brent Rice, an instructor at the Harry Wendelstedt Umpire School, one of two training centers available for prospective major league umpires. "But apparently this mud is the one that does the job."
"It's kind of like tradition," said Tom Burgmeier, a former major league relief pitcher and pitching coach. "If you're sitting around in the bullpen at the ballpark and they have dirt in the bullpen, and you're sweating and you take a little moisture on your hand and rub the baseball up, the results are the same. So, for me, it seems like it's more of a tradition to use the Delaware River mud."
It is a tradition Bintliff would like to see continue for years to come. He said he plans to keep the mud business in his family. After humble beginnings, Lena Blackburne Baseball Rubbing Mud sells to college, high school and Little League teams in addition to its major league clientele.
One day, Bintliff would like his mud mystery to become a fascination to all.
"We'd like to be able to put it out there where any father walking into a sporting goods store could grab some of the real mud for his son," he said. "That's where we would like to get. Maybe at that point, I could stop doing the work at midnight."
Andrew Astleford is a freelance writer. Check out his Web site at AndrewAstleford.com.