Commentary
Ex-Boston Marathon champ returns
Originally Published:
April 18, 2010
By
Lynn DeBruin
| Special to Page 2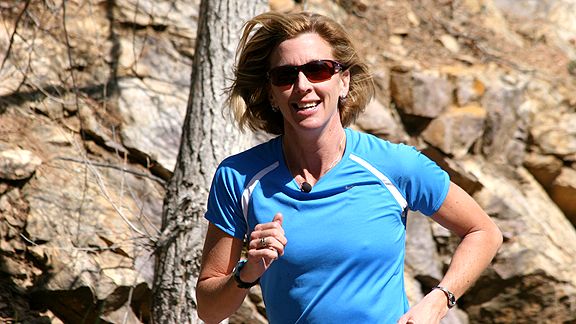 Lynn DeBruinFormer champion Lisa Rainsberger and her family will compete in the Boston Marathon.
When her mind drifts back 25 years, Lisa Rainsberger remembers the pre-race PB&J breakfast, the No. 1 she wore on her back, and the wall of screaming Wellesley women providing an Alp d'Huez-like tunnel at the end of the Boston Marathon.
She was the pre-race favorite then, and she didn't disappoint, winning by eight minutes (2:34.06) even though she admits she was "bonking" in an era before sports drinks and gels were in vogue.
On Monday morning, Rainsberger will run again in Boston after commencing the race with a starter's pistol.
Then she'll jump into the crowd to join husband, Bud, and oldest daughter Meghan, racing with new goals but with the knowledge that she is still the last American -- man or woman -- to win the race.
Even after 25 years.
"This is totally different now," said Rainsberger, a 48-year-old mother of four (two from a previous marriage) and a coach of Army elite athletes from Fort Carson, Colo., and of members of the Wounded Warriors program.
"It's more of an 'I want to finish' mentality than 'I want to win' mentality.'"
More important is seeing her 26-year-old daughter do well in her first marathon.
"When she was little, running to her was a four-letter word. She was a cheerleader and did many other activities. So when she [took up] running in college as a form of fitness and now loves it, I was really pleased."
As for her husband, his transformation came a little later.
"He was one of the guys I got off the sofa," Rainsberger jokes.
A former college football player, Bud was active, but pickup basketball games were more his style. He'd even tell his college buddies he thought running was kind of a sissy sport.
Not anymore.
He now runs five days a week and has dropped 25 pounds. He acquired an office near Bear Creek Park in Colorado Springs and made sure there was an executive shower so he could head out for a noon jog. This will be his third Boston Marathon.
"Our lives are so busy, so to sneak out in the middle of the day is kind of our connection time," Rainsberger said.
The trio plans to start the race together but realizes that finishing together may not happen in a race with 25,000 entrants.
This will be Rainsberger's fifth Boston Marathon. She has failed to finish only once -- in 1993 when she was running with a broken tailbone after being hit by a car during a warm-up run on the streets of Boston a day earlier. She flipped over the hood, bounced off the back end and landed on her butt. But she made it eight miles before the pain became too much.
Trying to race was crazy, she admits now. But back then, the marathon represented half a year's salary because she trained six months for that one race.
"Then 'wham,'" she said. "I had it in my own mind to at least attempt it."
Rainsberger has experienced a different sort of disappointment on the Olympic front. After going to Michigan on a swimming scholarship, she qualified for the 1980 Olympic trials only to see her dream cut short when the Carter administration boycotted the Summer Games in Moscow. In 1988 and 1992, after she had switched to running marathons, she finished fourth in the Olympic trials and was an alternate.
When triathlon was added as a medal sport for the 2000 games, she began training for that but again was dogged by a fourth-place finish at the U.S. Pro trials in 1997.
A year later, she found out she was pregnant with youngest daughter, Katie.
"At that point I said: 'I'm done. I have a new agenda,'" Rainsberger said.
The woman with the effervescent smile, nonstop motor and tall, lean frame loves being a mom.
"My kids are my medal," she said.
And she now just focuses on training others. Just maybe, one day, one of them, another American, will win in Boston.
"It's a total shocker [that it hasn't happened], because we have so much talent in this country," Rainsberger said. "It's just timing."
Lynn DeBruin, formerly of The Rocky Mountain News, is a freelance writer for the Sports Media Exchange, a national freelance network.