Commentary
7 sports movies to be unveiled
Originally Published:
April 20, 2010
By
Lynn Hoppes
| Page 2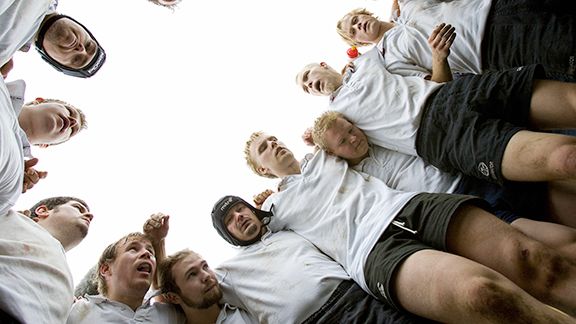 Pekka Fali for ESPN.com"Freetime Machos" is one of the films featured at this year's Tribeca Film Festival.
The Tribeca Film Festival began as an idea in 2001 following the attacks on the World Trade Center in New York City. The trio of actor Robert De Niro, film producer Jane Rosenthal and real estate developer Craig Hatkoff wanted to spur the economic and cultural revitalization of lower Manhattan through an annual celebration of film, music and culture. The Festival's mission is to assist filmmakers to reach the broadest possible audience, enabling the international film community and general public to experience the power of cinema and promoting New York City as a major filmmaking center. Since its founding, the Festival, which opens Wednesday, has attracted more than 2.3 million attendees and has generated an estimated $600 million in economic activity for New York City.
ESPN recently joined forces with Tribeca and will have seven films as part of this year's festival. Page 2 interviewed Connor Schell, executive producer of ESPN Films, and Dan Silver, the director of the Tribeca/ESPN Sports Film Festival, about the celebration.
The Tribeca Film Festival has been around since 2002, and ESPN has been involved for the past four years. What's ESPN's interest in Tribeca?
Schell: ESPN and Tribeca jointly launched the Sports Film Festival in 2007. The premise was that there are a lot of really talented producers and directors out there making films set in the sports world or centered around competition, some of which are brilliantly done. With the sports film festival, we wanted to try to give those films a home and showcase the work to new and wider audiences. Each year, the slate is a nice mix of documentaries and narratives from around the world, and really offers something for all sorts of fans of both sports and film.
ESPN has ventured into a lot of moviemaking in the past few years. Why?
Schell: We want to tell great stories, and the sports documentary is a really effective and entertaining way to do that. In a world of increasingly competing voices, there is certainly a place to occasionally take a step back and tell a longer, character-driven story that can have a real point of view.
What can sports fans expect to see at Tribeca?
Silver: This year we have a great slate of films which truly capture the sprit of our partnership with Tribeca. There are your films which focus on the more traditional sports like football, with Ice Cube's "Straight Outta LA" and Paul Crowder's baseball documentary "Last Play at Shea," which is based around Billy Joel's last performance at the Mets' old stadium. But then we have these great films like "Keep Surfing," about urban German surfers, and "Into the Cold," about one man's trek to the North Pole. All these films speak to one of three key traits we look for when programming the slate … passion, competition, and teamwork.
For the lineup of Tribeca/ESPN Sports Films, click here. More
I understand each film will have a sport production preceding called "I Scored a Goal." What is that?
Schell: In the history of the World Cup, there are only 55 men who have scored a goal in the final match, and only 34 of them are still living. "I Scored a Goal" is a series of thirty short films, each of which profiles one of these men. The narratives are told in the goal scorer's own voice -- they tell the story of their journey up to the goal, and what the goal meant for them, their team, the game and even their country. It is a really interesting mix of stars and relatively unknown players, and the hope is that collectively, these short films are a history of the World Cup finals. John Battsek produced this series, and it is really remarkable work.
Why do you think sports movies resonate with viewers so well?
Schell: When done right, sports stories are relatable and have an inherent drama. A good sports film can take you through a wide range of emotions all in the same journey.
Are these the only sports movies available during the event over the next two weeks?
Silver: Yes, these are the only sports film playing in Tribeca. But if you're really craving more sports films you can always go to here to purchase all our "30 for 30" documentaries. Or just rent "Raging Bull."
How can you enjoy ESPN and Tribeca if you're not in New York?
Silver: If you're not in New York, there are a lot of ways you can enjoy the Tribeca/ESPN Sports Film Festival. If you're a Comcast, Cablevision, and Verizon FIOS subscriber, there is a special Tribeca Film VOD channel. Here you'll find the Mat Hoffman documentary "The Birth of Big Air," which premieres this year, as well as some Sports Film Festival films from the past. In the ESPN world, there's a four-page spread in ESPN The Magazine, lots of online content through ESPN.com, a five-day sports movie marathon running on ESPN Classic starting on April 26 and finally, a half-hour Tribeca/ESPN show premiering on ESPN 2 on April 30.
If you are in New York, isn't there an ESPN panel of sports filmmaking?
Silver: Yes, it's going to be a great event. The panel is titled "Tribeca Talks Panel: Beyond the Playing Field: ESPN Films and the Future of Sports Filmmaking." The panel is going to be moderated by ESPN's Chris Connelly, and will feature "30 for 30" directors Ice Cube, Mike Tollin and Brett Morgen. The primary focus will be on how ESPN Films has grown over the past few years, and how it fits into the ever-changing sports-film landscape. If folks are interested in purchasing tickets to this or any other Tribeca/ESPN event, they can do so by clicking here.
Isn't there a Tribeca/ESPN Sports Day? What is that about?
Silver: Yes. On May 1, the Sports Film Festival gets a full New York City block shut down to feature a variety of interactive sports-related games, demos and giveaways. This is all part of Tribeca's free Family Festival Street Fair.
What do you think the future holds for sports filmmaking?
Schell: I think the future for the genre is bright. ESPN Films is extremely proud of all of the work that the filmmakers in the "30 for 30" series have done, and we hope to build on that going forward.
Lynn Hoppes is Senior Director of Page 2 and Commentary for ESPN.com.