Commentary
Sister Mary Beth is no ordinary nun
Updated:
April 26, 2010, 12:09 PM ET
By
Jack McCluskey
| Special to Page 2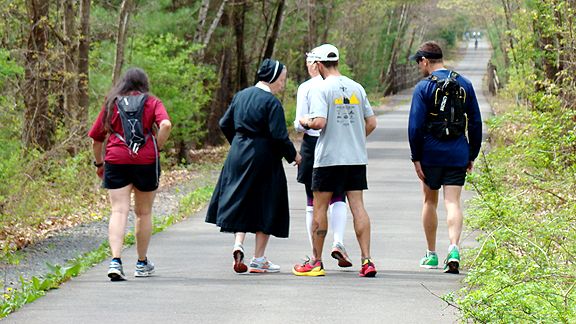 Jack McCluskey/ESPN.comSister Mary Elizabeth Lloyd will run in all 50 states to raise awareness about AIDS orphans.
When is a habit more than a habit?
When it's made of a special wicking material to better allow the nun wearing it to complete whatever ultrarun she's currently competing in.
One company made just such a garment for Sister Mary Elizabeth Lloyd, who as a member of the order of the Religious Teachers Filippini is required to wear her full habit -- a black wool tunic, headpiece and woolen belt over a white shirt and underskirt -- even while running.
Now Sister Mary Beth, as she's known, and Lisa Smith-Batchen will attempt to run 50 miles in all 50 states in just 62 days.
Or -- more accurately -- Smith-Batchen, 49, will attempt to run, jog or walk the 2,500 miles, while Sister Mary Beth, 61, will walk as far as she's able -- her goal is 20 miles a day -- and provide support and encouragement as part of Smith-Batchen's crew when she can't help keep the pace.
And while the sister appreciated the apparel company's efforts to adapt her clothing needs to her sport of choice, she found that the wicking cloth made the tunic too heavy. She prefers to wear her regular black wool tunic.
"It's funny, because Lisa's always worrying that it's too hot," Sister Mary Beth said of the habit. "But when you're hot you're hot, no matter what you have on."
When is a habit more than a habit?
When it's a lifelong passion, the thing that drives a person and the thing for which that person will be known long after he or she is gone.
For Smith-Batchen, that habit is running; specifically, running for a cause. Something of a legend in the ultrarunning community, Smith-Batchen is the first American to win the famous Marathon des Sables, a grueling six-day race across the Sahara Desert in Morocco, and is a two-time winner of the Badwater Ultramarathon. In her fundraising career, she's run her total to more than $4 million for charity.
If successful on this journey, Smith-Batchen will become the first person to complete an ultra -- defined as any race longer than a marathon, 26.2 miles -- in all 50 states.
Though Sister Mary Beth might be famous because of her running habit, literally, her résumé is certainly not lacking. For the past two decades, she's dedicated her life to helping orphans -- first war orphans and then AIDS orphans -- in Albania, Brazil, Ethiopia, Eritrea, India and the U.S. She's written a book, called "AIDS Orphans Rising," and uses any means she can find -- including her running -- to help children.
In fact, it was running that brought the two women together 20-odd years ago. Though neither Smith-Batchen nor Sister Mary Beth seems to be able to remember exactly what year it was, they agree on the other basic facts: Sister Mary Beth had been the cross country coach at Villa Walsh Academy in Morristown, N.J., but in the early '90s she was being summoned to Rome to serve as secretary to the Mother General of her order. And along came Smith-Batchen (then just Smith), a track coach looking for a job. The two women kept in touch and, over the years, developed a strong bond rooted in their common interests: running and helping children.
The rest, as they say, is history.
On Wednesday, the event called "Running Hope Through America" made a stop at a roughly 6-mile section of trail in suburban Avon, Conn. By 9 a.m., before the sun had even burned off the last of the morning chill, Smith-Batchen was closing in on 18 miles for the day. Sister Mary Beth had yet to start ticking off her mileage, since she hadn't accompanied Smith-Batchen and crew from the previous stop in Central Park in New York City (she had a speaking engagement in New Jersey). And on the way to Avon, she ran into car trouble.
Luckily, Sister Mary Beth has many friends, and one of them agreed to ferry her from where she stood on the side of the highway to her destination in Connecticut and back to New Jersey so she could accept a "Women of Achievement" award from a group of Girl Scouts. The friend also agreed to drive Sister Mary Beth to the next stop on the tour, in Providence, R.I.
It's not hard to understand why Sister Mary Beth inspires such generosity in others. As she walked out on the trail Wednesday in search of Smith-Batchen, the sister encountered many "beautiful," "wonderful" and "lovely" things: the scenery off the paved trail -- some wetlands, some woods, a small reservoir, a dog, children on bikes.
Wearing a black cotton sweatshirt over her habit to guard against the morning chill, Sister Mary Beth became animated when telling stories. She waved her arms to punctuate important points, and her voice danced excitedly when talking about running from Las Vegas to Death Valley with Smith-Batchen. Her voice was steady and strong when talking about teaching a trade to girls orphaned by AIDS so that they don't have to turn to prostitution to provide for themselves and -- as often happens -- their younger siblings.
She smiled often as she talked, softening further an already warm, lightly lined face. What's visible of her snow-white-streaked gray hair seemed to echo the palette of her habit. The only colors on her person that you wouldn't see in a black-and-white TV show were the orange accents on her new Nike sneakers.
That's not to imply she's not colorful.
Though the habit might not be performance-enhancing, it's not performance-hindering, either. It doesn't slow down Sister Mary Beth because, she joked, "I don't go that fast."
Ask her how she's done in the races she's run -- and she's run several, from marathons to 50-milers and even a 100-miler (though she wants to be clear that that one wasn't a race) -- and she'll likely respond, "I was the first nun."
She doesn't preach religion; that's not her style, according to Smith-Batchen. She talks about faith in the same manner in which she talks about favorite sports, and she's more critical of the latter than the former.
"Don't tell me you're a Boston fan," she warned. "You're in trouble -- I'm a Yankees fan."
When is a habit more than a habit?
When it's simply a part of life, no different than sleeping, waking, giving us our daily bread.
Sister Mary Beth says everyone can make a difference -- for the children she and Smith-Batchen are walking and running for, or for anyone -- with a donation of money or goods or knowledge. The goal for "Running Hope Through America" is to raise $1 million, but you get the sense that the women would settle for simply raising awareness of the plight of AIDS orphans at home and abroad.
For four decades, Sister Mary Beth has been giving.
As they walked back to the starting point of the Avon leg, Smith-Batchen mentioned what might be the only downside of giving.
"I only give them to her one at a time," Smith-Batchen said of the new pair of running shoes Nike sent for Sister Mary Beth, "because she'll give them away. I'll ask, 'Where are those shoes I gave you?' and she'll say, 'Oh, someone else needed them!'"
In fact, Smith-Batchen and her crew know they'll actively have to encourage Sister Mary Beth to take -- food, water and time to recuperate, for instance -- or she simply won't. Too busy giving.
As Smith-Batchen hunkered down in a collapsible chair near the starting point -- getting a therapeutic leg, ankle and foot massage from a team member -- her brother, Mike Smith, also a member of the crew, made a sandwich and grabbed an energy bar for Sister Mary Beth. At first she refused the energy bar. After Smith persisted, she relented but insisted on breaking it in two and giving half to the friend who had rescued her from the side of the highway earlier that morning.
Then, still eating, she helped Smith-Batchen pull on a fresh pair of toe socks. The two posed for a couple of quick photos and set off again, down the trail to up the mileage and keep the hope going.
Jack McCluskey is an editor for ESPN.com. He can be reached at Jack.C.McCluskey@espn.com.