Commentary
Common is 'Just Wright' for movie role
Updated:
May 3, 2010, 1:04 PM ET
By
Chris Palmer
| ESPN the Magazine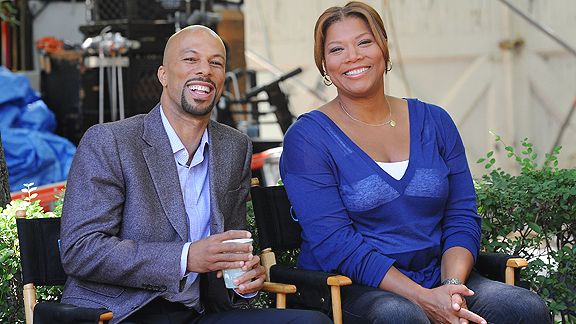 Bobby Bank/WireImageCommon and Queen Latifah are on location for "Just Wright," which comes out next week.
In the upcoming basketball movie "Just Wright" (May 14), Common stars as New Jersey Nets All-Star guard Scott McKnight, who falls for his physical therapist (Queen Latifah) after suffering a career-threatening injury. We caught up with the Chi-Town rapper and budding actor to talk Windy City hoops, NBA dreams and getting in shape for his first-ever lead role.
Q: Growing up were you a Bulls fan?
A: I loved Michael Jordan and those Bulls teams, of course. They made you proud to be from Chicago. I got to see it close up because I was a ball boy for the Bulls during MJ's rookie year. In 1985, he gave me a pair of the first black, white and red Air Jordans and signed them. I gave them to my father [former ABA basketball player Lonnie "Pops" Lynn] and he wore them to one of my shows years later. I told him you gotta chill and put them away. Those things are collectors.
Did you pick up the game from your father?
I definitely inherited some of his DNA, but I've always been into the game of basketball. When I first started playing biddy ball at 8 years old I wasn't that good. I'd sit on the bench and tell my coach that I had a stomach ache so I wouldn't have to go back into the game. But I started practicing and really embraced the game. I had a decent high school career. I played varsity only one year because I got injured. When I got hurt it kind of drove me into making demo tapes and concentrating on music. I think if I would have really applied myself I had Division I college potential. Actually, if I didn't pick up music I like to tell myself I could have made it to the league.
What players did you admire growing up?
I'm just a basketball fan in general but I've always loved point guards, players with great leadership skills who dominate by being unselfish. Magic Johnson and Isiah Thomas were my favorite but I also liked guys like Maurice Cheeks and Kenny Patterson who went to DePaul. Oh, and Tim Hardaway was my guy with the way he innovated the crossover. He had every kid out there trying to imitate it. That just made me glad to tell people I was from Chicago.
What type of game do you have?
I look at myself as the quintessential point guard because I take pride in setting other people up. I love to make that sweet dish with a lot of flash. But as I got older and a little bit slower I had to readjust my game. Instead of trying to make a fool out of someone I had to study the angles and make the simple play. Also I added a midrange jumper in recent years. But I try to feel the game when I'm on the floor by just reacting to the situation and creating for others.
So you kind of fulfilled your fantasy of playing in the NBA by starring in this movie.
Exactly. I got to play against Dwyane Wade and Dwight Howard so I imagined what it would be like to play in the NBA close up. For the two months I was shooting the movie it just felt like I was in the NBA.
What players do you like watching in today's NBA?
For me it's still all about the guards like Rajon Rondo, Chris Paul, Deron Williams and Derrick Rose. Being from Chicago, I first saw Rose when he was a sophomore in high school. Even then I could tell he was going to be a great NBA player. He's all about Chicago in the way he carries himself. He's quiet but he's still a warrior.
So when you first got the role was there anyone you talked to about how to get in the mindset of a professional basketball player?
The first player I talked to was Baron Davis. I shadowed him for a little while. I just wanted to get into his head. Why did he start playing? How has the game changed his life? When did he know he could go pro? I pretty much talked to him on everything from the pressure to succeed to what you eat after a game.
It looks like you've got an NBA body in this movie. How did you get in shape for the role?
I usually try to maintain a healthy lifestyle and work out four times a week. But for this movie I had to really buckle down. I had an entire team helping me with nutrition and in the gym. I went through a ton of agility drills and ended up doing a lot more cardio than I normally do.
Even with a basketball background pulling off being an NBA player is no easy task. Were you concerned with how convincing you were going to be?
I was definitely really concerned with it being believable. It's really important for me that when you watch the film you don't see Common or a rapper but you see a basketball player. The sports coordinator on the movie wanted to see how committed I was going to be early on so he told me a story about Denzel Washington when he worked on "The Hurricane." Denzel trained for four months for a two-minute scene in the ring at the beginning of the movie knowing if he wasn't believable the movie wasn't going to work.
That's pressure.
I know. But I got a lot of help. Nets assistant coach Jimmy Sann trained me like I was an actual player. He really helped me to improve my shot and worked with me on core strength and essential skills that basketball players need. I ended up shooting probably 500 jump shots a day and my shot has never been better.
What did the NBA guys in the film think of your skills?
Honestly, D-Wade came up to me and said out of all the dudes he's ever seen in basketball movies who've tried to portray a basketball player that I showed him the best skills.
So that had to have boosted your confidence.
It definitely pumped me up. I was ready to actually see what I could do against him.
Did being on the court with those guys give you a new appreciation for the game?
Absolutely. Most people don't understand how big, strong and fast these players are. They are superhuman in many ways. They're strong in places most people don't even work on. You think you're fast, then you go up against somebody a lot bigger than you and they're also much quicker. You can't tell how impressive these guys are by just watching TV. But I appreciate them as people, too. D-Wade is a good dude to sit down and just vibe with. I was asking him all kinds of questions about the league. Who are the toughest guys to play against? Who are the best coaches? So it's really cool to be friends with these guys.
When rappers start acting their film careers tend to alter perception of them as rappers. This is your seventh movie, first lead role -- do you feel like that's happening to you?
Because I'm still putting out music and freestyling and putting out raw hip-hop people still see me as a rapper and I don't think it's affected the way they see my music yet. I want to put out great music that comes from the soul but I also want to do a good job on whatever film I'm doing and I think people can respect both. But you will have some people who are going to say you're going Hollywood, but I think it has a lot to do with the way you carry yourself. But this is the age of multitasking and it's a much more normal thing now to do both.
Do you ever want to get to the point where people recognize you as an actor who happens to rap?
Yes. That's a good feeling for me. I always want to gain new ground and reach a different fan base. I think there are so many more people out there that I can touch with acting that I couldn't with music. When I was on the record label Interscope somebody there told me I was going to be a bigger actor than a rapper. I don't know if he meant that as a compliment but I took it as one.
In the movie your character plays for the Nets. You shot the film last summer and the Nets went on to have one of the worst seasons in the history of the NBA. Do you think that will affect the movie at all?
We knew that this movie was going to attract a huge female crowd that might be unaware or just not even care how the Nets did. I think the producers thought the male fan base wouldn't care, either. Obviously, that would have been great if they did well but we should be OK when the movie comes out. I think a lot of Nets fans are going to wish Scott McKnight actually played for them.
Well, at least New Jersey had one All-Star this year …
Exactly!
Chris Palmer is a contributing writer for ESPN The Magazine.
ESPN the Magazine
Chris Palmer has been a frequent contributor to ESPN The Magazine and ESPN.com's NBA coverage since 1999.