Commentary
Fans come up with Tebow nicknames
Originally Published:
May 6, 2010
By
Jerry Greene
| Special to Page 2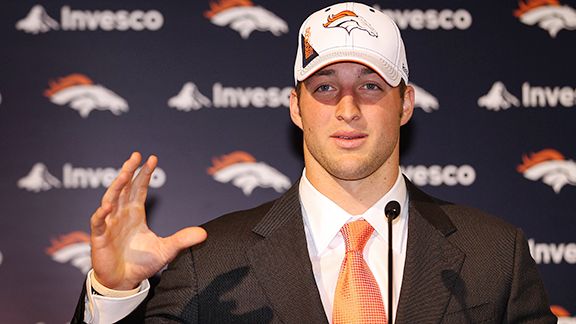 Doug Pensinger/Getty ImagesPage 2 asked fans to come up with a nickname for the newest Bronco, Tim Tebow.
What should we call Tim Tebow?
You had hundreds of ideas -- ranging from "second coming" declarations to snide asides about the NFL value of performing a crisp circumcision. For every 10 suggested nicknames that honored Tebow, there were another five that clearly are not expecting the best.
So what nickname will actually stick with the Denver Broncos' first-round draft pick, if any sticks at all?
Obviously that will depend upon what he accomplishes (or fails to accomplish) on NFL playing fields. But, meanwhile, your votes are in and our totally subjective choices for a Top 10 list have been made.
And the majority rules.
The Mile-High Messiah.
It's a little long to be a great nickname, but it already is being used in Denver, where expectations are, well, at least that high. And the rush goes beyond Denver: His No. 15 jersey was the NFL's top seller in April.
So, as soon as Tebow wins his first game for the Broncos with three passing touchdowns, four rushing touchdowns and a half-dozen miracles on the way out of the stadium, expect to see "WWTMHMD?" T-shirts everywhere.
What Would The Mile-High Messiah Do?
But there were other good ones, too, not all of which were that complimentary.
Here's our selected Top 10 Tim Tebow Nicknames:
1. The Mile-High Messiah -- First suggested by Eric M., Kingsport, Tenn.; Dan L., Austin, Texas; and Andrew B., New York.
2. Tebench -- Nick S., Rochester, N.Y.
3. Uno Cinco -- Anthony F., Philadelphia.
4. Capt. Snipit -- Jason G., Longwood, Fla.
5. The Big Tebowski -- Josh C., Canastota, N.Y., and Tim C., San Diego.
6. Tebowlicious -- Mary-Jane K., Madison, Ala.
7. Clipboard -- Joe M., Navarre, Fla., and Capt. Clipboard -- Jess C., Savannah, Ga.
8. The Unicorn -- "Because only women and defensive ends of pure virtue will be able to touch him" -- Steve R., Ottawa, Ontario.
9. Media Messiah -- Ryan K., Chowan University (Murfreesboro, N.C.).
10. Timmmmaaaay -- "South Park salute" -- Sammy M., Beaumont, Texas; Daryn H., Stevens Point, Wis.; and Josh W., Asheville, N.C.
A few more that just missed are "Straight Arrow," Bill P., Tualatin, Ore.; "T-Squared," Daniel B., Rome, Ga.; "New T(estament)," Joe D., Sherwood, Ore.; "Heaven's Heisman," Michael C., Charleston, S.C.; "Docile Apostle," Casey M., Columbia, S.C.; and "Tool Man," Jorge R., Tulare, Calif..
Note: We disqualified "Ryan Leaf" as a Tebow nickname, but Staff Sgt. Jason DeGrasse at Keesler AFB in Mississippi, tried to get around that by suggesting "JaMarcus Russell." It didn't work, Sarge.
Jerry Greene is a retired columnist for the Orlando Sentinel. He can be reached at osogreene@aol.com.