Commentary
Ex-NFLer making top-notch BBQ
Updated:
May 19, 2010, 4:15 PM ET
By
Lynn DeBruin
| Special to Page 2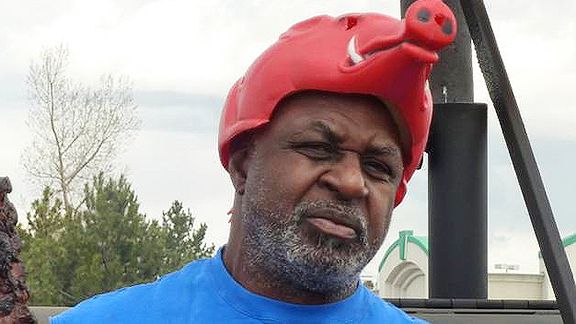 Lynn De Bruin for ESPN.comJim Sullivan went from playing in the NFL to making barbecue in Colorado.
You don't tug on Superman's cape
You don't spit into the wind
You don't pull the mask off the old Lone Ranger
And you don't mess around with Jim ... da do da do ...
PARKER, Colo. -- It's 3 a.m., a good 11 hours after making a Sunday pilgrimage to this glorious mecca of mouth-watering meat, and I can't get the Jim Croce classic out of my mind nor the aroma and taste of Big Jim's barbecue out of my head.
A 65-year-old master chef with an NFL alumni card and white stubble on his face, Big Jim Sullivan is still cooking up a feast that could take down Bobby Flay.
It's not heaven, the former defensive lineman-turned-educator promises, but when he lifts the lid to the 8,000-pound smoker, you can almost see the pearly gates.
With Big Jim, one-liners linger like the aroma of hickory-smoked ribs, chicken and pork, which on this day have even a 220-pound English mastiff named Mumbles making a beeline toward the prize.
It's almost comical to watch as the dog's owner, outweighed by 20 pounds, tries to keep the normally obedient purebred under control.
Others didn't come armed with Mumbles' oversized schnauzer. But folks like Matt and Melissa Bernier still could smell the barbecue a mile down Parker Road.
"We've been driving by every weekend for a year and I finally convinced [my wife] to let me stop," Bernier said.
David Mack, on the other hand, is a frequent customer.
"It's heaven on a bone," Mack said. "The ribs are just to die for. … We can't stop coming back."
Big Jim, who has been setting up his Magic Rib Wagon every weekend the past 29 years -- "rain or shine, crazy, crippled or blind" -- knows they won't be disappointed.
"Put the South in Yo' Mouth," is Big Jim's slogan, and he should know.
It's been a calling since 1982, when he opened a sit-down restaurant for two years before taking to the streets to get closer to his customers. But before he was cooking and teaching, he was trying to catch on in the NFL (training camps with the Baltimore Colts in 1968 and Green Bay Packers in 1969 and one year on the regular-season roster with the Atlanta Falcons in 1970).
Was he any good as a player?
"A little less than mediocre," he deadpans, which is also how he describes his golf game now.
Champions Tour stars won't let that deter them from venturing to this southeast Denver suburb when they're in town for the Senior PGA Championship in a week.
"Sometimes they come in limousines. Sometimes they come in a Mercedes Benz or a golf cart. I'm looking for the helicopter now," he says of the major event.
Sullivan, who towers over his customers at 6-foot-4, 270 pounds, has served celebrities before.
Hollywood stars from Denzel Washington to Pam Grier have savored the smoky goods. So have athletes from Champ Bailey to John Elway.
Just not former President Bill Clinton, even if they both grew up in the small town of Hope, Ark.
"They have a statue of him and one of me, too, but his is on the wrong side of the tracks," Big Jim cracks.
He's come a long way from Arkansas, where he first learned to pick cotton at age 3 while riding atop his mother's back and took days off school to help support the family in the fields after his father died.
He endured summers as a migrant laborer, picking tomatoes in Ohio, potatoes in Michigan, peaches in Colorado and beans in Oregon.
Sports and integrated schools in Missouri proved Big Jim's way out of poverty. But after a collegiate career at Missouri and a few years of pro football, he took the master's degree he had earned and became assistant principal at Hope (Ark.) High -- the same school he couldn't attend because he was black.
When his first wife got accepted into law school in Colorado, he'd found a new home and some old family recipes.
So what's the secret to the barbecue?
"Big Jim's the secret," he boasts, before opening the back of his van stacked high with hickory -- shipped straight from Arkansas
And it's not just the barbecue that's worth the drive. Big Jim greets customers with a gentle knuckle rap, breaks out a red, plastic Razorback hat, and lets his charming personality waft over people like the smoke. Oh, and the peach cobbler.
"You gotta get here early [Saturday] for that," he says of the dessert that's such a religious experience, "it'll make you tell the truth."
Lynn DeBruin, formerly of The Rocky Mountain News, is a freelance writer for the Sports Media Exchange, a national freelance network.