Commentary
Is this Strasburg card really worth it?
Originally Published:
May 29, 2010
By
Chris Olds
| Special to Page 2
To members of the general public, the auction is outrageous.
To collectors, it's that dream card they rip into countless boxes to find. (And, yes, it's still outrageous.) Sure, it features the image of a player who has yet to suit up for an official major league game. But in a high-dollar world of sports memorabilia where bragging rights and deep pockets often dictate the market, it's the latest "it" card that might have a millionaire or two considering collecting baseball cards.
[+] Enlarge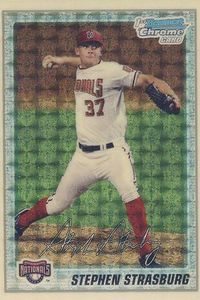 Bowman Is this card really worth about $17,000?
It's a 2010 Bowman Chrome Prospects SuperFractor card of Washington Nationals pitcher Stephen Strasburg -- and it's currently sitting at $16,203 after 83 bids in an eBay auction that ends Saturday evening.
What makes it so special? Only one copy exists. And the odds of finding a SuperFractor of any of the 110 players in the set were one in every 11,000 hobby packs. (You can do the math to approximate the odds of specifically finding Strasburg.)
Unless you've been ignoring baseball this season, you know who Strasburg is -- he's the $15 million righty from San Diego State who has blistered minor league batters this season, going 6-1 with a 0.99 ERA and 54 strikeouts in 45 innings. He's expected to make his debut in a Nationals uniform early next month and is one of the most dominant pitching prospects in years. (And this dominance is nothing new as he went 13-1 with a 1.35 ERA as a junior last season for the Aztecs, striking out 195 batters in 109 innings, and had a 23-strikeout game in 2008.)
Unless the transaction isn't completed Saturday -- which could be a possibility, we'll get to that -- the Strasburg card will set a new record for a SuperFractor, eclipsing the $7,330 for an autographed Fernando Martinez SuperFractor from 2007 Bowman Chrome in October 2007. (Considering Martinez's performance, Strasburg's card doesn't look too bad.)
"For a modern-era card to sell in excess of $10,000, especially a card that has not been professionally graded, is extremely rare," said Beckett Baseball Senior Market Analyst Brian Fleischer, who documents sales for Beckett Media. "Since Topps introduced the SuperFractor in 2005, we've only tracked five sales that have eclipsed $5,000."
And all of those cards were autographed. The Strasburg isn't.
"The highest sale we've tracked for a nonautographed SuperFractor was a 2007 Bowman Chrome Tim Lincecum card," Fleischer said. "It sold for $4,000 in 2008."
Earlier this month, the seller posted the Strasburg card on eBay with a $20,000 Buy It Now option and received 37 offers. He declined all and the card went out of the spotlight. About a week ago, the seller opted to re-post the auction, and after attention from Yahoo Sports, The Associated Press and countless other news outlets, the bidding sits in "brand-new car" territory. This also has prompted at least three bogus eBay auctions -- particularly obvious since the card is serial-numbered as a 1/1 -- and more than 70 bogus bids that have had the card fluctuate. (On Thursday evening Topps sent a news release to outlets noting that it had reached $17,000 -- of course because of bad bids, it had dropped back below that mark.)
But what makes this card so special? It's the first featuring Strasburg in a Washington Nationals uniform (he has several previous cards showing him with Team USA) and it's one-of-a-kind.
Topps' popular Chrome lines are printed on plastic with rarer "Refractor" versions of the cards also to be found. The standard Bowman Chrome Strasburg card is not serial-numbered but the regular Refractor is limited to only 777 copies. While that card has a reflective plastic surface, there are other Refractor versions of the card that have different-colored borders and are even tougher to find. Blue Refractors are limited to 250, Gold Refractors are limited to 50, Orange Refractors are limited to 25, Red Refractors are limited to five. And, of course, there's the gold swirl-enhanced SuperFractor.
The standard Chrome card typically sells for about $30, while a Red Refractor sold on eBay for more than $2,300 on Friday night. (One previously listed on eBay did not sell at $5,000.) But, again, it's that SuperFractor that's getting all of the attention.
While the mainstream media attention is positive for the hobby -- and, of course, stories like these often prompt collectors and noncollectors to track down a box in search of hobby gold -- it's worth noting that a collector paying five figures for a trading card isn't all that uncommon. It's just not common for a new card, particularly one that's not autographed or enhanced with a rare piece of game-used memorabilia.
For example, in 2004 an Exquisite Collection card of LeBron James and Michael Jordan, which had the NBA logo patches from both of their game-used jerseys embedded into the card, sold for $62,100.
But even standard baseball cards regularly sell for five figures and up -- particularly when they're in top condition and professionally graded (ranked on condition and permanently encased in a plastic holder). They're just not new cards like the Strasburg.
In the latest issue of Beckett Graded Card Investor magazine, Fleischer tracked 10 top baseball sales at $26,000 and above from this year alone. Two of those sales were six-figure auctions -- one of them a low-condition, but authentic, specimen of the famed Honus Wagner T206 tobacco card that sold for $219,225.
"As far as expensive cards go, it is not uncommon for a high-grade vintage baseball card to sell in excess of $10,000," Fleischer said. "In fact, it's quite common."
While there have been plenty of other high-ticket baseball cards in the past, the notable recent sales aren't just for baseball cards. Late last year, a professionally graded perfect specimen of George Mikan's 1948 Bowman Rookie card sold for $218,550.
"That's the most that's ever been paid for a basketball card. I guarantee you that," said Beckett Basketball Senior Market Analyst Keith Hower. Topps is reaping the rewards with the attention that its 2010 Bowman product is getting and the demand for boxes is among the highest seen in the hobby in some time. Sealed boxes of jumbo packs are routinely fetching more than $200 (suggested retail price: $120) as there's one very big card still out there -- one that will top the SuperFractor if it's ever discovered.
You see, Strasburg also autographed a limited number of cards that were inserted into packs -- a regular card, a blue-bordered card, an orange-bordered card and a red-bordered card. Only one copy of the red autograph exists, it also is marked 1/1 -- just like the SuperFractor.
The odds of finding that? One in every 214,000 jumbo packs, or one in every 17,833 (or so) boxes.
So, just in case you haven't bought that lottery ticket just yet …
Chris Olds is the editor of Beckett Baseball magazine. Check out Beckett.com -- and be sure to get the latest news on sports cards and memorabilia at The Beckett blog. You can also follow him on Twitter.