Commentary
Broadcaster Ron Santo still going strong
Originally Published:
May 31, 2010
By
Matthew Lindner
| Special to Page 2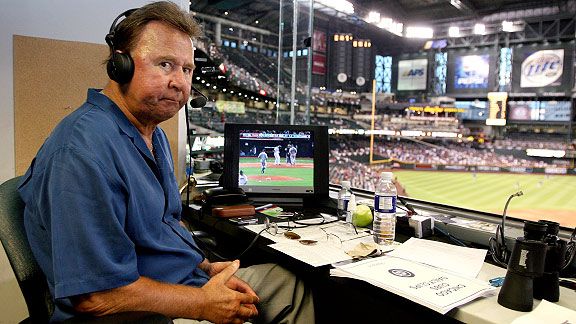 AP Photo/Rick Scuteri"I love people, I love the fans, I love this game," broadcaster Ron Santo says.
CHICAGO -- There is no elevator leading directly to Ron Santo's office, the WGN Radio booth, a perch sitting high above Wrigley Field. So every day, he must traverse a series of ramps and a flight of stairs in order to get there.
It's no easy feat for an able-bodied person, let alone a man who gets around on two prosthetic legs.
"It's like having my leg except it takes more energy when you're going up stairs and walking a long distance, so you're using, like, 55 percent more of your energy walking," said Santo, the legendary Cubs third baseman turned radio broadcaster. "You get used to it. I can't complain. I'm alive. I'm happy I'm doing everything I want to do, so I have no problems."
Complications from diabetes forced doctors to amputate both of his legs below the knee. For the better part of the past decade, the 70-year-old married father of four grown children has had the prostheses, which he says weigh about four and a half pounds each.
Santo, the only diabetic ever to play a full career as a position player in the Major Leagues, has used his celebrity to help raise over $50 million for the Juvenile Diabetes Research Foundation.
When he's not calling games or raising money, Santo moonlights as a lead vocalist for the official summer house band on Chicago's North Side. His gravelly baritone marries the wisdom of old age with the innocence of youth, bringing joy to millions in bars and living rooms across the Windy City airwaves from April until October. And to hear Santo tell it, he wouldn't have it any other way.
"I love people, I love the fans, I love this game," Santo says.
And the Wrigley Field faithful love him right back.
Over the course of his 21 years in the WGN Radio booth, he's earned a reputation for being the voice of the fan. It's a legacy solidified on September 23, 1998 in Milwaukee with the Cubs in the thick of a pennant race.
Brewers' outfielder Geoff Jenkins lifted what should have been a game-ending pop fly into the outfield when Brant Brown lost it in the sun, allowing the ball to drop and the winning runs to score. As the action was unfolding, Santo reacted like a fan. Twelve years after the fact, his anguished cries of "Oh NOOOO!!!! OH NOOOO!!!" still echo through some Cubs' fans memories.
"I forgave Brant Brown right after that game," he says. "It was the emotion of a fan. I didn't even realize I did what I did and right after the game I went up to him and told him everybody goes through this."
Pat Hughes, his co-pilot in the booth for the past 15 years, thinks a lot of that emotion that fans hear coming over the radio stems from the fact that while Santo is by definition a Cubs broadcaster, he is in his heart a Cubs fan.
"I think he loves the Cubs and it's one of the most important things in his life to be in that booth every day," Hughes says.
Santo agrees.
"This booth right here has kept me alive," he said.
Matthew Lindner is a freelance writer for Sports Media Exchange, a national freelance writing network.