Commentary
Jose Reyes, others produce charity wine
Jose Reyes may be just 26, but he already has a place in Cooperstown. It's right next to the Omar Vizquel salsa.
Sure, every player's eventual goal is to be immortalized with a plaque, but Reyes thinks it's pretty neat to have his CaberReyes Cabernet on display for the time being.
"It's a great honor to be in the Hall of Fame with our wine," said Reyes, whose vintage is part of the íViva Baseball! exhibit. "Not everybody has a chance to have something in the Hall of Fame. You don't expect to have your face on anything, so when you have your face on a bottle of wine, it's unbelievable."
That's a common reaction Reyes gets when serving CaberReyes to his guests.
"When people come over to my house, I'll ask, 'Do you want some wine?'" Reyes said. "They'll say they like it, and I tell them, 'This is my wine. It has my face on the bottle.' People don't believe it. I have to go get the bottle and show it to them."
And while there's definitely the cool factor that comes with being able to serve your own reserve label at dinner parties, what attracted Reyes to this endeavor was the ability to make a lot of money -- for charity.
The Mets star is one of 25 major league players, past and present, who have teamed with Charity Wines. Each player donates his entire proceeds from the product's sales to the foundation of his choice.
"I know where I came from, and now I'm able to give back," said Reyes, who partnered with the Major League Baseball Players Trust. "That's really important for me."
The Longball Cellars Collection is approaching 1 million wine bottles sold and has distributed almost $1.6 million to charities across the nation.
Wine might not be the first beverage that pops to mind when one thinks baseball -- case in point, Mark Buehrle had to explain to a number of non-wine drinkers that the "t" in Buehrlot is silent -- but it seems Charity Wines and baseball players are a great pairing.
[+] Enlarge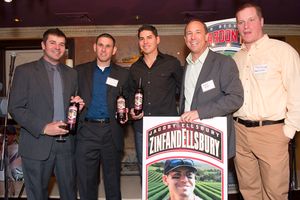 Courtesy Charity HopThe ZinfandEllsbury goes great with a nice steak.
Charity Wines began when Andrew Graff and his wife, Heidi, decided they wanted to embark on a larger scale charitable effort with their Massachusetts-based Vinlozano Imports. After tossing around some possibilities, they came up with an idea.
"The Red Sox had won the Series in 2004, and we thought, 'Why don't we do a wine with the players and donate the proceeds to charity?'" Andrew Graff said. "Of course, then it became, 'That's a great idea, but how do we even talk to these guys? We're wine guys.'"
A little Internet research turned up Charity Hop, a then-fledging sports marketing company focused on charitable endeavors, with ties to the Red Sox after organizing an event with Curt Schilling to benefit the ALS Association.
"I think they initially wanted to do like a 'Bloody Sock Red' with Curt Schilling," Charity Hop co-founder Brett Rudy recalled. "I said, 'I think it sounds like a good idea, but I'm not sure if that's the best name.'"
So they tossed the name and kept the concept. Schilling agreed to take part, as did Manny Ramirez and Tim Wakefield. In 2007, Vinlozano rolled out three new wines: Schilling Schardonnay, Manny Being Merlot and Caberknuckle.
"The first year, I figured we'd sell a couple 100 cases [at 12 bottles per case], and that would be that," Rudy said.
Then the orders from distributors came in. It was the largest pre-order of wine in Massachusetts history. Each of the three Red Sox wines sold more than 80,000 bottles that year.
"It totally blew us away," Graff said. "When the numbers first came back, I remember calling our guy in Chile [where the first wines were produced], and it was like, 'Ramp up production. This is much bigger than we thought.'"
After the success of the first year, it became clear that finding players willing to take part wasn't going to be an issue. Instead, it became a matter of deciding how to select from the growing number of players interested in taking part.
A variety of reasons (including licensing and not wanting to oversaturate the market) led to Charity Wines capping the number at three players a year. So far, players have included Jorge Posada (Jorge Cabernet), Kevin Youkilis (SauvignonYoouuk Blanc), Derrek Lee (CaberLee), Johan Santana (Santana's Select) and Tom Glavine (Cabernet Glavingnon) to name a few. For 2010, it is Josh Beckett (Chardon-K) and Jacoby Ellsbury (ZinfandEllsbury). The strategy has been to go after the big names in each market, and almost no one has said no.
"They just asked me if I wanted to do it, and we jumped all over it," Buerhle said.
As someone already involved with a cause, the wine provided the White Sox ace an opportunity to raise money and awareness for animal shelters. His Buehrlot benefits Hope Rescue, a no-kill shelter in Alton, Ill.
When Buerhle heard his wine was almost sold out, he purchased the last 22 cases. The pitcher is going to be signing and then selling the remaining bottles, in an effort to raise even more money for the organization. To date, the money Buehrle's wine has raised has helped provide Hope Rescue funding for construction of a larger building.
That kind of progress is what makes the process so rewarding for both sides.
"It's an amazing feeling," Graff said. "Every time we do a launch, it's not only fun to see all the different charities that have benefited, but just to see what it means to them, that's what it's really about."
So go ahead and raise a glass. It's for a good cause.
Maria Burns Ortiz is a Page 2 contributor and writes for ESPNSoccernet. She can be reached at mariamburns@gmail.com.