Commentary
Facial hair national championships held
Originally Published:
June 6, 2010
By
Doug Binder
| Special to Page 2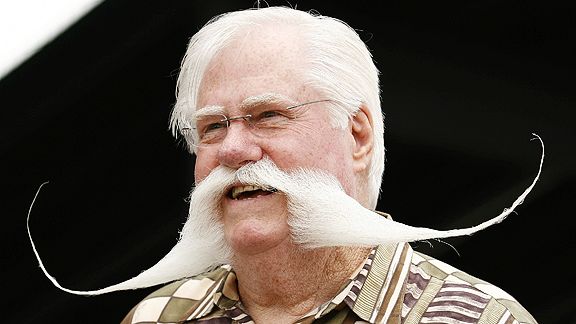 John Gussenhoven Larry McClure of Concord, Calif., won the Best Moustache division of the national championships.
BEND, Ore. -- Justin Stanley's coarse, burnt orange hairs cascade off his cheeks and are his own unique spin on self-expression.
Los Angeles' Robert Shahin has flowing white sideburns that descend from under a billowy white mane and evoke Zeus-meets-Sean Connery. He sold that look even more by wearing a Scottish kilt.
Both men, and almost 200 more, gathered this weekend to celebrate their extraordinary achievements in facial hair -- from epic beards to handle-bar moustaches to one-of-a-kind sculptures hardened by wax and hairspray -- culminating with the USA Beard and Moustache National Championships.
"It's a brotherhood, for sure," said Stanley, of Albany, Ore. "You walk down the street and you see another beard, there's instant respect there."
As a fashion statement, whiskers seem to be making a comeback. Formerly clean-shaven celebrities such as Brad Pitt, George Clooney and Conan O'Brien have not been shy about putting their razors away and letting nature run its hairy course.
To Phil Olsen, the self-appointed captain of Beard Team USA and organizer of the first national championships, the attachment to his beard and the competition run deep.
Olsen, a Stanford grad who is a settlement judge in Tahoe City, Calif., stumbled on a beard competition while traveling to Denmark in 1999. He returned home and touched off a movement.
The national championship borrowed from the Olympics -- it opens with a parade of competitors bearing state flags.
"Unlike the Olympics, we do not test for banned substances," Olsen said. "And as far as we're concerned, it's encouraged."
The substance of choice: Beer.
There is an earnestness and seriousness in this competition -- wrapped in irony and laugh-out-loud humor.
"This is a fashion show for men," said Jack Passion, owner of a two-time world championship beard and an ambassador for beardsmen everywhere. "Your facial hair, it's like clay. You can do whatever you want with it."
Passion, at 26, sports red whiskers that leap off his face and stretch down to his belt buckle. He is the Michael Jordan of full-beard competition and he was swarmed for photographs and conversation all weekend.
And he has a lot to say about beards, moustaches and how to rock them.
Is the cultivation of facial hair right for every man?
"It can take you up a notch, or take you down three notches."
What does a beard represent?
"It is an extension and celebration of what's in the man that grows it."
There are four categories at the championships -- Best Moustache, Best Partial Beard (goatees, sideburns, etc.), Best Full Beard and Freestyle (anything goes). The winner in each category got $1,000.
Among the judges were Miss Oregon, C.C. Barber, Captain Harry Lewis from the TV show "Deadliest Catch," and Sirwan Singh, whose eight-foot long beard is the world's longest.
"I'm not quite sure what I'm looking for, when I see it, I'll know," said Barber prior to Saturday's competition.
"Beardletes" from 28 states and Canada as well as German world champion -- and inspiration to all -- Willi Chevalier, competed on a catwalk in front of a couple thousand cheering spectators. Judges pared down groups of 10 to three, then brought back the finalists for a final round before declaring winners.
The hirsute participants were young and old. Nineteenth century costumes, Old West get-ups, and the body-pierced and tattooed were all represented.
Nelson Kottke, 32, of San Jose, Calif., smiled like a Cheshire cat beneath a powerful handlebar moustache.
"There's no way I'm going to win," said Kottke after descending from the stage and entering a line for beer. "This whole trip has been an amazing, fun time. It's all an excuse to gather awesome people together."
But Kottke's killer 'stache is due for a date with a blade.
"Unfortunately, this has to come off by October for a wedding," Kottke said. "She loves me, she doesn't love the moustache."
Doug Binder is a freelance writer for Sports Media Exchange, a national freelance writing network.