Commentary
1950 U.S. member rooting vs. England
Originally Published:
June 8, 2010
By
Kelley Carter
| Special to Page 2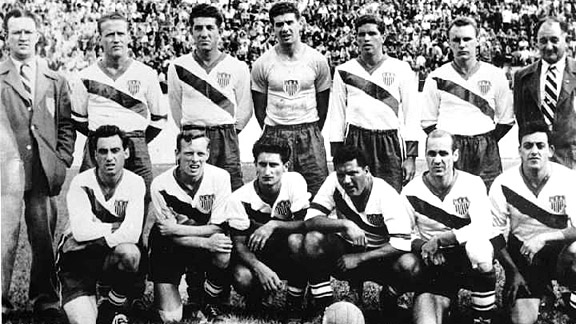 National Soccer Hall of FameThe 1950 U.S. World Cup team. Back row (L to R): Jack Lyons, Joe Maca, Charlie Colombo, Frank Borghi, Harry Keough, Walter Bahr, Bill Jeffrey. Front row (L to R): Frank Wallace, Ed McIlvenny, Gino Pariani, Joe Gaetjens, John "Clarkie" Souza, Ed Souza.
Former U.S. national team member Harry Keough laughs at his favorite memory of the 1950 World Cup match.
Keough -- who eventually won two U.S. Open Cups, seven National Amateur Cup title and coached the Saint Louis University men's soccer team to five NCAA titles -- said it wasn't just beating England, 1-0, in a group match.
It was what happened thereafter.
"The English players were very, very gallant. They shook our hands at the end of the game and said 'You chaps played well.' I was very impressed because I, myself, knew how much it meant for them to win that game," says Keough, 82. "They developed the game. And us coming in and beating them had to be a blow to them."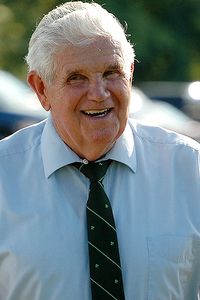 Courtesy of Steve Ole OlsonHarry Keough played on the 1950 team and is rooting for the U.S. this weekend.
That's why this Saturday's matchup is so significant.
The U.S soccer team plays England in their first World Cup matchup since the U.S.'s 1950 victory. This weekend's match in South Africa will be tough, and Keough, who along with his 1950 teammates were inducted into the National Soccer Hall of Fame in 1976, said he'll be watching at home.
A 2010 victory against the English team, he said, will do much to further the popularity of the sport here in the States.
That 1950 game is an important memory for Keough, who is in the early stages of Alzheimer's. Keough is one of four surviving members of that team.
"Leading up to this Saturday, I'm really recollecting that game from before because we did at least show that we could win a game. And, right now, we probably think we could win again. I'm sure the British guys are thinking the same thing," he said. "Of course, everybody wants to win. But I would be satisfied with a good performance. If we perform up to our capabilities and still lost the game, I would be satisfied."
Keough said he's talked with a few members of the current U.S. team, and says that if he has any advice to dole out as they head into the match, it's this:
"I'd tell them to get in there and give it your all. That's about all you can do. If the other team scores first, don't get your head down. Hang in there. Some people think that's terrible to be giving up before you start, but if they score first, it doesn't mean anything. You've still got the whole game."
Kelley L. Carter is a freelance entertainment reporter. She can be reached at Kelley@thekelleylcarter.com.