Commentary
Strasburg card buyer is sold on pitcher
Originally Published:
June 16, 2010
By
Chris Olds
| Special to Page 2
Most baseball fans know all about Washington Nationals rookie pitcher Stephen Strasburg at this point -- winning one's first two MLB starts in dominating fashion will do that to a guy.
You know, make him a household name.
But late last month, Strasburg was getting noticed for different reasons -- well before he struck out 14 Pittsburgh Pirates in his MLB debut in his first start and well before he brought the Cleveland Indians' grounds crew to the forefront of the baseball world for the first time since "Major League" on Sunday.
Strasburg was getting noticed because one of his first baseball cards in a Nationals uniform sold for more than $16,000 -- and that was before two MLB victories and all of those Walter Johnson references from Bob Costas.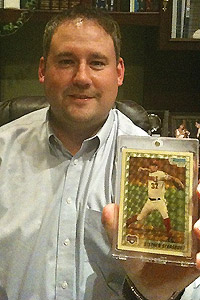 Courtesy of Robert PowerRobert Power paid more than $16,000 for the rookie card of Stephen Strasburg.
One has to wonder what Strasburg's 2010 Bowman Chrome Prospects SuperFractor might fetch now, but you'll have to keep wondering as the one-of-a-kind card is squarely in the hands of 37-year-old Michigan-based accountant Robert J. Power, who, like many baseball fans, remembers the pop culture wave of card collecting in the 1980s.
So, the obvious question is why would he buy the card?
"I focused on this card because I believe Stephen Strasburg is truly the LeBron James of baseball," said Power, who also collects Roberto Clemente and Rod Carew along with cards from the 1960s and 1970s. "This past presidential election, everyone wanted change. Well, I think baseball and sports needs the same and players like Stephen Strasburg can provide that change while being positive role models for today's children. I highly doubt we'll see Strasburg strike someone out and then do a crazy dance on the mound to taunt the opposing team. He is married, has a great work ethic and has succeeded on all levels."
Power's purchase set a new record for the most money paid for a SuperFractor, according to sales tracked by Beckett Media. The previous high was $7,330 for a one-of-a-kind card signed by Mets prospect Fernando Martinez. And, believe it or not, Power said he would have paid more than he did for the Strasburg.
"I was expecting the last-minute bidding to go crazy, but luckily for me it didn't," he said. "I thought the winning bid would be around $22,000. My max would have been $20,000."
At the time of Strasburg's first start a little over a week ago, Power didn't yet have the card in his hands. But he watched the game with his wife, Michele, and even she felt good about the purchase after seeing the latest national phenomenon.
"His first start was amazing," he said. "It was amazing how everyone was cheering and clapping for every pitch … Luckily, my wife is very supportive, even though her first response was 'Are you crazy? That is a lot of money for one baseball card.' But I think after his first start, she was even more supportive."
Power said he remembers the days of collecting cards that came in waxed-paper wrappers and it was that time in his life that came flooding back to him when he read about the auction for the one-of-a-kind card online.
"It really piqued my interest," he said. "It actually made me go and look at some of my cards from way back when I was younger. So many good memories. It brought back the days of playing Little League, and someone declaring 'I'm Dwight Gooden' and another kid saying 'Well, I'm Wade Boggs' or 'I'm Darryl Strawberry.'
"I can picture kids today yelling 'I'm Stephen Strasburg.'"
Packs of 2010 Bowman baseball cards are tough to find without paying as much as three or four times their suggested retail price in card shops -- that is, if packs are even found at all -- and a good part of that demand (and that lack of supply) has been because of the interest in Strasburg.
The no-frills version of the pitcher's Chrome card is fetching as much as $60 and as of late last week, more than $330,000 worth of purchases for Strasburg cards had been documented by Beckett Media.
While the changing landscape of buying and selling cards online has left many a card shop shuttered and the values of many iconic 1980s cards much lower than in the boom years, Power said he understands the place that Strasburg presently holds in the game -- and in the hobby, too.
"I think there has been a lot of negativity recently in sports, so someone like Strasburg coming along is just what sports needs," he said. "And a card like this is just what the industry needs to attract both the young collectors, and hopefully to bring back some collectors who have been absent for a while."
Chris Olds is the editor of Beckett Baseball magazine. Check out Beckett.com -- and be sure to get the latest news on sports cards and memorabilia at The Beckett blog. You can also follow him on Twitter.