Commentary
Joe Girardi at peace with himself
Originally Published:
June 18, 2010
By
Lisa Altobelli
| Special to Page 2
The theme behind Dove's new men's skin care line is being comfortable in your own skin, so who better for the campaign than New York Yankees manager Joe Girardi, who is so at ease with himself that he agreed to get braces at age 45 just to lessen his daughter's apprehension when she learned she needed the hardware.
"What I didn't realize when I made the deal is that she only had to get four on her front teeth and I got the full mouthful," Girardi said, who claimed that his teeth were in fact crooked from the number of foul tips he took off the grill as a catcher. "And now my son has braces and he said that I made another deal, which I don't recall, that I would get color rubber bands, so I had some blue ones put on last week. It's a good look."
[+] Enlarge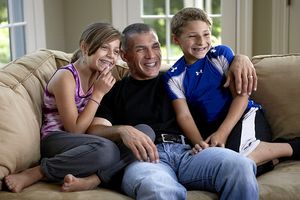 Gregor Halenda New York Yankees manager Joe Girardi shows off his braces with his kids, Serena and Dante.
Girardi's 15-year playing career included a four-year run with the Yanks in which he won three World Series rings in 1996, 1998 and 1999. His first managerial stint was a one-and-done with the Marlins in 2006 before taking over for his friend and mentor, Joe Torre, in 2008 in New York, where Girardi won his first championship as a manager last season.
On Thursday, the manager was all smiles with his Yankee blue bands when camera crews descended on his Westchester, N.Y., home to shoot a 90-second spot of the skipper's downtime -- bouncing on a trampoline, lying in a hammock and playing air hockey with his wife of 21 years, Kim, and their three children -- Serena, 10, Dante, 8, and little Lena, 3, who they call Bean. After the wrap, Girardi talked to Page 2 about what made him as relaxed as he is today.
"I was the fourth out of five kids growing up in Peoria, Ill., and my father worked three jobs so we always worked as kids too, whether it be paper routes or laying brick with my dad on the weekends," Girardi said. "But it gave me a work ethic and I used the money to buy myself my first car, which was a red Ford Tempo that I loved. It got me out to the Cape Cod League and back again."
He also spoke about certain struggles that have given him perspective, like his father's current Alzheimer's condition and how his mother was diagnosed with ovarian cancer when he was 13 and given six months to live, but fought for another six years before she succumbed to the disease.
"I used to think that the only reason I played baseball was to keep my mom alive, but then Kim told me after she passed that I had a gift and that it would be a platform for me one day so to keep playing," said Girardi, who met Kim at Northwestern University, where he earned a degree in industrial engineering.
And for a man so low-maintenance, there are some things that still make him ill at ease, like dancing of any kind and skiing, which he tried for the first time last winter at Wyndham ski resort in New York's Catskill Mountains. Somehow, he managed to KO a lady in the lift line. "I was going down and just took her with me," Girardi said.
Yet it also had to be a tad unnerving to have more than 30 strangers trekking through his personal space with their mammoth lights for a Dove shoot, making the family's 10-month-old bichon frise, Enzo, more than a little jumpy. So why allow the home invasion?
"I actually have really dry skin because I take about three showers a day from being at the ballpark," Girardi said. "I'm always itchy -- my back, neck, elbows -- but now I'll get some free products with the shoot, which is great."
Lisa Altobelli is a former reporter for Sports Illustrated. She can be reached at alto22@gmail.com.
Lisa Altobelli
ESPN