Commentary
Infamous fan's seat considered unlucky
Originally Published:
June 19, 2010
By
Matt Lindner
| Special to Page 2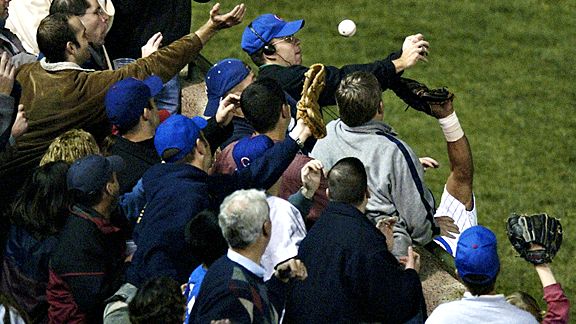 AP Photo/Morry GashSteve Bartman (wearing headphones and glasses) interfered with a foul ball during the eighth inning of a game that could have clinched the 2003 NLCS for the Cubs, and people still talk about it.
CHICAGO -- Seat 113 in Aisle 4, Row 8 at Wrigley Field offers one of the best views in all of baseball. But it's probably the most haunted seat in a place well known for being a sporting house of horrors.
It was here that Steve Bartman came to sit one fateful October night in 2003, with the Cubs on the verge of clinching their first trip to the World Series since 1945.
In the eighth inning of the potential NLCS-clinching game against Florida, he interfered with a pop foul seemingly destined to land in the glove of Cubs left fielder Moises Alou. The Cubs went on to lose the game and the series, and the incident turned him into a something of a pariah. To this day, many fans blame him for the Cubs' failure to end their World Series drought that year.
But while he's reportedly stayed away from Wrigley since that night, his ghost continues to haunt that section.
"I didn't want to sit in the exact same seat that he was in," fan Brooks Lance said. "I didn't want to jinx the Cubs."
"I don't blame Bartman for sitting here; it's a beautiful view," said Jim, a longtime Cubs fan who declined to give his last name. "You can see the entire field and what's happening."
[+] Enlarge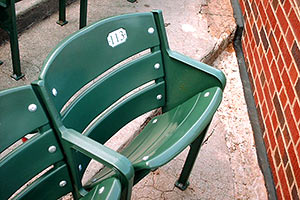 Matt LindnerSome people believe the seat that Steve Bartman occupied is unlucky.
Jim was the lucky ticket holder for Aisle 4, Row 8, Seat 113 for the opener of the Crosstown Classic between the Cubs and White Sox in early June.
"It's a great view, but I'm not gonna try to lean over and catch any foul balls," Jim said.
Since that night seven years ago, the Bartman seat has become one of Wrigley Field's most popular tourist attractions. Fans regularly venture into the area located down the left-field line to take pictures with what is otherwise an ordinary green fold-down seat just like all the others at Wrigley.
When Lance, who was visiting Wrigley Field for the first time with his father and his son on June 11, he didn't know which seat it was until someone else in the section pointed it out. Then he made sure his son had a picture with the seat.
"I thought there might be a seat that was a different color than the green that would have his name on it," he said. "I thought maybe the Cubs would never have someone sit in that seat ever again."
The Cubs have done everything they can not to publicize the incident. Team spokeswoman Dani Holmes declined an interview request, citing the team's policy of respecting Bartman's requests for privacy.
[+] Enlarge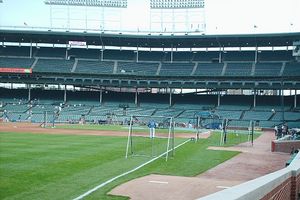 Matt LinderHere's the view from Bartman's seat.
Alou himself has gone on record as saying Cubs fans should leave Bartman alone. Alou admitted that he wouldn't have caught the foul pop up that Bartman has been vilified for and that he's made peace with the incident.
Other fans have mixed feelings about what happened.
"It's a footnote. I try not to dwell on it," said season-ticket holder Rob Elias.
Steve Aizen, a Cubs fan who frequently sits near the seat, said he would never interfere with play. "I always think, 'Don't touch it; just let them play.' Plus, if he would've let Alou catch it, he probably would have let him have [the ball] anyway."
Said Lance, "If I was a true die-hard Cubs fan, I wouldn't have forgiven him yet."
Many people haven't.
Matt Lindner is a freelance writer for Sports Media Exchange, a national freelance writing network.