Commentary
Former NFLer JJ Birden sells chocolate
Originally Published:
June 23, 2010
By
Wendell Maxey
| Special to Page 2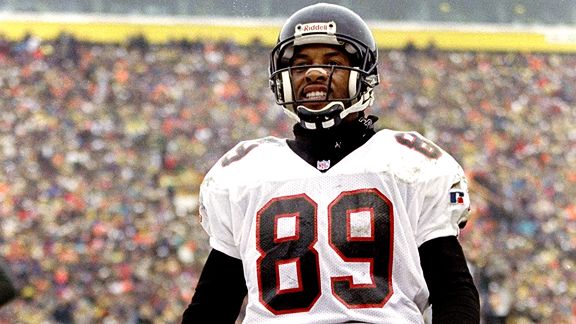 Brian Bahr/Getty ImagesJJ Birden played seven NFL seasons with the Chiefs and Falcons. Now he enjoys a sweeter vocation.
LAKE OSWEGO, Ore. -- When JJ Birden retired from the NFL in 1996, he knew he'd go into business for himself now that his playing days were over.
Birden just didn't imagine he would be selling chocolate.
"I never thought I would be doing this -- not in a million years," said Birden, who was a wide receiver with Kansas City and Atlanta. "I never thought I would play nine years in the NFL and then become a healthy chocolate businessman."
Today, Birden, 45, is an executive with Team X 88 in Lake Oswego, a company that sells delicious, healthy dark chocolate products that the company says work as an anti-inflammatory.
It all started two years ago when Birden went online to find a remedy for his post-gridiron aches and pains. That research evolved into a direct-selling endeavor with Team X 88, working with accounts in Los Angeles, Atlanta, New York, Sweden, Denmark, South Africa and Norway to name a few.
"People will try the chocolate and then they'll be overwhelmed," he said. "I tell them to try it and see how their body responds. It's been one of the best decisions I've made since retiring."
Birden was a renowned track star with dreams of making it to the Olympics. Instead, he played three years of football for the Oregon Ducks before being selected in the eighth round by the Cleveland Browns -- all 5-foot-10, 157 pounds of him -- in the 1988 NFL draft.
"When I played, I was the lightest player in the league," he said. "They used to list me at 185 -- the biggest I got was 162. Playing pro football was fun, but my body paid the price. That's really a part of the game people underestimate. I played scared. The more scared I played, the faster I ran.
"I wanted to walk away from the game healthy. I just walked away. I was done."
Birden could escape hungry defensive backs during his career, but there was no running from the toll the game took on his body. He grew tired of taking Advil and Aleve. Glucosamine, Naprosyn and other anti-inflammatories didn't cut it, either.
"I came across this study on dark chocolate actually being healthy and good for your heart. I thought, 'no way,'" he said. "I found this company [MXI, which produces Xocai chocolate products] with clean chocolate that was unprocessed and all natural. Raw cocoa is high in anti-oxidants when it is not processed. I just figured I'd sample it, and it worked."
And Team X 88 was born. Birden, who endured multiple knee surgeries and battled plantar fasciitis, felt better after eating the dark chocolate.
"I probably noticed a difference in about a week," he said. "I stepped out of bed one day and my foot felt better, and the only thing that changed was I was consuming this dark chocolate. I just started sharing it and it was like a ripple effect."
Dr. Steve Warren, a geriatrics physician with training in nutrition, said dark chocolate offers benefits in addition to being an anti-inflammatory.
"It helps with depression," Warren said. "It can work as an antihistamine and help with allergies. It helps with memory. It's just that dark cocoa powder."
Birden said he hopes the studies and Team X 88 provide a healthy and tasty alternative along the way -- maybe even for those guys taking hits on Sundays.
"There are a lot of athletes I think could really use this," he said. "People are looking for a Plan B."
Wendell Maxey is a freelance writer for Sports Media Exchange, a national freelance writing network.