Commentary
Sean Payton weaves great tales in book
Originally Published:
June 30, 2010
By
Lynn Hoppes
| Page 2
Which Sean Payton would come through in his book "Home Team: Coaching the Saints and New Orleans Back to Life"?
The NFL head coach who gives very vanilla answers to the media during the season?
Or the guy who loves to have a drink or two and hang out with friends or family?
"I told Coach that to sell this book he needed to write it like he really is and not the one he puts out there for the public to see, using coach-speak," said co-author Ellis Henican, who is a columnist for the newspaper Newsday in New York. "Sean really is a funny guy, and that comes out in this book."
The book, available online and in stores, tells the story of Payton's rise through the coaching ranks, what the city of New Orleans has meant to him, and what it's like inside the locker room of the Saints. It's not just about beating the Indianapolis Colts in February's Super Bowl.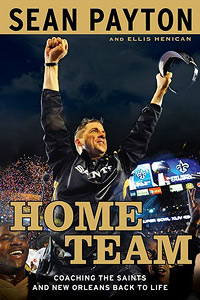 Penguin GroupSean Payton worked with Newsday columnist Ellis Henican to write a fascinating book.
"I didn't want to write another winning-on-the-field book or about modern-day leadership. That's B.S.," said Payton, who spent six weeks with Henican after the Super Bowl to craft the stories. "I wanted to write a book about the stories, ones that you sit around and tell your friends."
Here are a few, retold to Page 2 by Payton and his friends:
Payton and his Saints really wanted to draft versatile running back Reggie Bush in the 2006 NFL draft with the No. 2 pick. The Houston Texans had drafted lineman Mario Williams at No. 1, and the Saints were up.
But Bush's marketing agent, Mike Ornstein, kept telling Payton that Bush didn't want to play in New Orleans and that the New York Jets, who had the fourth pick, were where Bush, highly touted out of USC, wanted to be.
"Don't draft him. Make a trade to New York. That's where I wanted this kid," said Orenstein, who had known Bush for years. "Make the [expletive] trade."
"So I said, '[Expletive] you,'" Payton said, "and hung up the phone and made the pick."
Orenstein, laughing today, said the conversation went exactly like that. "My reaction was the same: [Expletive] him!"
The funny thing is that now they are close friends, and Orenstein is the reason the book was made. Orenstein got Henican together with Payton.
Another story: When Payton was an assistant coach for the Dallas Cowboys, he flew to California to interview for the head coaching job with the Oakland Raiders.
Owner Al Davis did the interviewing and wore his traditional black sweatsuit.
"Al is an extremely talented football guy. Few owners who interview can really talk about a defensive front, team travel and the salary cap," Payton said. "He can hit on all these topics, and this was my first interview as head coach. It was 2003, and I was going to meet Al Davis."
Payton, who had been in the NFL only about five years, said he was really nervous.
"I walked into the bathroom, and I took three deep breaths," Payton said. "I said: 'I belong here. I belong here. I belong here.'"
The interview was heading late into the evening, and both were hungry.
"You like cheeseburgers?" Davis said.
"Of course I do," Payton said.
Davis then asked his assistant to run to McDonald's to get some cheeseburgers and -- get this -- coleslaw.
"The assistant says, 'Mr. Davis, McDonald's doesn't have cole slaw," Payton remembers. "But Al wanted his cole slaw, so the assistant had to figure out what to do."
A little while later, the assistant returns with the food.
"So we're sitting there -- mind you, it's about 11 p.m. -- eating McDonald's cheeseburgers and cole slaw from KFC," Payton said. "You know what a cold cheeseburger tastes like?"
Payton turned the job down, eventually becoming head coach of the Saints in 2006, defending Super Bowl champs and now an author.
The book is filled with stories like that.
In a month, the Saints will make their way to the White House, as most champions do after winning a title, and Payton is ready.
"A friend of mine calls me Forrest Gump," Payton said about the movie character who has so many unbelievable things happen to him. "I can't wait to get to the White House, like in the movie, and drink seven Dr. Peppers and tell the president, 'I gotta pee.'"
It's easy to see which Payton came through in the book.
Lynn Hoppes is senior director of Page 2 and commentary for ESPN.com. He can be reached at lynn.hoppes@espn.com.