Commentary
Ex-player travels 7 hours to coach
Originally Published:
June 30, 2010
By
Matt Lindner
| Special to Page 2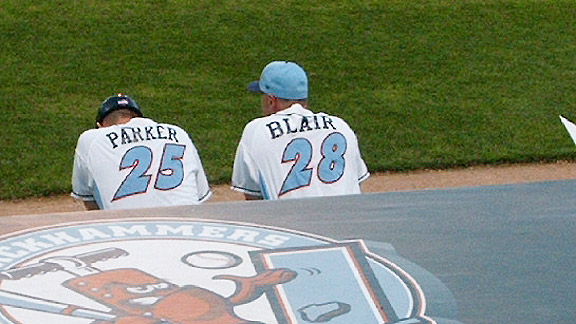 Matt Lindner for ESPN.comWillie Blair, who lives in Kentucky, travels nearly 7 hours to coach a team in Illinois.
JOLIET, Ill. -- Former Tigers pitcher Willie Blair knows there is a price to pay for chasing his dream.
After dabbling in the storage business and coaching the junior-varsity baseball team at Lexington Christian (Ky.) high school, Blair was offered a chance to get back into pro baseball as a pitching coach with the independent Northern League's Joliet Jackhammers. The offer meant giving up his JV team and moving six-and-a-half hours from his family.
But he did it.
"I think I need to prove that I can do this and this is really what I want to do," he said. "So far, I feel like I've done that."
But it's not easy. Blair, who was 60-86 with an ERA of 5.04 in 12 major league seasons, has seen his family only once -- for his daughter's graduation from the University of Kentucky -- since joining the Jackhammers in April.
"I just felt like if I was going to make this my career," Blair said, "I needed to take advantage of this."
Blair believes his decision to move 400 miles from his family and throw himself head-first into coaching will send a message decision-makers in the majors about how serious he is about getting back into baseball.
As a player, Blair won a career-high 16 games in 1997 with the Tigers and was the last opening-day starter at historic Tiger Stadium.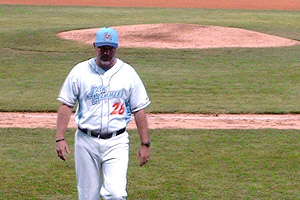 Matt Lindner for ESPN.comWillie Blair is hoping this opportunity in Illinois will lead to a full-time pro baseball gig.
After retiring from baseball in 2001, Blair owned a couple of PODS franchises in his native Kentucky. He was making a name for himself in the business world and spending more time than ever with his family. His got his baseball fix by coaching local youth league teams, leading squads to the Cal Ripken League World Series in 2005 and 2007, as well as the Lexington Christian junior varsity.
"It was a lot of fun and obviously they knew that I knew what I was talking about," Blair said, "so it added to my credibility."
Lexington Christian's head coach Keith Galloway knew there was a possibility that Blair would move on. But the knowledge that Blair brought to the field was worth the risk.
"He was real up front with me letting me know when he agreed to be a coach for us that those opportunities might be out there in the future," Galloway said. " They really respect him. Most of [the players] have been around him some when they were in some of the little leagues here in Lexington."
Blair said he was enjoying being home more often, watching his three children grow up. But even though he traded in his uniform for a suit and tie and the ballpark for a traditional office, he felt something was missing.
"I knew my career was pretty much over as a player," Blair said. "I still had three young kids so I started looking at some business opportunities.
"But I realized three or four years in there that [being a business owner] is not what I wanted to do. It's one of those things where my wife and I have been talking about it for awhile, one of the possibilities of getting back in the game."
Opportunity came knocking in the form of newly-named Joliet manager Chad Parker, who he had met through a former teammate. While it's not the most ideal situation -- Blair had to move away from home and step down from his high-school coaching job with three weeks left in the season -- he feels fortunate to have a new opportunity.
"I knew it was going to be tough to get a job with an affiliated team just because of the timing and the fact that I hadn't been in the game a number of years," he said. "It's just one of those strange things where it seems like it was meant to be."
Matthew Lindner is a freelance writer for Sports Media Exchange, a national freelance writing network.