Commentary
Joey Chestnut wins fourth title in row
Michael Jordan. Wayne Gretzky. Lance Armstrong. Michael Phelps.
Joey Chestnut.
It probably seems insane to mention a hot dog eating champion in the same breath as four of the most dominant athletes in history.
Indeed, that would be insane ... because Chestnut supplanted the man who belongs in that group.
Before Chestnut came along, Takeru Kobayashi owned the sport of competitive eating. (Incidentally, anything televised on ESPN must be a sport -- "Magic The Gathering" notwithstanding -- according to our logic.) Kobayashi won the Nathan's Famous Fourth of July Hot Dog Eating Contest, the most prestigious event on the competitive eating circuit, six consecutive years. He owned myriad world records and single-handedly catapulted the sport into our collective consciousness.
Then he was felled by Chestnut at the Nathan's contest. Now, four years in a row. ... Eclipsed. Superseded. Pillaged. Usurped.
The 26-year-old Californian, you see -- unlike Jordan, Gretzky, Armstrong and Phelps -- belongs in a class unto himself.
On Sunday, Chestnut won his fourth consecutive championship, eating 54 hot dogs in 10 minutes. Second place went to Tim "Eater X" Janus with 45 hot dogs. Chestnut was disappointed with his performance, despite claiming the bejeweled, mustard-yellow belt plus a $20,000 purse. He was aiming to beat his record of 68 last year.
The highlight (or lowlight, depending on your point of view) of the day was when Chestnut was upstaged by the surprise appearance of Kobayashi, who did not compete but crashed the stage after Chestnut's win and wrestled with police. Kobayashi, who blamed a contract dispute for not competing, was under arrest, charged with resisting arrest, trespass and obstructing governmental administration.
But let's focus on the winner:
Page 2: How did you get started in competitive eating?
Chestnut: My little brother [Willy] signed me up to a lobster-eating contest in Reno, and I was really apprehensive. I thought the whole idea was weird. But if you agreed to do the contest, you got a free night at a hotel. I was like, 'All right,' because I'd just turned 21. So I kind of fell into that first contest, and I was nervous. I ended up tying for third, and I thought I could have done so much better. Two weeks later, there was an asparagus-eating contest, and I won. After that, I knew my body was made for it. I was addicted.
How far in advance do you begin preparing for a contest?
It depends on the contest, but usually I get my body into a cycle. For a regular contest, it will take only a week. I'll do a practice contest, fast three days, do another practice contest and then fast three days before the contest.
For hot dogs, I've been training a couple months -- just getting my body used to ingesting and digesting massive amounts of hot dogs. Pushing for new records, and just getting used to it.
You've been eating competitively for five years now. Do you feel like you've perfected your routine and training regimen?
[+] Enlarge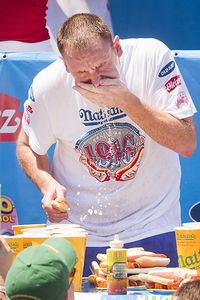 Michael Nagle/Getty ImagesDefending champion Joey Chestnut ate 54 hot dogs Sunday to win the title by 9 hot dogs.
I know my body. I feel comfortable pushing my body to ridiculous limits. I know when I'm pushing a little too hard. It's taken a lot of practice and keeping a diary of how I feel when I'm eating and when I'm recovering.
Can a person make a living as a competitive eater?
You know, I could be making a living. I've done very well in competitive eating, but my mom would get furious if I didn't have a regular job. ... I make good money -- well into six figures -- but I know eventually I'm going to have to stop and have a normal job just like everybody else.
What's your relationship with Kobayashi, who was arrested Sunday for scuffling with police and did not compete?
I respect him. He's the reason why I push myself so hard. Other than that, he's a competitor. We respect each other's ability, but we're all business when we're around each other.
We've all heard the whispers. Is there any truth to the rumor that Japan's government once funded an operation to add a second stomach to Kobayashi?
When I first started competitive eating, everyone told me he couldn't be beaten. When I told the other Americans I wanted to beat him, they were like, 'You can't beat him.' And they got mad at me. But he's a human being, and so am I. I can be beaten, and I enjoy beating him. He pushes himself to crazy limits, and I enjoy smashing him.
[Editor's note: He never did answer the question. Hmmm.]
You hold the world record by eating 68 dogs at last year's Nathan's contest and ate 54 Sunday. Is the 70-dog mark the equivalent of the four-minute mile?
I sure hope not, because I want to be the only one who does it. The four-minute mile, a bunch of people started doing it after [the barrier was broken]. ... But it's something I know I can do.
You've eaten 72 in practice, right?
Yeah, in under 10 minutes. When my body is working for me, I'm not thinking about eating. I'm just thinking about all the little steps, like dunking the buns for the right amount of time and swallowing. Just do my job and eat like I did at the beginning of the contest.
Are there endorsements for the best competitive eaters?
You bet there are. Pepto-Bismol stepped up. I'm going to be doing a series of contests for them in August. That worked out perfectly, because I already drink Pepto-Bismol.
So Pepto and Immodium aren't considered performance-enhancing drugs?
I sure hope not. I drink the pink all the time.
[+] Enlarge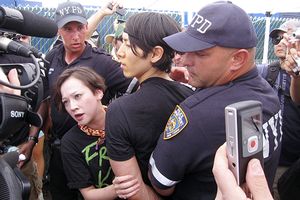 AP Photo/Nick JesdanunFormer champion Takeru Kobayashi tried to rush the stage Sunday and was arrested by police.
Are there competitive eating groupies?
Heh, heh. I do pretty good. But it's not that girls like competitive eaters. They like winners, and I win pretty consistently. It's not a bad gig for me to travel around the country. ... Hopefully I don't end up like Tiger Woods. I'm not married, though.
How would LeBron James fare on the competitive-eating circuit?
He'd be pretty decent if he wanted to do it. He's a big, bad man. I'm sure he could put down some dogs. I heard Shaquille O'Neal can put down 40 dogs.
At first glance, it seems like the bigger guys should be able to eat more. You have a regular build. What's the secret?
It's not really a secret. When you think about it, you can't really expect a 400-pound person to push himself very hard. Two minutes into the contest, he'll be out of breath. He won't even be able to talk to you, he's so out of breath. It's weird, because we're actually working, pushing our body and using muscles. I'm using muscles in my jaw, my throat, my esophagus, all the way down to my stomach. I'm trying to push everything down to the bottom. I'm jumping up and down, sweating like a madman.
What's your diet like outside of competition?
After the Fourth of July, I'm gonna be eating a lot of barbecue. I'm looking forward to that. Sometimes, I'll get carried away and eat maybe two or three times as much as a normal person. I love chicken wings. It's not unheard of for me to order a 30-piece. ... But after I've rewarded myself for training, I'll get back onto a normal diet.
Just once in a while, I'll get carried away. And once in a while, I'll forget to eat. I've practiced ignoring the feelings of hunger and being full for so long, I don't even feel them anymore.
There have been some "reversal of fortune" controversies in recent years. Does competitive eating need instant replay?
Not for me. But Kobayashi, he gets away with stuff. Nobody wants to pull the trigger and DQ him. Nobody wants to be the man who DQ'd the legend. It's not a big deal if I'm ahead, but hopefully it's a clean contest this year.
The Rocky Mountain oyster eating world championship will be held on Aug. 28. Please discuss.
I'll be honest, I didn't know what they were at first. Then they were explained to me, and I said, 'No, I'm not going to do that! No amount of money. In California, we don't eat those.' No. No. ... No.
Is there an unbreakable record in your sport? What's the Joe DiMaggio 56-game hitting streak of competitive eating?
There was a day when I ate 47 grilled cheese sandwiches in 10 minutes, and I was on. Those things were flying down. I looked around, and nobody was even close. ... I can't see Kobayashi breaking it, because he doesn't like the dairy that much.
Besides hot dogs, what are some of your other favorite disciplines?
If there's a chicken wing or rib contest, I'm in. I love 'em. Ribs -- they go down easy, I have a great technique and I enjoy the food. Chicken wings -- I've been in 12 chicken wings contests, and I've lost one. ... They won't even let me compete anymore in Philadelphia at the Wing Bowl. ... I beat 'em every time. They were throwing bottles at me last time. It was ridiculous.
What kind of medical advice, if any, do you get from doctors?
I do stretch my stomach and push the muscles around, and I have to pay attention to the way I'm feeling -- make sure I'm not stretching things too quickly. ... In the long run, doctors have said I need to be careful about diabetes. So, I intentionally stay away from the sweets contests. They are hardest on the body, because of the way you digest sugar. It throws your body for a loop. But my doctors have been very impressed by the way my body recovers.
Are you a sports fan?
I like the A's and Giants. ... I'm a big [Tim] Lincecum fan. I grew up in Vallejo [Calif.], so I follow CC Sabathia, too.
Speaking of athletes, what do you think about Peyton and Eli Manning licking all those Oreos in their commercials?
They could've done better than that. ... Just eat it!
Do you still attend San Jose State?
They won't give me that damn degree! I'll probably take a couple classes in the fall, but I'm working full time for a construction company as a project engineer. The degree will come eventually.
SJSU has a statue of Olympic heroes Tommie Smith and John Carlos. Are we going to see a statue of Joey Chestnut there someday?
I don't know. They've gotta give me that degree first!
You said your mom doesn't want you to quit your day job. So what do your parents think about your success?
My mom is actually pretty proud. My dad is a teacher, and whenever I get a hat with my name on it, he'll wear it to class. They're happy I've been able to do everything. I'm going to get my civil engineering degree. I've got a normal job -- doing what I want to do. I've got an amazing hobby that's a dream job. When you think about it, I'm getting paid to eat. [Being a] baseball player or rock star might be better, in my mind. But this is what my body was made to do, and I'm enjoying it.
Thomas Neumann is an editor for Page 2.