Commentary
Cookie Rojas among Page 2's All-Dessert team
Originally Published:
July 24, 2010
By
Rob Daniels
| Special to Page 2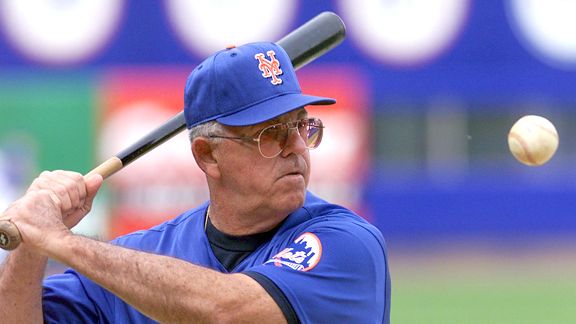 AP Photo/Mark LennihanCookie Rojas, who had a long career and also was a former Mets coach, makes All-Dessert team.
The Nathan's Hot Dog-Eating Contest is over, but there's always time -- if not room -- for dessert. In the spirit of sweetness, we present the All-Dessert Team. Enjoy.
Walter Berry: "The Truth" was a false prophet who played his final NBA game at age 24. Of Berry, the New York Times' Clifton Brown once wrote, "He is often caught in the air with no place to go, leading to either a bad shot or a turnover." Ummm. Turnover.
Doughnut Carrick: Some nicknames don't make sense. Such was the deal for William Martin Carrick, a pitcher who checked in at 5-foot-10 and 150 pounds. Doughnut did toss three shutouts for the 1899 New York Giants. Unfortunately, he also lost 27 games that year.
Fred Cone: Back when men were men and fullbacks were kickers, Cone enjoyed a prosperous NFL career for the Packers and Cowboys. He's one of only six players to score at least 15 touchdowns and kick at least 50 field goals. Another Fred Cone was the 27th governor of Florida.
Puddin' Head Jones: Willie Edward Jones holds a record that looks pretty safe. In 1950, he had seven plate appearances in the All-Star game, which his National League squad won, 4-3, in 14 innings. In this era of engorged rosters and egalitarian representation policies, nobody sees that much action in the Midsummer Classic. (No player has had more than five plate appearances since 1970.)
Felix Pie: Yes, we know the injury-prone Orioles outfielder pronounces his last name pee-AY and that his middle initials should be DL, but unlike in e-mails, text messages and Twitter posts, spelling counts here. Felix makes the cut.
Cookie Rojas: Octavio Victor Rojas was nicknamed "Cuqui" by his mom in their native Cuba. (The moniker, said to be common, isn't based on any real Spanish word.) When Rojas got to the United States, sportswriters anglicized Cuqui. Much like dough in an ungreased pan, "Cookie" stuck. He played in five All-Star Games in a 16-year career (1962-77) for the Reds, Phillies, Cardinals and Royals.
Von Wafer: At 6-5 and 210, Wafer isn't particularly thin, but he probably doesn't like baklava, the thin-crusted Greek dessert. The four-year NBA veteran recently paid $1.2 million to get out of his contract in Greece. In fact, his nickname is "The Dutch Cookie."
Banana Yaya: A member of Cameroon's Under-20 national soccer team, Banana will wait until 2014 to get his ya-yas out in the World Cup.
Rob Daniels is a freelance writer for Sports Media Exchange, a national freelance writing network.