Commentary
Jennie Finch ready for life after softball
Originally Published:
July 25, 2010
By
Gideon Rubin
| Special to Page 2
USA Softball pitcher Jennie Finch and Houston Astros pitcher Casey Daigle are more likely to be talking about baby sitters and preschools than their craft.
But that's what life is like when you're married to arguably one of the most significant figures in softball history.
"A lot of my [athlete] friends are married to nonathletes, and they almost talk more about what happens on the field than Casey and I do," Finch said. "It's kind of ironic."
[+] Enlarge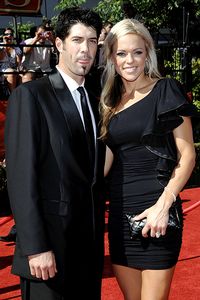 AP Photo/Dan SteinbergJennie Finch and her husband, Casey Daigle, arrive at the ESPYS in Los Angeles on July 14.
Finch, whose supermodel looks and charm catapulted her to celebrity status after leading Arizona to a 2001 NCAA title, announced last week her retirement, effective when she concludes her National Pro Fastpitch season next month.
Daigle, a journeyman pitcher with his fourth major league club in 11 years, collected on July 7 his first win in more than six years (2,249 days), a record among active pitchers that Finch said is a tribute to his perseverance.
But at home, Finch and Daigle keep the shop talk to a minimum with the understanding that they both know what it's like to win -- and lose -- at the highest levels.
"There's that line," Finch said. "I respect what he does out there on the baseball field, and he respects what I do, and we just kind of go from there."
Finch has put up stunning numbers at every level -- a career 119-16 record and 1.07 ERA at Arizona, a career 0.15 ERA at La Mirada High (Norwalk, Calif.) and a 2-0 record in the Olympics. But at home, talk of release points and shoulder dips is drowned out by the sound of their life together, which includes 4-year-old Ace Shane Daigle.
The couple met in 2002 while Daigle was at spring training in Tucson, Ariz. Daigle, then a 21-year-old minor leaguer trying to fit in at the Arizona Diamondbacks' big league camp, reluctantly went with outfielder Luis Gonzalez "to see this really pretty girl" pitching for the Wildcats.
Daigle admits he'd always viewed softball as a game played by burly, unattractive women. Boy, was he surprised. "Needless to say, she was quite attractive and pretty good on the softball field," Daigle said.
Finch threw a no-hitter and homered.
Within a few weeks, Daigle, who learned that he and Finch shared a hairstylist, had flowers and a note delivered in time for Finch's next appointment. Then he manned up and asked her out in person.
And although they usually spare each other details, their pitching-fraternity membership helps them absorb the ups and downs unique to their profession.
"You have a bad game and you come home and you don't really want to talk on the phone, you don't really want to do much except think about it and try to get over it," Daigle said. "And she's been in that same boat."
The difference in this relationship, though, is that Finch is the star and Daigle is still trying to make his mark. Finch whips a 70 mph softball fastball (equivalent to a 100 mph baseball fastball). Her career highlights include an NCAA 60-game winning streak at Arizona and leading Team USA to gold and silver medals in the 2004 and 2008 Summer Olympics, respectively.
"There is no other way to put it," Daigle said. "I will never be able to do what she's done in her sport."
Finch made her impact without surrendering her "Barbie doll" image, shattering stereotypes that brought softball mainstream appeal.
"I think a lot of people thought of [softball] as women playing baseball," said Michigan pitcher Jordan Taylor, a two-time all-American. "Her being absolutely gorgeous definitely changed the image of our sport."
Finch said she takes pride in her role promoting softball and reshaping the public perception of female athletes.
"The times are changing," Finch said. "It's cool [for girls] to have muscles on your body, and it's cool to be physically fit. It wasn't always like that."
Gideon Rubin is a freelance writer for Sports Media Exchange, a national freelance writing network.