Commentary
David Eckstein's wife big into Star Wars
Originally Published:
August 2, 2010
By
Patrick Hruby
| Special to Page 2
Know Admiral Ackbar from General Grevious?
You're probably a Star Wars fan.
Able to debate Albert Pujols versus Derek Jeter?
You're likely a baseball geek.
Fluent in both topics? Then you have something in common with Ashley Eckstein. The wife of San Diego Padres infielder David Eckstein, Ashley also is the voice of Ahsoka Tano on "Star Wars: The Clone Wars" and the founder of Her Universe, a company that makes Star Wars-themed clothing for women.
[+] Enlarge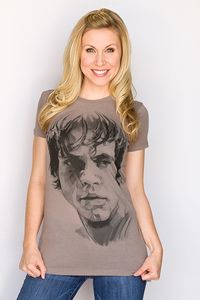 Courtesy of Ashley EcksteinAshley Eckstein shows off one of her shirts she created to celebrate her love of Star Wars.
Page 2 recently caught up with Eckstein to discuss the Padres, the Force and everything in between:
Between Star Wars and baseball fans, you bridge two obsessive communities. What, if anything, do they have in common?
[Laughs] It's funny. I've found that Star Wars fans, once they find out who my husband is, they jump on the Padres bandwagon. Even if they don't understand the sport, the community embraces David. And David's teammates -- I don't know if you've seen the pictures going around, but the Padres actually bring Yoda and Chewbacca into the bullpen every day.
Wait -- are there Star Wars fans on the Padres?
There are several! In the clubhouse, David was walking past Scott Hairston's locker and saw a mini plush Yoda. Scott loves Yoda, so David asked me to get him as many Yoda items as I could find. I got him a T-shirt with a Yoda quote on it, "Try not. Do or do not. There is no try." It really represents the attitude the team has and David's attitude toward baseball. Another item was a Yoda backpack. The rookies carry the backpacks to the bullpen. It used to be a Dora the Explorer backpack. I bought a Yoda pack and showed it to Heath Bell. He loved it and gave it to our bullpen rookie, Ryan Webb.
Anything else?
Turns out the guys who made Scott's Yoda doll sent Yodas for everyone on the team. Now they're throughout the clubhouse.
You have a voice part in a Star Wars television show. Were you a fan before that?
I was, but more casual. I watched the original trilogy as a child. Always enjoyed them. But now I feel like I've become a huge fan. It's similar with baseball. I was a fan before I met David, but now I can carry on an informed conversation about the sport.
How did you come up with the idea for a female Star Wars clothing line, and was it inspired in any way by pink Boston Red Sox hats?
Actually, I was inspired by [actress and baseball fan] Alyssa Milano and what she was doing with her clothing line for female sports fans. I bought several of her pieces. With my involvement in Star Wars, I would go to these conventions and see that almost half of the fans were women -- and there wasn't anything for us. It was very similar to baseball. I was really intrigued by that, so I started looking at the statistics for Sci-Fi as a whole. It was the same. If you look at the Sy Fy Network, many of their shows have a strong female demographic, and overall it's 49 percent female. Meanwhile, 80 percent of the consumer market is women. We're the buyers of the world. Yet female Star Wars fans were stuck buying guys' shirts and hats in small sizes, not made for female bodies. Those numbers were startling to me. So I started my own company.
Star Wars has been around for decades. Why didn't anyone think of this before you?
I think the market is untapped because there's this huge stereotype we're trying to slowly break down -- that Sci-Fi is just a boys' club. It's not. It's for everyone. Baseball is a few steps ahead in attacking those kinds of stereotypes when it comes to marketing to female fans.
David is routinely called one of the scrappiest players in baseball. Who's the scrappiest Star Wars character, and why?
For the movies, R2D2. He's at the heart of everything. He's not the biggest or flashiest or fastest character. But he has the solution to save the day. Sometimes in sports, it's not being the biggest or fastest, but understanding the game, the strategy behind it and playing the right way.
What would be harder for you: seeing David strike out four times in a game, or sitting through the Jar-Jar Binks scenes in "The Phantom Menace?"
David loves Jar-Jar! He admits that he's probably the one and only Jar-Jar fan. I'm going to out myself as well -- I actually love the Ewoks.
So David is a fan?
Definitely. He grew up watching the movies with his family, and has become a bigger fan through my association with the show. [A pause, as David Eckstein can be heard in the background]. OK, he did spend three days at a Star Wars convention with me calling light sabers "light savers." [Laugh]. But he's starting to get it.
Last question. In what ways is a major league clubhouse like the Mos Eisley cantina?
Is this on the record? [Laugh].
Patrick Hruby is a freelance writer and ESPN.com contributor. Contact him at PatrickHruby.net.