Commentary
John Robinson coaching in high school
Originally Published:
August 30, 2010
By
Gideon Rubin
| Special to Page 2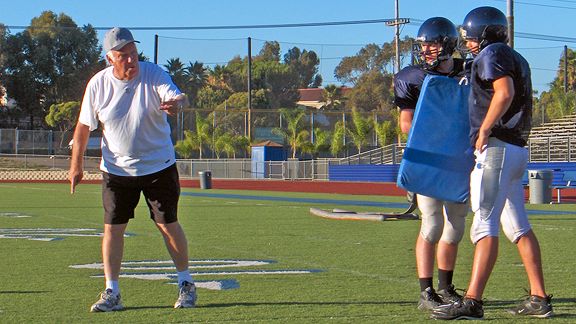 Gideon Rubin John Robinson has decided to coach high school football to be closer to his grandchildren.
SAN MARCOS, Calif. -- The second of San Marcos High School's two-a-days is set to start under a scorching, late-afternoon San Diego County sun, when John Robinson emerges from the "Blue Barn."
He's a bit more stooped and graying than you might remember, but, yes, it is that John Robinson, the man who took the Los Angeles Rams to two NFC Championships and who led USC to a shared national championship. Robinson, now 75 and out of football since 2004 after a stint at UNLV, calls a 600-square foot prefab shed his office.
Until now, Robinson had never coached high school ball. But earlier this year, he signed on as the defensive coordinator at San Marcos, where he can get back to the grass roots of coaching.
"We have everything we need [in the Blue Barn]," Robinson said. "They have computers and high-tech tools [in college and the NFL], but it's the really the same thing. Eventually, it has to come up on a screen and somebody has to take a look at it and make a judgment on what they see and explain it [to the players]."
Robinson said he took the gig because he wanted to give back to the sports community in which his two grandsons, Johnny Jay and Tyson McWilliams, 13 and 9, are involved. They play youth basketball and Pop Warner football. Johnny Jay will be a San Marcos freshman next fall.
San Marcos, a perennially down program in one of the most competitive high school sports regions in the nation, isn't the type of program where John Robinsons typically surface. Players acknowledge that college scout sightings at practice are a rarity, usually the result of a missed turn on San Marcos Boulevard.
But Robinson isn't here for glamour and glitz.
"Within this field, this is no less important than what the Chargers are doing in practice five miles away," he said. "It's great fun. These are tough kids, and they want to be successful."
During an intra-squad scrimmage, Robinson is animated as he pushes his players.
"Don't slow down at the end," he implored his players during a linebackers drill, "Finish it! It's the last five yards that count!"
Although separated from them by as much as 60 years, Robinson is by all accounts in tune with today's player, whose respect he commands like no other.
Defensive co-captain Connor Kuehnle credits Robinson with helping instill in him the discipline to stick to the script on a Cover 3 zone defense, fighting his own instinctive pull to chase after the slot receiver.
Just as important, he's learned how to bark orders at teammates without sounding like he's barking orders at teammates.
"It's definitely changed the way I run the defense out there," Kuehnle said. "Instead of just yelling at somebody because they did something wrong, now it's 'let's do this and you'll be fine.'"
And nobody ever, ever, argues with "Coach."
"It helps if you don't say anything," defensive co-captain Noel Garcia said. Everything Robinson says "is final."
For Robinson, whether he's in the tech-savvy NFL or a shed in suburban San Diego, he believes his job is about building athletes.
"It really doesn't matter if it's Noel [Garcia] or Shawne Merriman or Ray Lewis," he said. "If you get a person to develop a skill, it's the same thing. You can find differences, but the essence is the same."
Gideon Rubin is a freelance writer for Sports Media Exchange, a national freelance writing network.