Commentary
A&M's Jesse Woods hitting right notes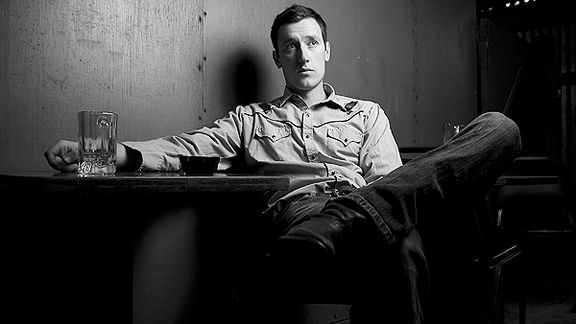 Coy AuneJesse Woods, a former Texas A&M wide receiver, is on the rise on the music scene.
Jesse Woods is a complicated man, part college athlete, part pained musician.
Coming out of Katy, Texas, Woods was a 6-foot-3, 209-pound wide receiver, talented enough to earn a scholarship to Texas A&M. He was a star at Taylor High School in Katy, a football-crazed city where one high school has won four state championships in the past decade.
Now behind the Orange Curtain in Austin, Woods, 27, offers a different profile. He's an up-and-coming singer-songwriter performing what he calls a "dream-folk sound, a mix between a harmonious folk song and country music." His star is on the rise, having played at the prestigious "Austin City Limits" music festival in 2009 and a label showcase at South by Southwest this year.
Woods understands the conflict could be confusing to an outsider. How does a guy who lives in the violent world of major college football transform into making music that he admits is "very gentle"?
"When you go to college and you're playing football, it becomes a full-time job and a way of life," Woods said. "It produces that warrior-type mentality that's the opposite of artistic music.
"Going from high school football when you're playing with all your buds, that kinda becomes your passion and your focal point for everything you do," Woods said. "Coming from a town like Katy, that produces that kind of outlook."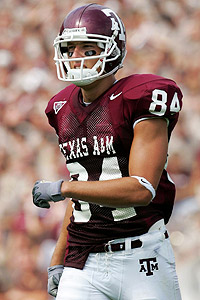 Ronald Martinez/Getty ImagesJesse Woods was a big wide receiver for Texas A&M, but had five surgeries in four years before going a different route.
But after five surgeries in four years at A&M, Woods ditched the football career and found himself with a lot of free time during his senior year. He passed the time by getting back to his roots, writing songs in the same vein as the music he'd grown up loving.
"I grew up in Texas and as a little kid, worshipped country singers, and the whole idea of them being both a cowboy and a rock star," he said. The biggest influence was legendary folk-country singer Townes van Zandt, someone not normally found in an athlete's iPod.
"I'm in love with the southern sound," Woods said. "I listen to bluegrass, blues, or anything that sounds rebellious from the proper way of American life."
While the football background is a little surprising, a country musician coming out of Texas A&M is not out of character at all. A couple of unconventional country stars -- Lyle Lovett and Robert Earl Keen -- are Aggies.
"I'm a huge Lyle Lovett and Robert Earl Keen fan and their sound is the sound of College Station to me," Woods said. Woods said they have an independent music approach to the country sound, "without the obvious sap of a lot of Nashville country."
Despite Woods' success, he still hasn't played a show in College Station, something that would seem to be a natural during this football season.
"That's a big thing on my mind," Woods said. "I don't know how College Station as a whole would take in the music. Hopefully this fall we'll figure it out."
He recently did a small West Coast tour with another Austin band, and is currently working on a full-length album, slated to come out later this fall. He records and produces all the songs himself, to reach the "angelic, raw and dreamy" sound he's trying to achieve. He's already had interest from a few record labels and said he'll decide what to do based on the label that will market his music the way he wants to.
That's not to say Woods has completely distanced himself from football. He still follows A&M sports following the departure of the much-maligned Dennis Franchione (Woods wasn't a fan) and recently attended a coaches' night function in Austin, where he caught up with current head coach Mike Sherman.
He switches back easily to a former player when breaking down the Aggies' chances this season.
"It all depends on [new defensive coordinator Tim] DeRuyter and what he can do. That offense is pretty unbelievable." He praised the team's sophomore running back, Christine Michael, saying he'll be an NFL starter. "Christine Michael is the best running back I've seen at A&M."
Woods says his former teammates and coaches know what he's up to, and share in the confusion, although he admits he was sort of the "hippie of the team."
"I've talked to a few coaches who have heard the music, and they say, 'Man, you're putting me to sleep, Woods,'" he said. "They don't really know what to make of it. 'Yeah man, get the girls however you can.'"
Woods' music can be heard at myspace.com/jessewoodsband.
Dave Wilson is an editor for Page 2.
ESPN Staff Writer
Dave Wilson is an editor for ESPN.com since 2010. He previously worked at The Dallas Morning News, San Diego Union-Tribune and Las Vegas Sun.