Commentary
Narain Karthikeyan racing to NASCAR
Originally Published:
September 18, 2010
By
Ryan Whirty
| Special to Page 2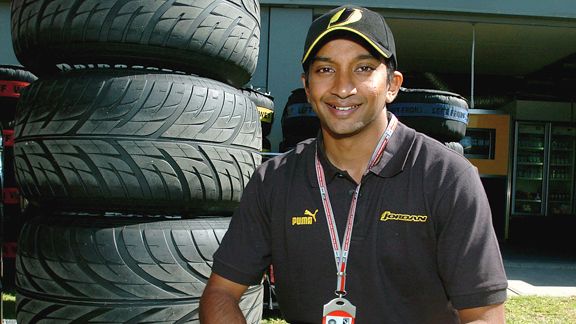 AP Photo/Ross LandStarbeast Motorsports hopes Narain Karthikeyan can tap into India's sports culture.
Narain Karthikeyan wants to compete in NASCAR's Sprint Cup Series.
Along the way, he wants to co-opt 1.2 billion of his countrymen into following stock-car racing.
Karthikeyan became the first India native to break onto the NASCAR circuit in March when he finished 13th in a Camping World Truck Series event. He'll race again on Sept. 25 in the Smith's Food & Drug Stores 350 in Las Vegas.
"I think that NASCAR has a huge potential market in India, and I feel that I have a great opportunity to introduce India to NASCAR," Karthikeyan said. "I'm pretty confident that the Indian will thoroughly enjoy the excitement, adrenalin-charged atmosphere and sheer bumper-to-bumper racing that is NASCAR."
Karthikeyan shares this vision with the man who offered him the chance to drive stock cars -- rookie owner Miguel Abaroa of Starbeast Motorsports. Abaroa plucked Karthikeyan from the Formula 1 circuit with the ambitious goal of tapping into India's sports culture and going global.
"Not only do we want to build a championship-caliber NASCAR team, but we also want to create a bridge between these two countries," Abaroa said. "We want to bring a new option to people [in India] who follow sports."
But first, Karthikeyan must master the art of stock-car racing, after spending nearly 20 years as an open-wheel driver in Europe and Asia. From the bumping and scraping to looser handling to night racing, it's been, well, a bumpy ride.
"It's taking a bit of getting used to," said Karthikeyan, who also has posted some of his struggles on his Twitter account. "It's a completely different form of racing."
Inspired by Juan Pablo Montoya, likely the most successful convert from F-1 to stock cars, Karthikeyan says racing is in his blood and the challenges are just potholes. Born in Coimbatore, a city in south India known as the country's cradle of motor sports, his father was a successful open-wheel driver at the regional and national levels.
Karthikeyan began racing on open-wheel circuits when he was 15, eventually becoming the first India-born driver to win a European series championship and to race a Formula 1 vehicle. That success made Karthikeyan a natural choice for Abaroa, who was looking for a pioneer.
The Starbeast team isn't the only entity that sees the financial potential and cultural promise of the venture. NEO Sports, an Indian sports channel similar to ESPN, is broadcasting all of Karthikeyan's truck races this year, as well as all the Sprint Cup events.
"We believe there is a huge market potential for stock-car racing given the overall interest level in motor sports [in India]," said network Executive Vice President for Programming Mautik Tolia. "Narain Karthikeyan racing for NASCAR is just one of the many steps being taken to increase its appeal over a wider and more international audience base. He epitomizes the new breed of Indian sportsmen who have the confidence, abilities and skills to compete with the very best in the world."
Ryan Whirty is a freelance writer for Sports Media Exchange, a national freelance writing network.