Commentary
Ahman Green sweats it out in UFL
Originally Published:
September 17, 2010
By
Wendell Maxey
| Special to Page 2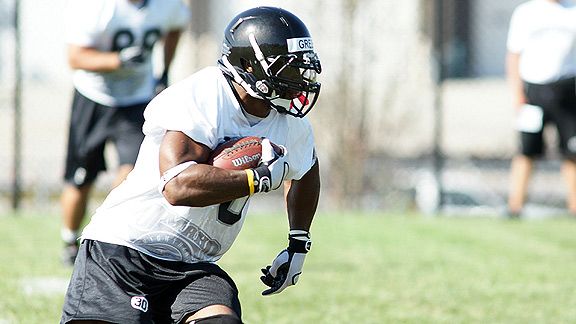 Courtesy of Lionel Tay Former Seahawks, Packers and Texans running back Ahman Green is with the Omaha Nighthawks.
Some things never change for Ahman Green.
He still wants to play football. And the man still sweats a lot.
Long before Green became the Green Bay Packers' all-time leading rusher and four-time NFL Pro Bowl selection, he was known for his overactive sweat glands. Green has dealt with hyperhidrosis -- or the overproduction of sweat -- ever since the Seattle Seahawks selected him 76th in the third round in the 1998 NFL draft.
Problem is, word has spread that Green's sweating led to a fumbling problem.
"I just sweat more than the average person," said Green when asked about his hyperhidrosis.
After hanging up his cleats with the Packers in 2009, the 33-year-old Green is part of the upstart United Football League. Playing with the Omaha Nighthawks, he's still trying to wash away some of those lingering stigmas.
After two years in the NFL, Green started hearing murmurs in Seattle about his tendency to fumble. But the reality was, he was simply sweaty.
Green's take on the situation?
"For me, when I play, I sweat a lot and part of that is being nervous before a game," Green said. "People just grabbed something and ran with it. They blew it out of proportion. They made it out to be something and it was really nothing. I knew I wasn't a fumbler.
"But you know how it goes, you talk about something long enough and it feels like reality. Every now and then someone would bring it up and I would start thinking about it. Then I caught myself thinking about it more than it was actually happening. I was thinking about it all the time."
Green is not the only pro athlete to sweat -- or leak as it's also been called -- excessively. Consider Patrick Ewing or Kevin Garnett.
And it turns out that all that sweating may be downright good for athletes. According to a study in the September 2008 medical journal CHEST, excessive sweating may inhibit the development of exercise-induced asthma.
Good for him or not, Green took to wearing protective arm pads in games after being traded to the Packers in 2000. The pads helped shield against defenders and prevent any extra sweat from making matters worse.
"That's why I started wearing the arm pads. I'm a physical runner, so it helped with that too. In Texas, I got used to sweating so I stopped wearing them," laughed Green, who spent two seasons with the Houston Texans before rejoining Green Bay in 2009.
"I still sweat now, but I don't use them anymore. I guess I got it out of my head."
Whether the sweating really did have anything to do with Green's departure from the NFL isn't clear. But like many other formerly marquee NFL players (Jeff Garcia, Omaha; Maurice Clarett, Omaha; Daunte Culpepper, Sacramento), the UFL has become something of a training ground for guys hoping to get to -- or back to, in Green's case -- the NFL.
"My career isn't over yet. It's a goal of mine [to return to the NFL], but it might not happen. If I'm not playing in the NFL, that's no big deal. I'm playing in the UFL. Either way I want to play."
He'll get that chance when the Nighthawks open their 10-week season at home against Hartford on Sept. 24.
And Green will just keep sweating it out on the field.
Wendell Maxey is a freelance writer for Sports Media Exchange, a national freelance writing network.