Commentary
Rajon Rondo hosts tourney at Alcatraz
Originally Published:
September 20, 2010
By
Jennifer Starks
| Special to Page 2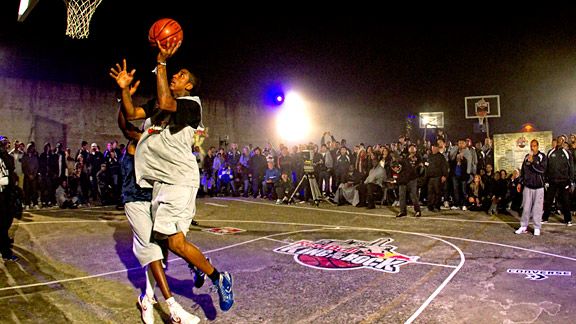 Garth Milan/Red Bull PhotofilesA crowd watches the Red Bull King of the Rock one-on-one basketball tournament at Alcatraz.
SAN FRANCISCO -- Sure, Al Capone was a master manipulator, a mafia kingpin with a sly tongue and a quick trigger finger. But what about his crossover dribble?
George "Machine Gun" Kelly was a robber and kidnapper, a supposed "expert machine gunner" with a tendency to boast about his unlawful exploits. But what about his midrange game?
It was difficult not to draw those parallels, as past and present collided Saturday night at the Red Bull King of the Rock, a one-on-one basketball tournament held on Alcatraz and hosted by Boston Celtics superstar Rajon Rondo. For three hours, an eclectic group of 64 hopefuls battled the elements and each other for supremacy and a $10,000 grand prize in what was the first-known athletic event in the prison yard since its closure in 1963.
"It's basketball at its peak," said Phoenix native Gary Smith, who advanced to the final before losing, 8-6, to 25-year-old Isaiah "Clutch" Bowman of Inglewood, Calif. "This is an environment made for basketball players on the West Coast. This is what it is."
[+] Enlarge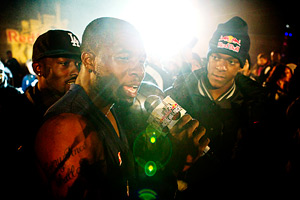 Garth Milan/Red Bull PhotofilesRajon Rondo, right, listens as one of the participants talks to the crowd.
A thick layer of fog enveloped the island, once home to some of the most hardened criminals in the country. For those men, spending time in "the yard" was a privilege. Indeed, the unruly prisoners relegated to D-Block were allowed only one hour of exercise per week.
Tournament players received firsthand exposure to this spartan existence. Even Rondo, who helped the Celtics win the 2008 NBA championship, got locked up.
"I was nervous," he said with a smile. "[The tour guide] closed the door and acted like she couldn't open it. Good thing I had my cell phone."
On the grounds where Capone once got into a tussle with a fellow inmate, landing him in isolation for eight days, the courts are surrounded by high walls of concrete and barbed wire, making for a menacing backdrop to the event. Each game lasted five minutes and was played in single-elimination style amid blustery winds and heavy mist.
"The weather is ridiculous," said David Moseley, a former standout at Stanford who was making his first trip to "The Rock." "It's not just about how good you are. This takes an Everest-type determination. The air is so cold out there. It just burns your lungs."
Rondo stood watch throughout the night, decked out in a heavy jacket and dark blue beanie cap, as players attempted to extend their stay.
"It's definitely serious," Rondo said. "They're trying to win 10 grand … [Playing one-on-one] is a key aspect of what you do to be a great player. Everyone needs to experience this."
This time, "everyone" included a wide-ranging cast of characters.
There was Moseley, a 6-foot-4 forward on the 1998 Stanford squad that was ranked No. 1 and went to the Final Four. Announcers dubbed him "the smartest man in the tournament."
Then there was Dave Vick, an imposing 6-11 post player with a résumé that includes professional stints in Europe.
And there was Aaron Weissman, a marketing professional at Google who once played on the University of Pennsylvania's junior varsity team. Though he came to Alcatraz just looking to win one game, Weissman did much more, enduring a three-overtime battle to get to the round of eight.
"Anyone can win here," Weissman said. "Why not me? Being here didn't quite sink in until we were led upstairs and were sitting inside the cells. I just thought, 'Oh yeah. Alcatraz.' I'm not going to forget this night."
According to organizers, Red Bull spent six years trying to secure permission for the event from the National Parks Service. Competition director Kofi Brown hopes it will become an annual competition.
"I've never seen anything like this in my life," he said. "It's historic. Fifty years ago, people didn't want to be here, now we have 500 people trying to be here. We're playing at a global landmark. This will expand instantly. C'mon, it's Alcatraz!"
Jennifer Starks is a freelance writer for Sports Media Exchange, a national freelance writing network.