Commentary
Dogs take to waves in Huntington Beach
Updated:
September 22, 2010, 12:20 PM ET
By
Jill R. Dorson
| Special to Page 2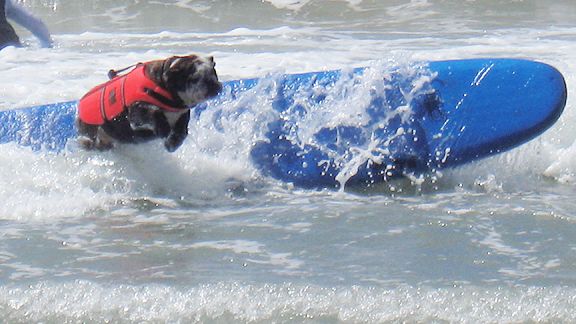 Jill R. DorsonSir Hollywood, a nearly 1-year-old English Bulldog, made his surf debut Sept. 19.
HUNTINGTON BEACH, Calif. -- When Hanzo isn't surfing, he's wowing the crowds while riding his skateboard down Hollywood Boulevard in Los Angeles.
The nearly 2-year-old boxer was one of nearly 35 dogs to "hang 20" at the second annual Surf City Surf Dog contest at the Huntington Dog Beach on Sept. 19. Winner of the "crowd pleaser" award in 2009 and large-dog surf category this year, the warm brown Hanzo is all about shredding swells and tearing up the streets.
"At 8 weeks old, he was putting his feet on the skateboard," said owner Eric Felland of Hollywood. "He just wants to own the board."
Hanzo's desire to ride the waves was in direct contrast with George, a 2-year-old Newfoundland. Though George loves the water, his natural desire is to get out.
[+] Enlarge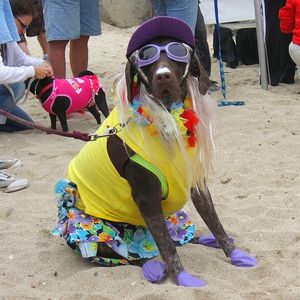 Jill R. DorsonCode Four, aka Surfer Joe, is a psychic on the side. He tied for first place in the costume contest, but did not surf.
"Water rescue is in his genes," said owner Colin Campbell, a Canadian who lives in Hermosa Beach. "That can be a liability in surfing, because he wants to save everyone around him ... he loves the ocean, but he nips at my arm, trying to get me out of the water."
During the XL category (61 pounds and higher) finals, while his of two competitors were riding the waves, George scurried out of the water to watch, and drench nearby spectators when he shook off. He finished third and was selected the "crowd pleaser" in his category.
The event is a fundraiser to benefit several local organizations, including the Huntington Dog Beach, Orange County Humane Society and Surf Dog Ricochet -- Chase Away K-9 Cancer. Organizers say they raised about $5,000 and nearly 1,000 spectators and 25 vendors turned out on a foggy morning to watch the dogs cut up the frigid water.
"The second annual Surf City Surf Dog event was a 'swell' success," said Lisa Scolman, partner and owner of Book That Event, which owns and runs the competition. "Surf dogs, owners and spectators all had fun. The support from the city and community was tremendous."
For those dogs that preferred to spectate rather than participate, there was plenty of opportunity to play and be seen. Dressed-up dogs strutted their stuff down a runway in a costume competition. Defending champ Code Four, a German Shorthair Pointer dressed as Surfer Joe, shared the 2010 title with a Chihuahua referred to as Rasta Girl.
Code Four, who took the day off from surfing, does costume contests on the side, according to his owner Terry Lamb of the San Diego suburb of Escondido. His real talent is as a psychic.
"He does psychic reading on his website," Lamb said. "One day, I thought I needed a bottle of water and he just went into my room and got it. That's when he became psychic."
The surfing dogs, ranging in size from tiny Kihei, a "doxie-hua-hau" mix, who competed in the small-dog (20 pounds and under) category, wore life jackets by makers like "Ruffwear" and "Outward Hound." The doggie life jackets have handles on the top, allowing their surfing assistants to pluck them from the water and put them on the boards.
The human assistants wore wet suits and navigated rough, high surf to get the dogs in position, about 50 feet offshore. Once in place, the assistants pushed the dogs, who surfed to shore.
"I've never done this before," said Heather McKenney of Los Angeles. "The waves were really tough, I didn't realize how much effort it was, but as soon as we got on the beach, [my dog] wanted to get into the water."
The dog, Sir Hollywood, was making his surf debut but is a multi-sport athlete who also enjoys skimboarding and skateboarding. He finished second in the XL category and was one of two dogs selected "best novice."
Jill R. Dorson is a freelance writer for Sports Media Exchange, a national freelance writing network.