Commentary
Virtual stadium fans could solve woes
Updated:
September 26, 2010, 10:40 AM ET
By
Jerry Greene
| Special to Page 2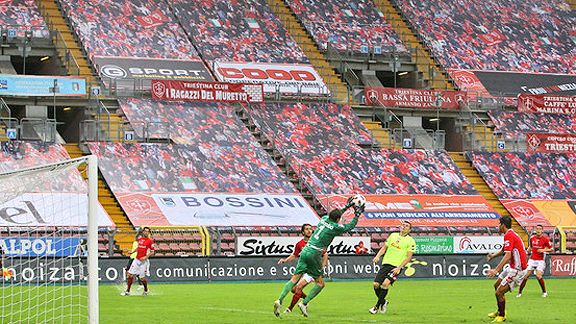 Andrea LasorteVirtual fans line the stands to watch the Triestina-Padova soccer match in Trieste, Italy, on Sept. 18.
Attention: Florida Marlins and Tampa Bay Rays, Jacksonville Jaguars and Tampa Bay Bucs, and any team outside depressed Florida that cannot fill its bleachers and grandstands.
We have your salvation -- straight from Italy.
No, it's not Free Pizza Night, although that's a good one. Your salvation comes from Triestina, a Serie B soccer team from the city of Trieste. Its players were shocked on Sept. 18 when they ran into their stadium for a match and discovered that one side of the grandstands was full with about 10,000 spectators. The usual crowd is less than 5,000 in the entire stadium.
But then it got really weird. The 10,000 in attendance didn't make a sound as the players hit the pitch. And the 10,000 didn't move. Why not?
They were a virtual crowd -- two-dimensional images printed on vinyl and stretched across the empty seats. Although they weren't inspirational, they looked great on TV. They also really saved on ushers and custodial staff after the scoreless tie. Just roll them up and put them away until the next match.
Genius.
"We'd love to have a full stadium with real supporters, but the reality is that we can't," team general manager Marco Cernaz said. "This way at least we create a bit of atmosphere, a bit of theater."
In Miami, St. Pete, Tampa and Jacksonville, GMs are excitedly nodding their heads right now.
Ignore Triestina fan Marco Caselli, who said: "It's depressing. It's as if we're sending out the message that Trieste has no flesh-and-blood fans, just cardboard cutouts."
"Depressing?" He wants "depressing"? Go to a Marlins game, where even the cardboard cutouts are staying home.
And now a few appetizers before we get to the main courses in today's Sunday Brunch:
• Did you hear the breaking news? The Cavs are considering signing center Kyrylo Fesenko. Wow, that should make Cleveland forget about The Superstar Who Cannot Be Named.
• Answer of the week: On ESPN's "Sunday NFL Countdown," New York Daily News columnist Gary Myers was asked to name the difference in the personalities of Jets coach Rex Ryan and Pats coach Bill Belichick. Myers answered, "Rex has one."
• Did you talk to the neighbors of Ohio University's Rufus Bobcat? They all say the same thing: "He was the nicest Bobcat we ever met. Always so quiet." It's always the quiet ones.
• Oregon State used 440 gallons of blue paint in painting its practice field to simulate the Boise State field. OK, now what?
• How about that game last week between the two quarterback brothers -- Cain and Able Manning?
• Spectators really enjoyed the Thursday preview performance of "Lombardi" at the Circle in the Square Theatre on Broadway. At least, they had a good time until they found out that they had to do two-a-days before they could leave.
And now let's get to the tasty main items on the Sunday Brunch:
• Mike Lupica of the N.Y. Daily News takes a long look at Jets coach Rex Ryan and the genie he has released from the bottle. Lupica makes a strong case that it's too late now to try putting a cork in it.
• But if you think Lupica was harsh, check out Tony Massarotti's evaluation of the Buffalo Bills' facing the New England Patriots. "The Bills are a punching bag. The Bills are a doormat," Massarotti writes. Then he gets really nasty. But in an odd way, he seems to be criticizing the Pats more than the Bills.
• The 5th Street Gym was reborn in Miami this past week, and Muhammad Ali was there to hear the chants of "Champ! Champ! Champ!" once more. It was a sweet and sad scene that Linda Robertson of the Miami Herald paints for us in her report.
• How 'bout them Cowboys -- and Texans? The Houston Chronicle's Jerome Solomon believes that Houston quarterback Matt Schaub is equal to Dallas quarterback/celebrity Tony Romo. But both quarterbacks say it's who gets the "W" that counts.
• We looked at the Cowboys, so we must look at the Minnesota Vikings, too. Tom Powers of the St. Paul Pioneer Press defines Viking calamity and takes a while to count the ways.
• Like to test your NFL game-picking skills against others? I run a free picking contest that you can join quickly here.