Commentary
Tuesday Morning Quarterback's Thousand-Word Guide
to College Recruiting
1. Deal with it -- grades are essential.
No matter how good you are in sports, if your grades and SAT scores are bad, you will not get an NCAA scholarship. Don't lie to yourself about this.
• "How are his/her grades?" is the first question every recruiter asks.
• "The college will just change my grades" is an urban legend. If your grades are bad, the college will just move on to someone whose grades are okay. Grade-changing scandals do happen, but are extremely rare. And when they happen, the end result is that the athlete is screwed.
• Being eligible to play in high school DOES NOT guarantee you are eligible to play in college. In high school, you can stay eligible by passing electives like art. The NCAA requires a high-school transcript with passing grades in "core" subjects -- English, math, science and history.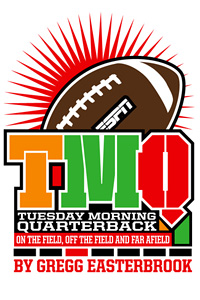 • The number-one reason for withdrawn scholarship offers is lack of "core" credits. See your guidance counselor or athletic director to ensure you are taking enough core courses.
• Sign up for SAT Question of the Day, a free service. Do one question a day in your sophomore and juniors years and you will get the same SAT score boost as from an expensive cram service.
• You ARE NOT home free on the day you sign a National Letter of Intent. The offer can be withdrawn if you finish high school without enough "core" credits, or stop attending high-school classes before you graduate.
2. There is only one thing you can control -- yourself.
No one is going to give you a chance at sports in college -- you must earn it. Work hard at practice, in the classroom, at conditioning, at volunteering in the community. You can't control what happens around you. You alone control how hard you work.
3. Only a signed-and-countersigned National Letter of Intent
means anything.
Phone calls and texts from coaches, invitations to visit colleges -- these are great. But DON'T make the mistake of thinking that because colleges are calling, therefore you are recruited.
• "Verbals" mean nothing -- they are complete, utter nonsense. The NCAA ignores them. If a recruiter asks you for a verbal say, "If you are offering me a scholarship, please put the offer on paper."
• Invitations to visit a college are great, but do not guarantee will you receive an offer. Most colleges bring in 2-3 teens for visits for every one they recruit.
• Don't sit around waiting for the phone to ring. Many athletes hear from colleges in their junior years; autumn of senior year is the key moment. If it's December of senior year and you don't have anything solid, you should be calling and emailing colleges. On the college athletic web page, you will find contact info for recruiting. Don't put this off and just assume an offer will fall from the sky!
• College coaches want to hear from teens, not from parents. They're not recruiting parents! Call or email yourself. Be polite and professional.
• Invitations to college camps or "all-star" camps might be good or might not. Many colleges invite 10 teens to summer camps for every one they recruit. Some "all-star" camps are just money-making ventures. Ask your coach if he or she knows about the camp.
• Ask your coach or athletic director to help. College coaches like to hear from high-school coaches.
•Only a signed written agreement means you are recruited. Don't boast about the calls you get and don't believe others who do. You are not recruited until you have a signed agreement. It will be signed at a ceremony with your coach, principal and athletic director. Until this happens, you are not recruited.
4. Athletes never say "I can't."
A passing grade in an honors course is solid gold to recruiters. Try an honors course in a subject you like. Don't say you can't do it. An athlete never says, "I am not capable of that."
5. Drugs, alcohol and steroids are a great way to blow your chance
at playing in college.
Don't make a stupid mistake with your eligibility.
• When others tempt you with alcohol, be ready with this strategy: "Not for me. I am an athlete." Alcohol isn't going anywhere. It will still be there when you turn 21.
• Recruiters know the physical signs of steroid use, and red-flag anyone who shows the signs. Protein shakes and protein bars, plus a daily multiple vitamin with iron, will give you 99 percent of the growth with zero percent of the risk.
•Drugs are not only illegal, they harm your body -- didn't you just say you wanted to be an athlete? Colleges fear bad publicity about drugs. This means merely being around drugs, even if you yourself do nothing wrong, can ruin your chances. If you are at a party where drugs are being used, here's what to do: Leave the party.
6. You alone are responsible for your choice of friends.
Arrests, fights and suspensions are red flags to recruiters. Be smart about who you hang with. Do not associate with those who start fights, or who sell or buy drugs. They don't respect themselves, why should you expect them to respect you? Real friends will support you in your quest for college sports.
7. The Golden Rule of staying out of trouble.
Never be on the street or at parties between midnight and dawn. Even on Saturday night, by midnight be home in bed or watching TV. Bad things are 10 times more likely to happen between midnight and dawn. Most crimes occur in those hours. Most arrests and suspensions of athletes trace to incidents between midnight and dawn.
8. Goals not wishes.
Every six months make a written list of goals, then structure your time and work habits around those goals. Goals must be specific. "I want to be faster and improve my grades" -- those are wishes. Tell your wishes to the tooth fairy. Goals sound like this: "I will add 20 pounds to my bench press and get a B in biology."
9. Sports is about opening the door to college.
Even a star high-school athlete is extremely unlikely to earn a living in sports. Most sports don't even have professional leagues. A high-school football or basketball star's odds for going pro are 1,000 to 1.
• Sports may get you an NCAA scholarship -- or may get you admitted to a higher-quality college than you could otherwise attend. A degree from a top college will mean far more to the rest of your life than anything anyone can do in athletics. Be smart. Use sports to open your door to a great college.
• Your college years are your reward for doing well in athletics. In modern America, college makes possible a future with a good job and solid income. Sports recruiting sends you to college, where you have wonderful years as you receive an education, make lifelong friends and graduate with a degree that will help you succeed in life. You will feel really good about it.
10. There are no shortcuts to any place worth going.
For more on football, Google "TMQ"
For more on recruiting, Google "ESPN Rise Get Recruited"
For the SAT free service, Google "SAT Question of the Day"
Author of "The King of Sports"
Former Fulbright distinguished fellow
Contributing editor to "The Atlantic"