Commentary
Mayor: Miami Heat will silence critics
Updated:
October 11, 2010, 12:21 PM ET
By
Carlos Alvarez
| Special to Page 2
Editor's note: Carlos Alvarez is the mayor of Miami-Dade County.
When I arrived in Miami from Cuba as an 8-year-old, there was no Miami Heat. Miami lived and breathed football then as it does now. My teenage years were filled with raucous Orange Bowl crowds split between a Miami Dolphins franchise that retains the only truly perfect season in the history of professional sports and an up-and-coming Miami Hurricanes program that left its own memorable marks on the college football landscape. Both were dominant winners, and we loved them for it.
[+] Enlarge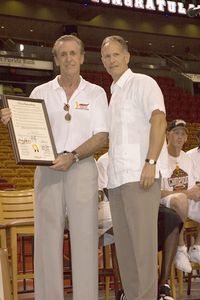 Courtesy Miami-Dade County Miami-Dade County Mayor Carlos Alvarez (right) with Miami Heat president Pat Riley.
My father would take me to games, and I still can vividly recall the Orange Bowl bleachers quaking as legends like Michael Irvin and Dan Marino began their storied careers with electrifying plays that grabbed the nation by the collar and showed it that professional sports in Miami was here to stay. We were all about "The U," and Miami had the Dolphins, the greatest football team, as the fight song goes.
Then, a funny thing happened. In 1988, professional basketball was born here. Miami took to the Heat right away. We embraced the Rony Seikaly years and rooted Glen Rice on as the team made progress. One fine day, Pat Riley made Miami his home and the Heat his passion. When Alonzo Mourning and Tim Hardaway clashed with Patrick Ewing's New York Knicks, we watched the brawls, celebrated the victories and wallowed in the playoff heartbreaks. We drafted Dwyane Wade and saw him grow before our eyes into stardom. Shaquille O'Neal drove his big rig into our hearts. Before we knew it, the Heat had conquered the basketball world, upsetting the Dallas Mavericks in stunning fashion to bring our first NBA championship to the Magic City in 2006.
It seems like just yesterday that we were celebrating the Heat's first "12-strong" NBA championship down Biscayne Boulevard. With the start of the 2010 NBA season about to tip off, we are prepping Biscayne for another ticker-tape parade … and another … and another.
As the clear winner of this year's free-agent frenzy, the Miami Heat are poised to make their mark on the hardwood. Miami-Dade is well known for its world-class beaches, hotels, restaurants, shopping, attractions, arts and culture, sports and recreation. We play where we work and work where we play. For nearly the next decade, the Miami Heat will be able to say the same.
As mayor, I wholeheartedly welcome our newest additions in Chris Bosh, Eddie House, Juwan Howard, Zydrunas Ilgauskas, Mike Miller and LeBron James. They have each received their fair share of criticism for deciding to play for Miami, but we've always been the kind of town that embraces opportunity, diversity and new beginnings. We may not have the history of Boston or the loyalty of Los Angeles, but we have D-Wade, Bosh, Udonis and, of course, The King. I love this city we call home and I love our sports teams, and we couldn't be more excited to silence the critics again.
It's a funny stigma the sports world has pegged on Miami. We are notorious for our so-called bandwagon jumpers and fair-weather fans, and to a certain extent, it's true. We love our winners and harshly critique those same winners when things go wrong. But it's what makes us unique.
Soon enough, basketball fans around the world will see just how much love Miami has to give. Soon enough, basketball fans will see that in Miami, and only Miami, the Heat is on.