Commentary
UFC's Arianny Celeste talks Playboy
Updated:
October 14, 2010, 1:06 PM ET
By
Lynn Hoppes
| Page 2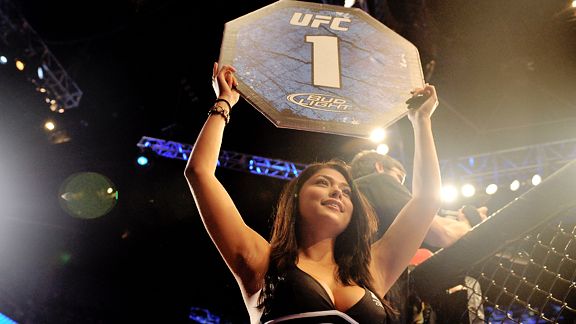 Jon Kopaloff/FilmMagicArianny Celeste joined the UFC in 2006 after majoring in fitness management and nutrition at UNLV.
UFC has become so popular that it's not only the fighters becoming more mainstream, it's the ring girls.
Arianny Celeste, probably the most famous ring girl in the world, is the cover model for November's Playboy magazine -- which comes out Friday -- and is featured in an 8-page spread.
Born in Las Vegas, the 24-year-old Celeste of Mexican and Filipino descent debuted in 2006 as an Octagon girl and has modeled for magazines such as Sports Illustrated, FHM and Maxim.
Page 2 caught up with Celeste in London for a few questions:
1. How did this deal with Playboy come about?
"Playboy approached the UFC after they saw me in Maxim. President Dana White called me and told me they wanted me on the cover, and I was shocked, excited, and honored!"
2. What does it mean to you to be in Playboy?
"It's a privilege and an honor. I find the magazine to be very classy and beautiful, and the women on the covers are icons. My favorites are the Carmen Electra and Cindy Crawford spreads."
[+] Enlarge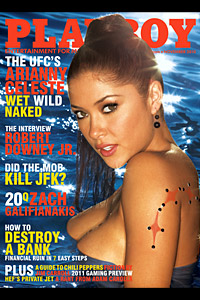 Courtesy of PlayboyHere's the cover photo of Arianny Celeste on the November issue of Playboy.
3. Did you have to work out to get in shape for it? Be honest …
"I have to work out to keep my curves. If I don't work out, I get skinny and have no definition. This is not very sexy to me -- I believe men like curves."
4. Were you nervous at all?
"I was very nervous since this was my first and only nude photo shoot. But once I got there and the days went on, I felt comfortable, and the Playboy crew was amazing! They were all very professional and hospitable."
5. What did you family think?
"My family was surprised and nervous at first. I assured my mom especially that this was something I wanted to do, and I would do it with elegance and class."
6. Why did you get into UFC?
"It just kind of chose me. I was going to college at UNLV full time and never thought I would make a career out of this."
7. What do you want to do in your future?
"I'm building a brand that represents sexy, fit, powerful women. I want to help women with their diets, fitness and confidence. I want to do it all though -- sing and act … you name it. [In fact, she recently recorded her first pop single, 'Fight to Love Me,' which will be available in a few weeks.]"
8. Give me some tips on how to be a great Octagon girl.
"Be proud and be confident. Don't be ashamed to use your sexiness and keep yourself fit! Do your homework and be knowledgeable about this amazing brand of UFC you are representing."