Commentary
Apolo Anton Ohno's goatee endures
Updated:
October 28, 2010, 10:13 AM ET
By
Dave Wilson
| Page 2
As the most decorated American Winter Olympian of all time, speedskater Apolo Anton Ohno has made plenty of memories. His eight medals (two gold, two silver, four bronze) are unforgettable.
But there's one thing he can't quite remember.
"I gotta tell you, I haven't seen my chin in years," Ohno said. "I don't know what it looks like underneath there."
He's referring, of course, to that trademark triangular-shaped patch of facial hair. The soul patch? Goatee?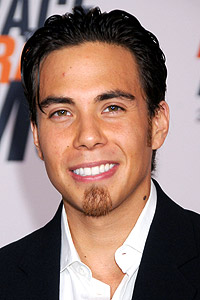 Gregg DeGuire/PictureGroup/APApolo Anton Ohno said the goatee isn't going anywhere.
"It's just a goatee," he says, dismissing any soul patch notions. "That sounds kind of weird. A soul patch? I don't know how 'soul' it is."
Whatever you call it, he's keeping it.
"I kinda have to. It's like the bandanna," he says, referring to the accessory he wears when he skates. "Now, I can't work out without it. It feels weird when I work out without it."
Fans embraced the goatee when Ohno first rose to prominence, becoming the face of speedskating in the United States.
"It was a phenomenon that started in 2002, at the Olympic Games in Salt Lake City. People started taking like electric tape and putting it there," Ohno said. "People were putting them on their dogs. It was pretty crazy."
Now it's been with him through three Olympics and even a "Dancing with the Stars" victory.
"I don't know why I started doing it," Ohno said. "This is not like something I shaped. This is something that grew like this because I'm half-Asian, and for some reason I can't grow true facial hair, and when I do, it just looks funny."
Ohno visited ESPN to discuss his new book, "Zero Regrets," which he says is about his journey from a single-parent household to Olympic glory.
"It talks about my upbringing, my history as a kid, the mom that I never had," he said. "Just how I grew up and the path that I could've gone down toward a lot of the struggles, trials and tribulations that I faced in my life leading up to the Games, through the Games, then past the Games."
He's been busy since the Olympics, saying he hasn't spent more than three nights in the same place since February. He's doing this book tour, helping causes he believes in such as The Century Council's "Ask, Listen, Learn" project and working with a steady stream of sponsors, including doing those Oreo Double Stuf Racing League commercials.
"It's very funny when you see how short I am next to [NBA player Shaquille O'Neal]," Ohno said. "Look, it's Shaq. I don't care how tall I am. He just makes me look dwarf-sized, like he could put me in his pocket."
Ohno is a smart businessman, pitching one scenario in which his old friend, the goatee, might meet its ultimate demise, although not any time soon.
"I'm pretty committed to it, man. I tried to shave it off once, and the razor broke," he joked. "Maybe someday. I'll get a little deal with Gillette going, shave it off."