Commentary
Cycling, beers and a tattoo
Updated:
October 30, 2010, 11:48 AM ET
By
Robert Tighe
| Special to Page 2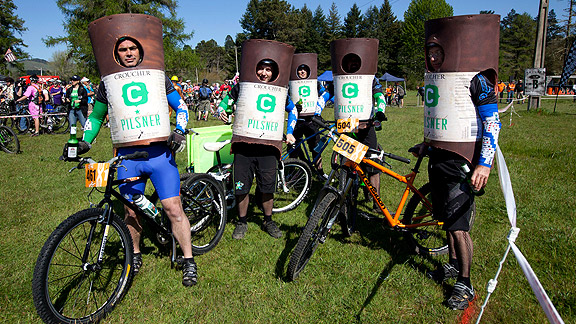 Courtesy of Graeme MurrayAbout 900 riders took part in a wacky cycling even in New Zealand.
ROTORUA, New Zealand -- If the riders didn't already know what they were getting themselves into at the 2010 Singlespeed World Championships, the pre-race briefing by race director Dean Watson -- who was dressed as Papa Smurf -- was a dead giveaway that this was no ordinary mountain bike event.
"There are some formalities to take care of because we are combining cycling and alcohol," Watson warned the approximately 900 riders from 30 countries Oct. 23. "Firstly there will be two beer shortcuts on the 40km course, but remember we do want you to drink responsibly or at least I need to tell you to drink responsibly. What you do after that …
"Secondly, if you are riding really, really fast but don't want a tattoo, then don't win the race. The winner will be tattooed at the finish line so decide before you start if you want a tattoo or not."
If "The Dude" from "The Big Lebowski" was into mountain biking instead of bowling he would have been a singlespeeder.
The SSWC is more a celebration than a competition and both the pros and weekend warriors were out to have as much fun as possible on two wheels and with one gear. The race is just an excuse for a bunch of like-minded people to meet up once a year to drink beer, tell tall tales and play dress up.
There were several Evil Knievels and all the superheroes were well represented. Marilyn Monroe, albeit with very hairy legs, was a vision in a white dress. There were guys in diapers and disco pants, g-strings and gorilla suits and girls sporting mutton chop sideburns and moustaches.
"It is kind of a joke of a race but it means a lot," said 2009 champ Ross Schnell, who finished second in the 2010 edition. "This is the soul of mountain biking. It is all about having fun. The guy that wins is the fastest dude but we are all out here having fun."
The winning riders who went under the (tattoo) gun were local Kiwi rider Garth Weinberg and Heather Logie from Australia. Weinberg duked it out with Schnell, an American, through the flowing trails of Rotorua's Whakarewarewa Forest with the race decided at the final beer pit-stop.
Despite a super fast chug by Schnell, he couldn't make up the 10-second deficit on Weinberg.
"I don't think I needed more ink on my body anyway," Schnell said, "and it is awesome he won on home territory. The crowd was going nuts in the trees. People were yelling at me, 'good job, but slow down.'"
Schnell did slow down after leading Weinberg for the first half of the race but it was the beer and not the friendly banter from the crowd that did him in.
"I took the first beer shortcut but I was a little loopy at the end of the first lap," he said. "Then I started cramping so I opted out of the second beer shortcut. I knew if I had another beer I'd be standing on the side of the trail. But there is water in beer so I don't know what I was thinking. It would have numbed the pain."
Weinberg also struggled with the local brew in his belly but after a cleansing chunder at the top of one climb, the 38-year-old hung on for the biggest win of his career.
"I knew the quality of riders in the field," said Weinberg as the tattooist prepped his chest for the unique trophy, "and I was waiting for them to pass me but they didn't come."
Robert Tighe is a freelance writer for Sports Media Exchange, a national freelance writing network