Commentary
60 teams in Ultimate Frisbee Championships
Updated:
November 2, 2010, 6:57 PM ET
By
Joel Poiley
| Special to Page 2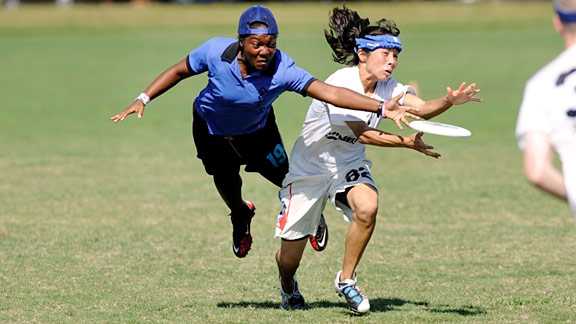 Matt LaneJasmine Draper of Ames, Iowa, looks to block the catch by An-Chi Tsou of Castro Valley, Calif.
SARASOTA, Fla. -- You probably have your own impressions of the Ultimate Frisbee Championships, and you wouldn't be completely wrong.
Yes, there are many well-tanned bodies roaming about, with a wide array of eclectic personalities lending to the diverse crowd.
But before you think of Ultimate Frisbee as a puffy foo-foo sport played by non-athletes, consider the constant diving, sliding and highlight-reel catches, from men and women, that would do any NFL wide receiver proud.
The USA Ultimate National Championships at the Sarasota Polo Club on Oct. 28-31 drew 1,500 competitors on 60 teams from around the country that competed in four categories -- open, women, masters and mixed.
Ultimate Frisbee is fast, furious seven-on-seven fun played on a field 75 yards long and 40 yards wide. A 20-yard end zone allows for those perfectly high-arching Frisbee tosses that seem to hover forever until someone comes down from the midair scrum with the disc.
It's football without the concussions.
"People would be surprised if they saw it," said Mat Tsang, who coached the California-based Fury to the women's championship. "Frisbee definitely has a hippie or casual-playing connotation. But if you watched it you would see the same type of athleticism you see in other sports."
On this field, everyone is a receiver, defender and quarterback. And forget about a clock; you better be in shape because the game just keeps going until a team scores 15 times.
When there is a turnover -- i.e. an interception or incomplete pass -- there is instant transition in the other direction with no stoppage of play. Each player has 10 seconds to pass the disc to a teammate. And you'll see varying strategies for defending and moving the disc down field, from the short possession pass to the bomb.
There's also a sense of community and spirit you wouldn't see in the world of Chad Ochocinco and Terrell Owens. So much so that a separate award is presented to teams and individuals who exemplify those qualities.
Winning the "Spirit Award" meant as much to 29-year-old Bart Watson as his team, the San Francisco-based Revolver, winning its first men's title.
"I was a soccer player in high school, and the combination of endurance and speed attracted me," said Watson, who has been playing 10 years. "But the culture around the sport is something I really respect, so winning the Spirit Award means a lot. … It's a big deal because it's voted on by the players."
Ultimate Frisbee players know it's a fringe sport with its own following. But it did have the biggest participation increase, almost 21 percent, among team sports in 2008, according to the Sporting Goods Manufacturers Association. More than 700 colleges have teams, and the finals were streamed live to 40 countries.
"We're very pleased at how the sport keeps growing, especially at the youth levels," said USA Ultimate CEO Tom Crawford, who previously served on the U.S. Olympic Committee. "Five million youth and adults are playing Frisbee. High school kids are being recruited for college teams. We're talking to a lot of sponsors who have been impressed once they watch these events and see the spirit and sportsmanship in the sport."
Joel Poiley is a freelance writer for Sports Media Exchange, a national freelance writing network.