Commentary
Pickleball isn't what you think -- really
Updated:
November 7, 2010, 9:37 AM ET
By
Michelle Hiskey
| Special to Page 2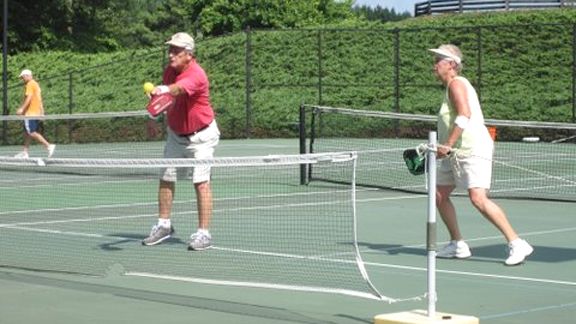 Courtesy Ann EarleyWilliam Criswell and Carole Hess play pickleball on converted tennis courts at a horse farm in Georgia.
When racquet sports last met vegetables, we got served squash.
Ready for a bite of pickleball?
It's not the keep-away game from baseball practice. It's not played with anything warty (except some players).
Pickleball -- a fermentation of tennis, ping pong and badminton -- is relished by seniors, kids and a few parents sandwiched between. If you sour on words like "fun" and "quirky," avoid any contact with pickleheads.
Their chatter is salted thick with happy talk. The veggie prefix only begins to make this sport, to them, such a fun dill.
"The name renders different things in your head," acknowledged Babs Greene, who teaches the game at the Georgia State University's Olympic badminton courts. "But then someone tells the story about the dog going after the ball and that's just kind of a quirky little thing."
Pickleball was named not for a marinated cucumber but a motivated canine. Pickle was a cocker spaniel on Bainbridge Island, Wash., who chased the Wiffle balls lobbed by the sport's dog-loving inventors.
A sports condiment tasty for all ages, pickleball spread to 30 states, across Canada, India, Europe and Australia. Last week's USA Pickleball Association national championships in Arizona drew 400 players, teenagers to octogenarians.
Kids like how zippy pickleball is to learn. Grandparents savor the smaller court and slower pace from the Wiffle-y balls. A paddle is about the size of four Kindles or one coffee table book, easy to pack in the RV.
"We were at the Palm Creek RV Resort in Arizona, and as avid tennis players, we were going to brush up on our game," said Ann Earley, who was chatting by cell phone from her RV but has two pickleball courts on her Georgia farm. "Then we heard people laughing at the end of the court, playing pickleball. They were having a heck of a lot more fun than we were having."
David Johnson bought a house near Seattle with a pickleball court. Didn't know what it was.
"I have no idea how it got there," he said of what looked like a mini tennis court with a lower net.
Soon pickleball niftily changed his life.
When he married, and his wife couldn't find a pickleball Christmas gift for her parents, Johnson designed Tshirts and put up pickleballcentral.com website to market them.
The gig is now full time and includes more than just paddles and bags. He even sells a wind-up gherkin with a Swiss holler.
"Are you sick and tired of trying to convince a jar of pickles to yodel using melodious mind bullets and sheer force of will?" his website reads. "So were we."
Play pickleball, and peculiarity is always kosher.
At Earley's two courts on her Georgia farm, pickleball players taking a break will find heritage turkeys roosting on their laps.
Despite naming one "Dinner", all 13 gobblers became her peeps, and mascots for an upcoming pickleball tournament. The logo is a pickle dressed as a pilgrim, and the booby prize is one of those yodeling pickles.
Earley, a retired harpsichordist, offered this little known bit of trivia from this fringe sport: "Turkeys love to watch pickleball."
Michelle Hiskey is a freelance writer for Sports Media Exchange, a national freelance writing network.