Commentary
Larry Bird: Page 2's biggest trash talker
Updated:
November 11, 2010, 10:44 AM ET
By
Jerry Greene
| Special to Page 2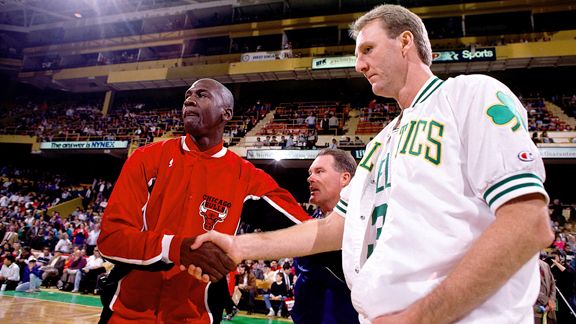 Nathaniel S. Butler/Getty ImagesLarry Bird and Michael Jordan are in the top 5 trash talkers of all time, according to Page 2 readers.
If there was ever a "golden age" of sports' trash talking, it has passed us by.
That seems to be the obvious conclusion based on your voting for our "top 10 all-time trash talkers in sports" list that you will see below. Four athletes dominated the list, and none of them are active. Three of the four played the same sport -- basketball.
The violence may be found on the football field but the nasty verbal zingers clearly are on the court.
And all hail the king of trash talking -- Larry Bird.
Running second is the man that many of you said "invented" trash talking and often made it poetic -- Muhammad Ali.
Back to basketball, Michael Jordan is in third and his sparring partner, Gary Payton, in fourth. Sir Charles Barkley probably will be disappointed to know he was a distant fifth, while Mike Tyson may hurt us if anyone tells him that he was only sixth.
What made this a topical top 10 list was the recent he-said/h-tweeted flap involving Boston Celtic Kevin Garnett and Detroit Piston Charlie Villanueva, who tweeted that Garnett had said he looked like a "cancer patient" on the court. Garnett countered that he had merely said Charlie was "cancerous" to his team. Whatever.
Garnett finished seventh in our list but can be cheered to know he is the only active athlete on it. Is this what being "politically correct" is doing to us?
In any case, here is your top 10 with a comment from one of you for each player "honored" by being named:
Top 10 All-Time Trash Talkers in Sports
1. Larry Bird -- "He was the king time and again, including that All-Star Game when he sauntered into the locker room before the 3-point contest and asked who was going to finish second. Then he won the competition without taking off his warm-up jacket," said Kevin B. from Halethorpe, Md.
2. Muhammad Ali -- "He invented trash talking from 'If they can make penicillin out of moldy bread, they can sure make something out of you,' all the way to 'If you ever dream of beating me, you'd better wake up and apologize,'" said Pat V. from Plymouth, Mich.
3. Michael Jordan -- "Used trash talking as psychological warfare, making other players crumble beneath his talk," said Ben M. from Peoria, Ill.
4. Gary Payton -- "One of the best not just because he trash-talked all game long but because he did it with a smile on his face. How can you compete with a guy that smiles at you while saying, 'You ain't nothing?'" said Jon M. from Ketchum, Idaho.
5. Charles Barkley -- "Once said to super-sized Oliver Miller, 'You can't jump high enough to touch the rim unless they put a Big Mac on it,'" said Mark M. from Apopka, Fla.
6. Mike Tyson -- "Who says they want to eat your children and then praises his God a second later?" said Louis P. from New York City.
7. Kevin Garnett -- "First the head bump, then the pushing, then all of a sudden he's a doctor, telling Charlie Villanueva that he's 'cancerous,'" said Nik R. from New Delhi, India.
8. Patrick Roy -- "There was the time he tuned out another great trash talker, Jeremy Roenick, by saying: 'I can't hear what Jeremy says because I've got my two Stanley Cup rings in my ears,'" said Dean R. from Feasterville, Pa.
9. Cris Carter -- "Once told a snaggle-toothed Chicago defensive back that he should join the Vikings through free agency because 'we have a great dental plan,'" said Chris K. from Southfield, Mich.
10. Marco Materazzi -- "Got to be on your list because of the 2006 World Cup finals when his trash talk, supposedly about the opponent's sister, induced the great Zidane to get a red card for head-butting him in anger," said Chris F. from New York City.
Just missing the list were Chad Ochocinco, Allen Iverson, Terrell Owens, Shannon Sharpe, Reggie Miller and last week's most overrated NFL player, Joe Namath.
Finally, most off-the-wall nomination came from Bill P. of Tualatin, Ore. He voted for Russia's Nikita Khrushchev, who once said to America: "We will bury you!"
Not in our house, buddy.
Jerry Greene is a retired columnist for the Orlando Sentinel. He can be reached at osogreene@aol.com